There's something perfect and pleasing about lingering over a cup of coffee and a freshly printed newspaper early in the morning.
In a new short film, Morning Copy, Greg and Dan Martino try to capture the essence of those few hours before the rest of the world wakes up.
"This Island is hungry for another Jaws," Greg said over coffee this week at Espresso Love in Edgartown. He and his brother Dan are hungry to be the ones who make that happen.
"There should have been a hundred more movies like it," Greg said.
Aspiring screenwriters who are passionate about their work, Greg, 25, and Dan, 28, moved to the Island a few years ago and found there were outlets for all different types of art except filmmaking. They wanted to create a short film to work with different types of artists and produce a body of work they could call their own.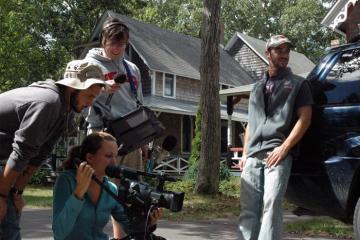 Morning Copy is the first short the brothers have made together through their company, Martha's Vineyard Productions. It tells the story of a retiree who picks up the first edition of the local newspaper before the sun even rises. But when a fellow retiree moves in across the street with the same habit, the two learn there's more to life than competing.
The idea for the film was inspired at this newspaper — Dan began working for the Gazette during the summer in the production room in the early morning when the paper was printed.
"I've always been in love with what the printing press at the Gazette looks like," he said. "I was taken aback by the machinery of it all."
"He wanted to do a documentary feature or some type of aspect on video just because how pretty the mechanics are," Greg said.
The film is based partially on a true story — there is a person who comes to the Gazette backdoor early in the mornings on publication days to get his paper straight off the press. Although Dan never has spoken with him, he began to imagine his story.
The crew filmed the Gazette press while it was running and the film includes cameos of the real pressman, Jeremy Smith. The crew did some of its shooting at 4 a.m. to get the light right. One morning when they were shooting the man came by to grab his newspaper, mimicking the actions of his on-screen persona.
"I have no idea who it is. I really wish he sees it and comes forward and lets us shoot a documentary about him," Dan said. "He's a really cool character. I beat him to the paper every morning [for work], but he still gets [to read the newspaper] first."
Though they had never managed a crew of 50 before, the Martino brothers said they were pleasantly surprised to be so welcomed by the Vineyard community. Costumes were all donated by Vineyard Vines, actors worked without charge and what was budgeted as a $35,000 film only cost $1,000.
"It's easy enough to walk up to someone's door and say, do you mind if we shoot on your front porch? And they say, of course you can. It's a lot easier than we thought," Greg said. "We wanted to take an approach to show the Island in a certain way, at least the colors and culture."
The filmmakers have taken their own artistic license, and Dan acknowledged the film will not be authentic for people who know the Island; Vineyarders know you cannot walk from the Camp Ground in Oak Bluffs to the Gazette on South Summer street. But this is a work of fiction, not a documentary.
"They get to see the cottages and all of the sudden you're in Edgartown and there's this printing press," Dan said. "To capture those elements from the Island and show them I think is important."
The film is silent, composed methodically by friends of the filmmakers back home in Texas. It was a group effort to make the film, but the brothers wanted to include people they had worked with in the past on smaller projects, or anyone who had an interest in filmmaking for that matter.
And when they are not capturing their favorite Vineyard elements on camera for personal projects, the Martino brothers are busy filming weddings, real estate listings, athletic games and government meetings. Their goal for the future is modest enough — they would like to be synonymous with the likes of famous director brother duos Peter and Bobby Farrelly or Joel and Ethan Coen. They want to tap the seemingly endless well of creativity on the Island.
"Our goal with short films is to kind of push that and get kids making them, get us making them, so eventually the film festivals [here] are full of just Island films," Dan said. He plans to submit Morning Copy to the Woods Hole, Martha's Vineyard, Sundance and Tribeca film festivals.
"There isn't any type of movie-making on the Island," Dan said. "Some things come here, it always makes a stir because the community wants that and wants something it can call its own and to allow them to get involved in that would be amazing," Greg said. "To have proper equipment and a foundation for kids to take that and roll with it and create their own projects would be great."
Morning Copy can be seen on youtube at www.youtube.com/watch?v=qsuBomqxjdE or at marthasvineyardproductions.com or on their Facebook page.