Tiffany Smalley yesterday was awarded her undergraduate degree from Harvard University, and with it the distinction of being the first student from the Wampanoag nation to do so since its first Native American graduate, another Vineyarder named Caleb Cheeshateaumuck, graduated in 1665.
As her family and leaders of the Wampanoag Tribe of Gay Head (Aquinnah) looked on, Ms. Smalley also accepted a second diploma — a posthumous degree for Caleb's classmate and fellow Island Wampanoag, Joel Iacoomes, who died in a shipwreck shortly before receiving his degree.
"Tiffany's graduation today will be celebrated by the Native American community and the Harvard community as a momentous event," said Harvard assistant professor Lisa Brooks. "It is an honor and a responsibility that Tiffany carries with great respect, humility and finesse."
Carrie Vanderhoop and Tobias Vanderhoop, two members of the Wampanoag tribe that gathered to see Harvard president Drew Gilpin Faust welcome Joel to the Class of 1665, have previously earned graduate degrees from the Harvard.
The school's founding charter of 1650 dedicates the institution to "the education of the English and Indian Youth of this Country in knowledge: and godlines." But its original outreach to Native students essentially ended in 1675 with the beginning of the King Philip's War with the colony.
Ms. Smalley noted that Mr. Iacoomes's degree comes after seven denials from Harvard over the years.
"With the granting of Joel's posthumous degree I think it's a huge 180," she said in an interview with the Gazette in Harvard Square in the days leading up to her commencement. "Within the past year especially, I've seen a lot of initiative on the part of the university to really celebrate this history."
At its core, the education and Christianization of Ms. Smalley's predecessors at Harvard was about leaving behind Wampanoag culture, language and beliefs.
"In the time Joel and Caleb were here, they had to do those things basically to survive and to thrive," she said. "It was out of necessity and changing and becoming Christian Indians, all with the goal of bringing it back to their community."
In contrast Ms. Smalley has spent her four years at Harvard doing research, taking classes and involved in projects that bring her closer to her Wampanoag roots. This is reflective, she said, of the experience of her tribal community.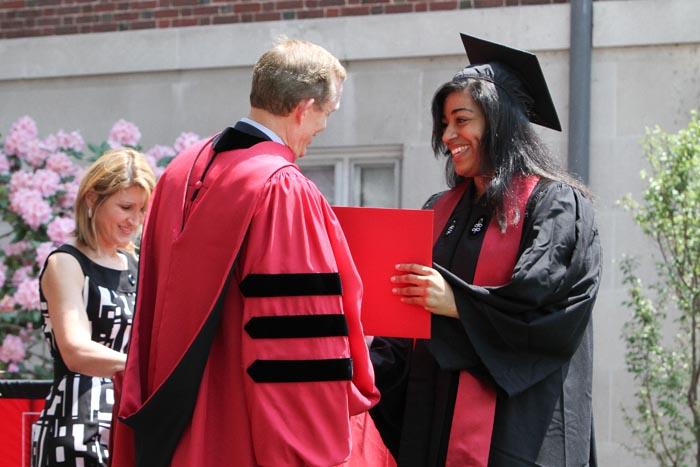 "Over the years there's been a lot of struggle and a lot of strife, and I think at this time we're becoming stronger as a people. I think we're ramping up to be just as strong as we were before. That really makes me happy to see, and it would make [Caleb and Joel] really happy to see as well.
"It's been really amazing to find that all of this history is recorded and here, and I had access to it," she said.
In 2007 and 2008, as part of a class, Ms. Smalley was involved in an archaeological dig near the site of the Indian College, the first brick building at Harvard; it was torn down in 1698 and the bricks were used in the original Stoughton Hall. The dig uncovered two pieces of printing type, likely from the first printing press in British colonial America, housed in the Indian College.
Ms. Smalley also found in Ms. Brooks a mentor at Harvard, a professor who also is an Abenaki scholar.
"Over the past few years, I have seen Tiffany grow from a quiet, kind young student to an impressive public speaker, community and student leader, and scholar in her own right. However, what has most impressed me is that in an atmosphere of great ambition, challenge and achievement, Tiffany has been able to maintain a deep sense of humility and groundedness," Ms. Brooks said.
Ms. Brooks called Tiffany a student leader on campus, noting that the Aquinnah native served her junior year as president of Native Americans at Harvard College. Last year, she led the student group in building a Wampanoag wetu, or traditional home, on the site of the Harvard Indian College. "She is always quick to give credit to others, and to celebrate any achievement as the result of collaborative effort," Ms. Brooks said.
Characteristically, Ms. Smalley said: "The native community here is pretty strong. It's very small but it's close-knit. It's really been my home base here. It's served as a support system and also a lot of inspiration."
She said that in her Vineyard upbringing there was a big emphasis on academics, "but not too much pressure.
"My mom and dad encouraged that I do my best in school, but they also made it clear that I was free to do whatever I wanted to do. They always emphasized that I be passionate about what I do. They've also been extremely supportive and enthusiastic about anything and everything extracurricular I've ever wanted to do — whether it was dance, sports, or playing a musical instrument. As long as I committed to whatever it was, I was free to do it."
Ms. Smalley departs Harvard with a bachelor's degree in government and a minor in ethnic studies.
When she graduated from the Martha's Vineyard Regional High School in 2007, she planned to study science and pursue a career in pharmacy, but instead she was drawn to studying and researching Indian country.
But her formal academic interest in Native American history began even earlier than that. In high school, her senior project — to which she dedicated two school days a week — was learning Wôpanâak, the Wampanoag language, and creating learning activities for children.
"I could have been a pharmacist for IHS [Indian Health Service, a division of the U.S. Department of Health and Human Services], but I think I was just always really drawn to the humanities and tribal policy," she said. "I kind of just followed my heart on that one, and I'm happy I did."
She wants to return to the Island permanently one day and make a positive impact on her tribal community, but she's intent on first gathering the tools and skills she needs. After spending this summer on the Vineyard — her first since leaving for Harvard — she will move to Washington, D.C., where she has accepted a one-year position as a legislative fellow at the National Congress of American Indians, an organization that advocates for tribal governments and communities.
"That experience will definitely give me a lot more insight into how other tribes are dealing with the same sorts of issues that we're facing here in the East," she said. "I hope to see that bigger — that global — viewpoint, and then come back and kind of tailor that to my community."
The two tribal issues she is most interested in are also what she perceives as the greatest challenges facing the Indian Nation: economic development and historic preservation.
"I've always really been interested in how we can create sustainable communities and still support tribal historic preservation efforts," she said. "I've done a lot of research on how we can support economic development with tribal historic preservation."
The Wampanoag shellfish hatchery project in Menemsha Pond was an example of that, she said, a venture that combined economic potential with cultural legacy.
Ms. Smalley speaks with optimism and excitement, calling this a positive time for tribal communities. She noted that the Mashpee Wampanoags gained federal recognition as a sovereign nation in 2007, after a three-decade-long legal battle.
"That's a great sign that the government is now starting to do more in terms of supporting tribal communities and helping tribal communities to become more sustainable," she said. "And that's kind of evident in Aquinnah as well, because I see that we are advancing and becoming stronger as a political entity as well."
She also pointed to 2009 and President Barack Obama's creation of the White House Tribal Nations Conference, an annual summit aimed at improving the troubled relationship between American Indians and the federal government.
There is also greater recognition and effort being made at Harvard, she said. In addition to recognizing Joel, Harvard hung a portrait in December of Caleb in one of its most impressive spaces, Annenberg Hall.
Ms. Brooks also pointed to the wetu: "Tiffany harnessed support from the local Native nations, from the Harvard Foundation and the Harvard University Native American Program, as well as a large group of faculty and staff, to bring this dream to fruition."
The graduate shrugged. "Really, anything you want to do here is a struggle because it's bureaucracy, but I think it's especially a struggle given the fact that the history wasn't so well celebrated and known," she said.
"Now, these types of efforts have really been raising awareness about this history. It's definitely going to pave the way for more efforts like this to come in the future."
As for her own future, Ms. Smalley said, "I want to make any positive impact that I can make in my community.
"At the very least I just want to serve as proof that we are still here and we are thriving and surviving as a people."