Toasted gold or burnt to a crisp? It's one of the great American debates, how to properly roast a marshmallow, and this summer, dueling sticks will further the debate one gooey mess at a time, in that great American tradition, summer camp.
Many children have vivid memories of camp, whether it's the smell of the damp grass early in the morning, the first time they were stung by a bee or the counselor they wanted to be like when they grew up. This summer all those memories will be recreated (preferably without the sting) at camps across the Vineyard, with options for athletes, artists, nature lovers, adventurers and everything in between.
"One of the things we love about camp is we combine a traditional camp experience, such as songs and games and fires at an overnight with s'mores, with an education-based nature program," Felix Neck Wildlife Sanctuary education coordinator Cristina Pereira said this week. The Edgartown sanctuary has run its Fern and Feather day camp for 48 years for ages 4 to 14.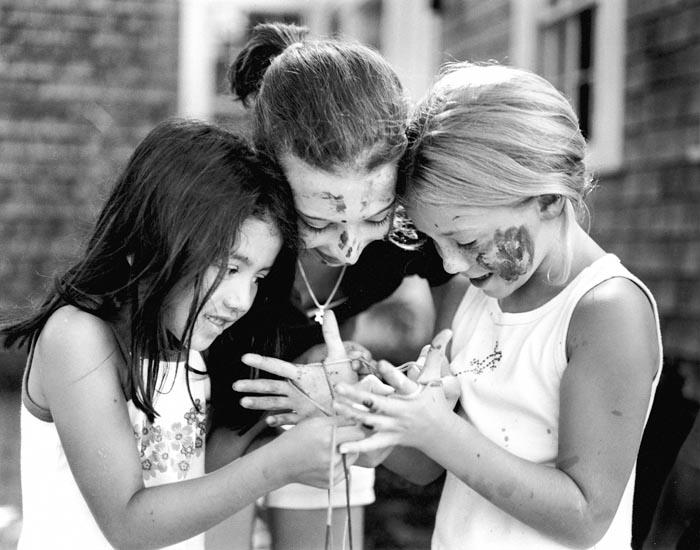 "The purpose of camp is to have the kids come out and make their own discoveries, have fun, appreciate nature and be aware of their surroundings," she said.
Fern and Feather campers go down to Sengekontacket Pond to test the water, use their nets to catch scallops, blue crabs and mussels, and cement their learning through a craft project, Ms. Pereira said. Older groups (10 to 14-year-olds) have weekly overnights with campfires, stargazing and solo night walks where they can explore the sanctuary by themselves in a secure environment.
And forget about duck-duck-goose — try drip-drip-drop, a water-themed take on the circle game.
"It's a really nice time when 12-year-olds are playing it with 5-year-olds and the whole camp comes together," Ms. Pereira said. After group lunch, the campers break off into their groups. "For us, camp is really about campers finding their place in the natural world."
Sassafras Earth Education, based in Aquinnah, offers an outdoor program with an emphasis on sensory exploration. One of the summer sessions combines nature, music and original movement by the campers to explore the relationship between nature and the human body. Or if your kids are looking for a little more adventure they can try Martha's Vineyard Adventure half-day camp for mountain biking, fishing, kayaking, hiking and climbing, with a priority on safety.
One very Vineyard adventure will be at the Farm Institute, learning how to train steers to become oxen. The Whippersnapper campers, age 10 to 17, will work with the seven-month old steers, Zeus and Apollo, learning how to train them for when they reach maturity at four years old.
"We're really excited about it, because it's a population we need to reach to sustain agriculture in the future," camp director Sidney Morris said of both the oxen program and teen campers working in the production garden in exchange for a stipend.
The farm is offering both weeklong and day programs, which all start with morning chores, no matter if you're two years old or 102. Campers take care of the animals, learn about agriculture and then work on projects such as building new chicken tractors, finishing a new garden center or building new pig pens.
But some kids prefer theatre and art to manure and bugs, and there are camps for them, too.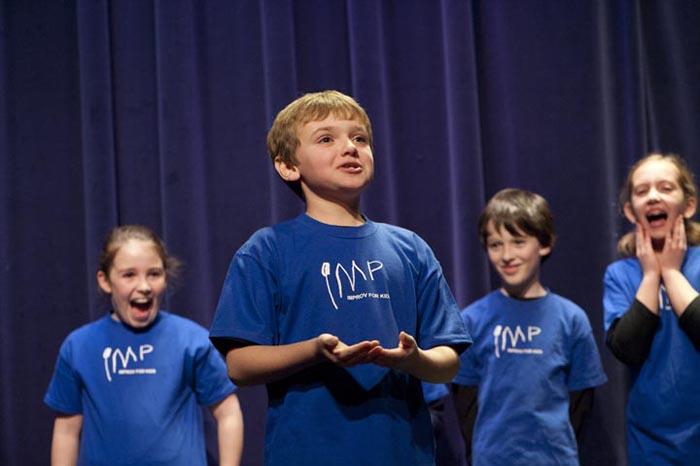 "My main goal is for kids to walk away having a great time on the campus and be able to use it as inspiration so they know they can always come back and be nurtured in that same spot," said Featherstone Center for the Arts camp art teacher Emmeline Brown. "We can show them materials that they might not have in school, too."
Featherstone offers a series of different types of camp for all age groups, including photography, mixed media, silk screening, papermaking and ceramics. Each week ends with a small showing for parents.
At Sense of Wonder camp in Vineyard Haven, Pam Benjamin fashions a weekly, themed program that blends creative arts with an awareness of the environment, ethnic diversity and community service, often with visiting guest artists.
Visual art is also at the center of the program operating from the Garden Gate Child Development Center.
At IMP camp, improvised theatre under the direction of Donna Swift, kids will have a large performance at the end of each session from their work doing improvisational comedy scenes during camp. Kids from all age groups work together to create scenes.
"Older kids can learn a lot from the younger kids because younger kids are not as inhibited, and the younger kids can learn discipline from the older kids," Ms. Swift said. "We don't define them by age, we treat them as artists."
Campers use traditional improvisational techniques as well as musical numbers, movement, Shakespeare and original writing to come up with the scenes.
Other performance programs include a new dance and movement camp at the Yard in Chilmark, the Summer Stars camp at the Vineyard Playhouse, and one of longest-running camps here, Children's Theatre by Island Theatre Workshop, which this year will be running from ITW's new home on Music street in West Tisbury.
For the athletes on the Island, the Martha's Vineyard Regional High School offers weeklong clinics in basketball, football, soccer, lacrosse and tennis; Island Gymnastics will have campers balancing on beams and mounting off the vaults; while Vineyard Youth Tennis campers will be pros in no time. The Martha's Vineyard Sharks will have baseball clinics for children 12 and under at the Vineyard Baseball Park, staffed by players and coaches, while over at the Tisbury School, physical education teacher Kevan Nichols hosts a morning sports program.
Pony lovers can find horseback-riding camps at Pond View, Red Pony, Arrowhead and Netherfield Farms, and skateboarding enthusiasts can learn tricks on the ramps and boxes this summer, and at the end of the day show off what they've learned in a game of Horse (or Skate as they like to call it) at the Martha's Vineyard Skate Camp.
Instructors for camps across the Island are safety-certified before the kids even get to camp.
For a little extra wind in your sails, Vineyard sailors have a unique opportunity through Sail MV, where their mission is to provide free sailing lessons to young year-round water enthusiasts.
Sail MV administrative director Hope Callen said this year's camp has a class for the youngest campers, Messing Around in Boats 1, where kids become comfortable on the water and learn the basics of sailing through cause and effect. Ms. Callen said they have a great crew returning to teach everyone from novices to competitors.
"We're very excited, the boathouse is ready and the boats are ready to go," Ms. Callen said. Sail MV is also offering weeklong teaching cruises on the Black Dog's tall ships, the Shenandoah and the Alabama, plus introduction to windsurfing classes.
If your kids are looking for an overall fun-filled camp experience, the Martha's Vineyard Boys' and Girls' Club, the Chilmark Community Center and the Martha's Vineyard YMCA all offer day-camps for affordable prices.
The Boys' and Girls' Club offers a nine-hour day of camp with activities such as gardening, athletics, beach trips and weekly field trips on and off the Island (this year's off-Island trip will be to the Museum of Science in Boston), and the Chilmark Community Center's morning program leads kids in arts and crafts, tennis, basketball, dodgeball, dance and theatre. It's not just for Chilmark residents either — kids from all towns are welcome.
This is the second season for the YMCA's summer camp, the first under a new name, Camp Blue. The traditional activities center around the four core concepts of the Y (respect, responsibility, caring and honesty), and director Apryl Anastacio said she recommends at least two weeks of camp so campers can get the entire YMCA experience.
With too many camps to cover them all here, it's hard to believe there are enough kids to fill them.
"So far we have an amazing outpouring of youngsters signed up," Ms. Anastacio said, adding the counselor-in-training program is equally as important. "We want to empower our youth on the Island," she said.