Baby boomers may shudder at the thought but Jefferson Airplane and Hot Tuna founding member Jorma Kaukonen is entering his sixth decade of performing. It may be somewhat reassuring, then, to know that Mr. Kaukonen, he of blistering licks and subtle fingerpicks, is still at the top of his game.
At 9 p.m. on Wednesday Nectar's welcomes the Rock and Roll Hall of Fame inductee and Rolling Stone's 16th greatest acoustic guitar player of all time for what Mr. Kaukonen promises will be "an evening full of picking." Mr. Kaukonen will be joined on stage by mandolin player Barry Mitterhoff and on Sunday he spoke with the Gazette and made his simple pitch.
"I'd like to think that me and Barry are entertaining. We're occasionally very funny, but more important than that we play pretty good music and we play it for a long time," he said.
Hot Tuna, the alternately roots-folk-blues and scorching electric band that Mr. Kaukonen and bassist Jack Cassidy formed in the tailwind of Jefferson Airplane, recently came out with its first studio album in more than 20 years, Steady as She Goes. Over the years Hot Tuna fans have survived on dozens of solo and live albums, but the new work represents an effective reboot of the franchise.
"One of our microcosmic claims to fame is that when it first went on sale at amazon.com we outsold Lady Gaga for about 10 minutes," he said in a phone conversation on Sunday.
"We did the whole thing in 11 days," he said. "It was cool project. I was thinking maybe we'll do something ourselves and release it on the Internet like the kids do, but there is to me a certain cachet about having a product that people can hold."
While he is eager to play his newest material on Wednesday, both from the Hot Tuna album and solo pieces, he understands that he has forged a relationship with the audience that spans decades.
"The good news with the audience is, yeah, they like to hear stuff that strokes their comfort zone, but they also allow us to play new stuff," he said. "So I can spring a new song on them and they'll actually listen to it and I'll get an honest response, and I really, truly appreciate that."
Mr. Kaukonen's mesmerizing polydactyl playing style, immortalized in songs such as Jefferson Airplane's Embryonic Journey, has become synonymous with the man, but it wasn't always so.
"I was 20 years old when I learned to actually fingerpick," he said. "I was going to Antioch College and in 1959 I met a guy who's since passed away named Ian Buchanan. He was a great guitar player and for some unknown reason he took me under his wing and really mentored me."
All but two of the songs on Hot Tuna's self-titled breakout debut album, including Hot Tuna-faithful favorite Hesitation Blues, were passed on to Mr. Kaukonen by Mr. Buchanan.
His interest piqued, Mr. Kaukonen moved to New York city and picked up a co-op job at a hospital while dedicating his off-hours to absorbing the gritty folk and blues musical milieu. There he would study and emulate blind Harlem finger-picking icon, the Rev. Gary Davis.
"You're 20 years old and you have nothing else to do but go to work and play the guitar," he said.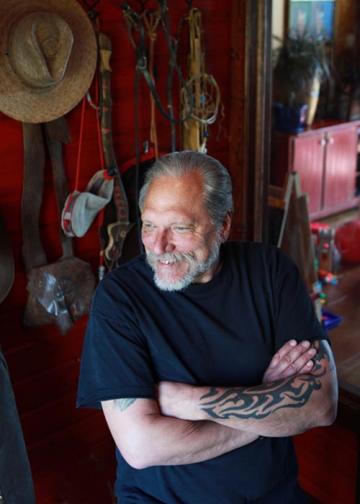 Later Mr. Kaukonen moved to San Francisco and became one of the original members of Jefferson Airplane whose sound and ethos would come to represent the debauched glory of Haight-Ashbury and the Summer of Love. Some four decades later Mr. Kaukonen finds himself in a rather more rustic setting, running his Fur Peace Ranch Guitar Camp with his wife, Vanessa Lillian, in the Appalachian foothills of southeastern Ohio. At the guitar camp he teaches the next generation of finger-pickers and writes the songs of his ever-expanding catalogue.
"I tend to start with a musical idea and then find some sort of image that fits in with it," he said. "Usually the music comes first but every now and then that's not the case. My last solo record, River of Time, I had already picked the title because it had to do with something my grandmother told me in a dream, you know? So with the last day of the recording coming up I realized I hadn't written the song, so I took a guitar home. When I got back to the hotel the case was empty and of course the studio was locked by then so I wrote a poem and the next day I went in and put music to it. I had never done that before. I proved to myself I could do it the other way."
A self-proclaimed "satellite radio nut" Mr. Kaukonen enjoys dabbling in each of the great American musical traditions.
"The last couple years I've gone on a huge bluegrass kick," he said. "Blue Highway is one of the more modern bluegrass bands I really like a lot, but I love all of the traditional stuff as well."
When asked whether the music has seeped into his own songwriting Mr. Kaukonen hedges.
"I would like to say that I think so but I don't know if bluegrass purists would hear it," he said. "Bluegrass is a really rigid artform and when you stray a lot the bluegrass Nazis don't like it."
Other influences Mr. Kaukonen is less wary of claiming.
"I'm very fortunate because I get to play with a lot of different people and I'm always hearing something that turns me on in some odd way," he said. "I realize at this point in my life I'm not going to become a jazz player but every now and then I hear some odd-sounding chord that I just have to learn and throw into some song."
Still, despite the ongoing evolution of his sound, Mr. Kaukonen does not stray far from the basics, as he warned would-be Island concertgoers on Sunday:
"If you don't like the sound of a plucked fretted instrument it's probably not going to be a good show for you."