Lambert's Cove Inn executive chef Max Eagan showed up for pickup day at Whippoorwill Farm's Community Supported Agriculture (CSA) program on Friday with other shareholders, basket and scissors at the ready. But Mr. Eagan wasn't picking the last of the strawberry harvest and snapping sugar snap peas off the wiry bushes on the Oak Bluffs farm for himself — he was picking for the restaurant.
The inn is the first restaurant shareholder at the CSA on Stoney Hill Road and has access to double the amount of vegetables of a regular full share. Mr. Eagan has been picking strawberries for the past three weeks for salads and dessert, but Friday was the first time he picked up his share of the bok choi and lettuce available this week.
Mr. Eagan, an Island-raised and trained chef who took the helm of the West Tisbury restaurant this year, will be preparing a vegetarian dish every night. He's calling it Everything Straight from the Farm.
"Everything on that item is completely from Martha's Vineyard," Mr. Eagan said in a phone interview with the Gazette before he headed to the kitchen. "I wanted it to be strictly from the farm to the plate."
The farm-to-table movement is nothing new to the Vineyard, and many farms across the Island sell wholesale to restaurants. But Whippoorwill offers chefs and Vineyarders who don't have direct access to their own garden a chance to go out into the field and pick that night's ingredients straight from the ground.
"I think there's definitely a trend going around these parts and it's nice to be able to work directly with the farm as opposed wholesalers," Mr. Eagan said. "It's a nice surprise to get whatever is bountiful and looking nice as opposed to just one type of lettuce. I kind of like the challenge to come up with something for whatever is available."
Pickers beware – Mr. Eagan likes to get to the farm early to pick the best of what's available. Mr. Eagan said he hopes he can set an example for other restaurants to take part in the community supported farm.
The CSA depends on people like Mr. Eagan and the other 450 shareholders it feeds. Individuals, families and now restaurants buy either small or full shares in the farm for a full season (June to November) or a summer share (5 or 10 weeks starting July 12). Share prices range from $190 for the small 5-week share to $875 for the large, full season, 20-week share.
Shareholders bring their own produce bags and scissors for picking, many bring large baskets that are quickly filled with their share of vegetables for the week. Last Friday was the first official pickup day for whole season members, and the rows of peas were filled with pickers enjoying June's sugar snap bounty. Some kids couldn't resist the sweet peas and had a rhythm of one in the bucket, one in the mouth.
Each week shareholders pick up a designated amount of vegetables and flowers. Members pick flowers and some vegetables themselves. A crew of four picks enough of the other vegetables, ready at the stand for the CSA shareholders, where a board alerts small and larger shareholders what is included in that week's harvest (lettuce, Asian greens, cucumbers, peas and strawberries are standard June pickup items).
It's a system that usually works, but like many other farms, things can quickly go awry.
Andrew Woodruff, who launched the CSA program seven years ago at the former Thimble Farm property, said the extreme weather pattern in early June threw him and his crew of four for a loop, but they're regaining traction now.
"It's been a pretty good start of the season; if we're behind it's partly because of the weather," Mr. Woodruff said at the farm on pickup day Friday, referring to extreme weather in early June, a series of 90-degree days followed by a night where it dropped to 29 degrees.
"A few of our plants got nipped but not too badly," he said. "That was a little scary but now we're back in more of a normal pattern of weather."
The biggest challenges for a CSA versus a farm stand are communication with its members and having to grow a wide variety of crops, Mr. Woodruff said.
"Each week you have to make sure you have enough food to make people feel like they're getting their money's worth and getting an experience out of the effort of coming all the way out here," he said. "There's a lot of pressure in the spring to deliver and things can go wrong on a farm pretty quickly around here. That's always in the back of my mind."
Mr. Woodruff said they're still scrambling to plant crops so the farm has a full supply for all shareholders, but seasonal shares are still available.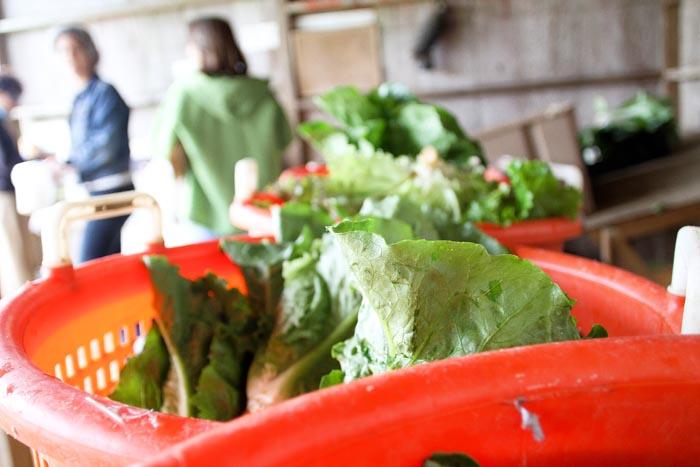 "It's unique but it's not for everybody. A lot of people enjoy it because it's a chance to get out into the fields," he said. "This is obviously a really beautiful property and it serves well for that kind of farming here."
But the only way the CSA can be sustainable is if Whippoorwill continues to have the support it's had over the years.
"There's been a lot of interesting challenges," Mr. Woodruff said. "A lot of good people have lent a hand and helped make it all work out."
Seasonal 5 and 10-week shares start July 12. For more information or to sign up for a share, call 508-693-5995 or visit whippoorwillfarmcsa.com.
Farm Notes
Whippoorwill Farm welcomes a special guest today at the farm — Elmo, from Sesame Street and Elmo's World, will be at the farm to help a family from Serving Hands pick up their first share of the year. The farm donated a share to the nonprofit that distributes food for folks on low incomes; Serving Hands is sponsored by the Vineyard Committee on Hunger.
Elmo also stopped by Morning Glory Farm this week.
This column is meant to reflect all aspects of agricultural activity and farm life on the Vineyard. To reach Remy Tumin, please call 508-627-4311, extension 120, or e-mail rtumin@mvgazette.com.