Raindrops on roses and whiskers on kittens, bright copper kettles and warm woolen mittens....Whether you sang the song in high school chorus, learned Do Re Mi from Julie Andrews or were introduced to the musical via a Gwen Stefani remix, the Sound of Music is fixed in the collective memory.
There's an innocence and joy in the Sound of Music, there's an identification with the outcast, and choreographer Doug Elkins is interested in plucking at the heart strings of all those signatures of the musical through his movement adaptation of the 1959 Rodgers and Hammerstein play.
Mr. Elkins and Friends will perform Fraülein Maria tonight and tomorrow night at the Performing Arts Center at the regional high school, hosted by The Yard in Chilmark.
"I'm less interested in creating the exact musical or movie, I'm using it as a vessel," Mr. Elkins said in a phone interview before his last show at the Hartford Stage in Connecticut. He went on to describe it as a visual version of Danger Mouse's Grey Album, Jay-Z's Black Album and The Beatles' White Album, followed by John Coltrane's My Favorite Things.
Add in the whimsical cartoons of Al Hirschfeld and you have Fraülein Maria, he said.
"It's definitely recognizable, so if you're a Sound of Music fan we are all traveling together through an arc of narrative," Mr. Elkins assured.
The entire piece is set to the original 1965 film score recording, starring Julie Andrews and Christopher Plummer. The Sound of Music tells the story of a nun Fraülein Maria (Ms. Andrews) who leaves an Austrian convent and becomes the governess of the children of a widowed Naval officer (Mr. Plummer), teaching them life lessons through song.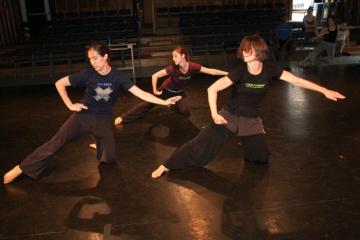 Mr. Elkins is eclectic in both disposition and dance composition, and if he seems all over the place it's because he feels constantly stimulated by the world around him. He reaches for references to all types of dance in his movement, and he is heavily influenced by his origins as a hip-hop B-Boy. Likewise, Brazilian capoeira, post-modern dance, hip-hop and musical theatre seep naturally into Mr. Elkin's work, and Fraülein Maria is another example of such a melange.
"The performance itself is ripe with theatre and dance history lessons," Mr. Elkins said, including references to George Balanchine, Paul Taylor, Martha Graham and Bill Irwin. "It's like a personal narrative about the oddness of dance in general."
Mr. Elkins said he had no problem adapting the traditional musical into a modern dance form, and that in fact the combination added to its charm.
"It follows itself around lovingly and ridiculously, and when you come to watch it you buy into a whole world and you're sitting in it and it's a real treat."
When Mr. Elkins first approached the Rodgers and Hammerstein Organization, the official group who owns the rights to Richard Rodgers and Oscar Hammerstein II film musicals Oklahoma!, Carousel, South Pacific and The King and I, they didn't know what to make of it. But eventually they agreed.
"I told them we're going to deconstruct the Sound of Music and they said, 'What does that mean? You can only dissect a dead thing,'" Mr. Elkins recalled. "Deconstructing is a beautiful magic trick, I told them. We pull it apart and on stage its homeopathic essence will still be there. You won't and you will recognize it.
"The layers are synthesized into something else, but it still has the integrity of those main ingredients," he continued. "There's a whole bunch of different layers in therewhen you see it synthesized through what we've taken it to, people attach layers of meaning to it."
Even with the gender-bending, animal-impersonating, tongue-in-cheek choreography and acting, Mr. Elkins still honors the original spirit of a caregiver who heals through song.
"It's like a strange, odd fairy tale," Mr. Elkins said. "For me in its essence it's a lovely message about creating. My grandmother used to say to me, the most important work of art you'll ever makeis the life you leave."
And he's led quite a life, one that has strong connections to the Yard and new artistic director David White. When he was director at Dance Theater Workshop, Mr. White essentially jump-started Mr. Elkins's career in the New York dance scene. Mr. Elkins later received a Paul Taylor Scholarship to work at the up-Island dance colony.
Mr. White has described Mr. Elkins as one of the most brilliant choreographers today.
But Mr. Elkins isn't the only one with Vineyard connections – it will be a homecoming of sorts for the shows directors Michael Preston and Barbara Karger. Mr. Preston spent every summer of his life here, and his father was long-time Vineyard Haven resident William (Bill) P.T. Preston Jr.
Mr. Preston has had a chance to reflect on audience reactions from across the country and thinks Islanders from all walks of life will enjoy the production.
"Anybody who has any kind of reference to Sound of Music is going to enjoy it," Mr. Preston said from Hartford. "The joy of the movement, the joy of original score, Julie Andrews and the joy of making us as a troupe make theatre together turns on an audience's imagination."
"And it's very funny," he added.
Mr. Preston said it also works as a theatre piece, and those who may be intimidated at the prospect of sitting through a modern dance performance should have no fear.
"I think it appeals to just about everybody," he said. "We've created a world where people are whoever they need to be."
Fraülein Maria is tonight and tomorrow night at the Martha's Vineyard Regional High School's Performing Arts Center at 8 p.m. Tickets are $35 for general seating and $15 for seniors and students, and are available at dancetheyard.org or 508-645-9662.