Learning how to tie a knot is part of learning the ABCs of seamanship, and at Sail Martha's Vineyard you are never too old to learn.
What began as one volunteer and a handful of boats has grown into a thriving organization of 14 experienced instructors and 72 boats, year-round programs for children and adults and a summer camp dedicated to teaching Island children to sail at affordable rates.
The 20-year old organization has taken its mission far beyond what the founders could have imagined.
"If you look at the vision that our founders had, it wasn't all about teaching small children to sail in little white boats, it was a much broader mission that really encompassed all that maritime education could possibly support," Sail MV director Brock Callen said in an interview at his Vineyard Haven office this week. "Over the last few years we've become truer and truer to what the founders' initial mission was."
As the Sail Martha's Vineyard programs continue to grow, so does its signature event, the Vineyard Cup, which has become one of the region's premier racing events of the year. This weekend close to 100 sailboats from ports near and far will compete in Island waters for the Cup.
It's a busy time for Mr. Callen and his wife Hope; besides organizing the regatta this weekend and their annual seafood buffet and fundraiser last weekend, they also run one of the busiest summer camps on the Vineyard at the Sailing Camp in Oak Bluffs. By the end of the camp's eight-week run, some 400 students will have come through the program.
The summer camp continues to be the backbone of the organization and sets a high standard of leadership and seamanship at a young age.
"Our job is much more than just teaching people how to sail; you are a mentor, you are an example for them." Mr. Callen said. "We expect kids to do certain things certain ways — we have to do them exactly the same way. We have to set by example."
With the exception of two high-school interns, every staff member has at least four years of teaching experience.
"They've really figured out how to teach sailing, they come to work every day with a specific lesson plan," he said. "And they're creative. The games that go on down there all while disguising you are actually learning to sail, it's just wonderful to watch."
Summer sessions for kids run in two-week blocks with 30 hours of instruction. And the rates are affordable; each session costs $50 per student for Islanders.
Two thirds of the summer camp sailors are Islanders and a third are seasonal residents, Mr. Callen said. The kids come from every Island town.
"Very often people say, oh no it's only Vineyard Haven but this is truly an Islandwide organization," he said. "It's great to see that balance to say the least."
And Sail Martha's Vineyard education doesn't stop when the teaching boats are hauled and life jackets stowed for the winter. In addition to commercial license classes and a winter lecture series, Sail MV was responsible for introducing a maritime studies course at the Martha's Vineyard Regional High school, now in its third year. Students who take the course complete the requirements for an able-bodied seaman license issued by the Coast Guard, and are eligible for a work-study internship with the Steamship Authority, the Martha's Vineyard Shipyard or Gannon and Benjamin.
Sail Martha's Vineyard mentors the students on the water and off, even taking them to college interviews on the mainland. Many of the students compete on the high school sailing team, which is entirely funded and coached by Sail MV.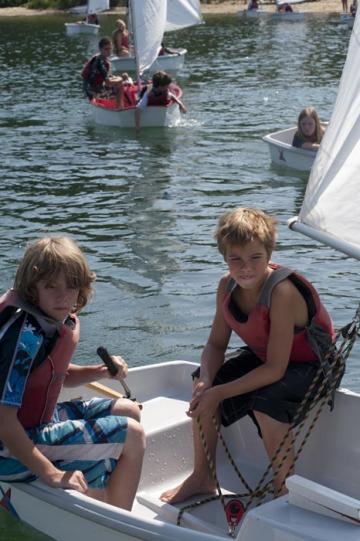 "We're pretty set in our ways that by removing pressure and intimidation early on . . . they learn a skill and they have fun," Mr. Callen said. "Our mantra is we teach children to sail, not to race, but here we have these kids coming out of these programs who can not only race but are coming out at the top levels."
Emily Reich, a junior at Old Dominion in Virginia and a graduate of the regional high school and Sail MV program, was the first athlete from the Vineyard to be named an all-American sailor.
In recent years Mr. Callen and the board of directors at Sail Martha's Vineyard have begun crafting a fund-raising program whose bedrock is sponsorship for the key events, such as the Vineyard Cup.
"The whole point there is to drive our fund-raising off-Island," Mr. Callen said. "There are so many not-for-profits, we can't all continue to hit up the same group of very generous merchants."
As a result the Vineyard Cup is backed by highly-visible brand-name sponsors such as Revo, Samuel Adams and AT& T.
"We have a fiduciary responsibility because it's all money given to us in support of our programs, so we have this responsibility to make sure that that money goes to those programs, not only to existing ones but to improve existing ones," Mr. Callen said. "I don't think you can ever do a good enough job."
And he said the Vineyard Cup weekend is the epitome of the program's main theme: to make sailing fun.
"We're a public-access organization and if we get no other message across this weekend, this is a public-access event," Mr. Callen said. "We want them to come be with us and enjoy the craziness of the sailors."
The Vineyard Cup Regatta takes place July 15, 16 and 17. For a complete list of events, visit vineyardcup.com.