Jamie O'Gorman stood in a field of summer squash and cucumbers at Morning Glory Farm in Edgartown on Saturday, looking over her shoulder, hoping that more volunteers would arrive at any minute. The field behind the peach orchard had only a few volunteers that afternoon to help the Island Grown Initiative's gleaning program.
With more than 50 acres of farmland across the Vineyard, Morning Glory has a larger yield than it has hands picking. That's where the gleaners come in – a group of volunteers visits the farm at least once a week to pick what produce the farm either didn't need or couldn't get to; the food is then distributed among Island schools, elderly housing services, food pantries and the Wampanoag Tribe of Gay Head (Aquinnah). This is the second full season of the program.
The gleaners pick once or twice a week, with extra help from the Farm Institute's network of high school students, who pick every afternoon during the week, though come August their numbers will drop significantly. Ideally Ms. O'Gorman would have 20 volunteers on group gleaning days, she said, but typically she has at most 10. On Saturday there were only three.
But even so, the volunteers have harvested nearly two tons of produce this year at Morning Glory – 3,885 pounds to be exact – and they only started gleaning at the end of June.
Morning Glory field manager Lily Walter alerts Ms. O'Gorman to where they have excess; she points her to a field the farm is planning to till. This time of year that means squash, lots and lots of squash — summer, zucchini and patty pan varieties — and on Saturday the few volunteers who showed up were swimming in the extra large squash plants. Later in the day they harvested a couple hundred pounds of beans.
Gleaning benefits both the farm and those who receive the food donations. Morning Glory's farm manager Simon Athearn said the gleaning team is a good match of excess food and a worthy cause.
"If we don't take the product off the plant it won't produce the next time," Mr. Athearn said yesterday morning. "Like squash, if we had too much and didn't go out and harvest it, we'd go out there and drop it on the ground. Generally when we're walking away from something, we have something better elsewhere."
Mr. Athearn said he hopes the gleaners will take the 'runty' corn in August, which is tasty even with a few kernels eaten away by worms. Tomatoes, peppers and, later in the season, root vegetables will be harvested as well.
Ms. O'Gorman said that because of the volunteer shortage, many times they have to leave produce behind.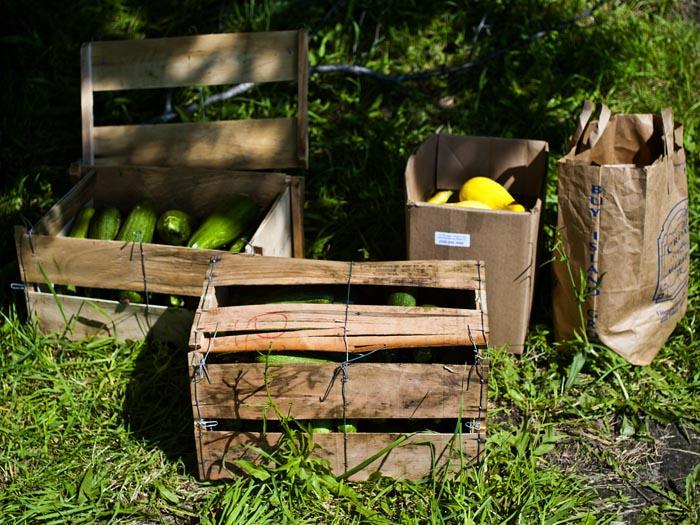 "Last year there was a lot of corn and it was so sad to leave it in the field. I mean, we took a tenth of what they gave us," she said. "It was so delicious. It does get composted, but I don't like to see waste of any kind."
As for the squash field, Ms. Gorman said the gleaners wouldn't be able to pick it all for lack of volunteers on Saturday. They'd supplement what they couldn't pick with extra produce from the stand, perfectly good, market-size squash that passed its peak of freshness before it was sold. If not donated to the gleaning project, it would go to the compost pile or become pig food.
All Island schools receive the food gleaned from Morning Glory's fields over the course of the school year, but right now Edgartown and Oak Bluffs are the only schools capable of processing the summer crops and freezing it for the school year.
"It's really important for the schools. They only have about $1 per meal to spend on ingredients. The stuff they get through their suppliers isn't very high quality, you can't really do a lot with that," Ms. O'Gorman said. "It really makes a difference in the nutritional content of the meals [the schools] can serve."
Students help glean during the school year through the Island Grown Schools initiative, IGI's farm-to-school network. They'll also go to private homes in the fall to harvest apples that have fallen to the ground and press them into cider.
Much of the gleaned harvest goes to people in need, both elderly and low-income. Senior living centers across the Island, including Woodside, Hillside and Aidylberg villages receive food, as do the food pantries, Serving Hands food distribution and even the Dukes County jail.
The food goes to those who may not have the means or access to fresh Vineyard produce.
"Most of the people who are getting this, especially in the elderly housing, they don't get out shopping much, they're probably not going to be coming out to farm stands," Ms. O'Gorman said. "If they do get fresh produce, they're not going to get this really delicious fresh locally grown food.
"It applies to the lowest income people too," she continued. "It shouldn't be an elitist concept. This is really great that Morning Glory is doing this. It's a wonderful service to the community. They're offering us a lot of food."
Gleaners are able to go home with a small share of what they harvested in thanks for their service, and that's only one of the benefits from volunteering, Ms. O'Gorman said.
"One of the nice things about this is for people who don't have a garden or who have never been in a giant field of squash, it's a beautiful experience," she said. "It's also nice to see the potential of vegetables — if you're growing a squash and it gets to be a foot high, it's amazing."
Kristina West started volunteering last year, and tries to come to every weekly glean.
"It's fun. I have a home garden but it's only so big," she said as she bent over to pick a summer squash, her head buried in the large prickly leaves. "You get to play in the dirt and pick food for people that would otherwise go to waste."
Ms. West left behind her long gloves she normally wears when picking squash, but the squash rash she may have gotten from the large plants didn't stop her from picking.
"I'm privileged to have a good job so I don't have to worry about that stuff," she added. "It's nice to be able to help."
For those interested in gleaning you can contact Ms. O'Gorman at jamie@islandgrown.org. They'll be harvesting every Tuesday at 9:30 a.m. now through November. Groups and individuals are welcome.
This column is meant to reflect all aspects of agricultural activity and farm life on the Vineyard. To reach Remy Tumin, please call 508-627-4311, extension 120, or e-mail rtumin@mvgazette.com.