Wearing a bright orange top and neon green running shoes, David Melly was easy to spot along Middle Road on Saturday morning. Then again, it wouldn't have been difficult to find Mr. Melly at nearly any point during the 2011 Chilmark Road Race, as the 18-year old from Newton blew away the field. His winning time of 16:22 was more than a minute faster than the time of runner-up Jake Quagiaroli of Fishers, Ind., who crossed the finish line in 17:28.
"I just wanted to put forth a strong effort," said Mr. Melly, who will run cross-country as a freshman for Cornell University in the fall. "It feels good to put a strong race together."
Saturday marked his second time to run in the Chilmark race; the first was in 2009 when he placed fifth.
The women's winner, Marian Bihrle, has a bit more history on the five-kilometer course. A longtime summer resident of the Vineyard, the 27-year old from Boston finished with a time of 18:40. Although her schedule hasn't allowed her to run Chilmark the past four years, she's no stranger to the winner's circle, having won the race back in 1998 when she was just 14.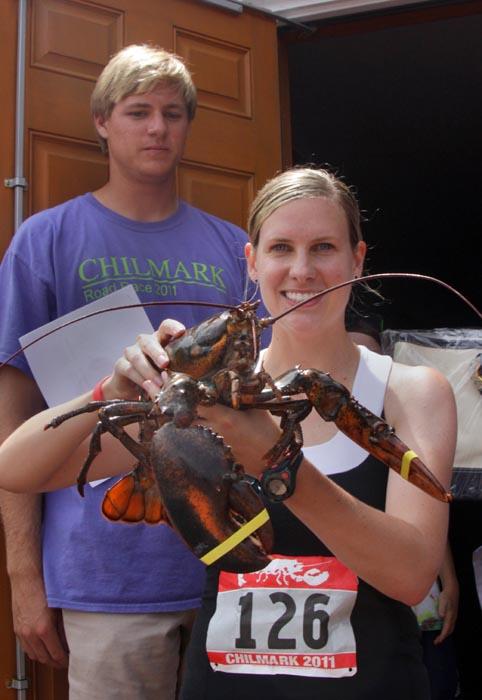 "It feels like I've come full circle," Ms. Bihrle said after the race. "It's great to be back here running and competing. Even though I've missed it recently, this race has been such a constant for me."
As is tradition, the two top winners were each awarded a five-pound lobster for their efforts. Also earning lobsters, albeit of a smaller variety, were the children's pacesetters (eight and under). Seven-year-old Evan Lee from Coral Gables, Fla., won the boy's division while Megan Joel of Chatham, N.J., led the girls.
"I didn't think about anything other than just running really fast," said Lee, whose time of 26:24 was made all the more impressive considering the only regular running he does is on the soccer field and tennis court.
The road race, which has been run every summer since 1978, has evolved into one of the Island's most celebrated sporting events. This year, 1,470 official runners completed the course. The times were a little slower than usual as warm, sunny skies certainly factored in the outcome.
As for the event operation, things ran smoothly. Notorious over the years for starting later than the listed 10:30 a.m. start time, officials blared the horn just 15 minutes behind schedule. Not bad considering the heavy majority of racers were bused to the starting line from the finishing line at Beetlebung Corner, which leads to its share of logistical obstacles.
Race organizer Hugh Weisman, who acted as pivot man for the more than 100 volunteer workers on the day of the race, credited a new initiative of giving free Chilmark Road Race bracelets to the first 200 competitors aboard the buses with moving things along.
"It's always an interesting experience getting things going," Mr. Weisman said.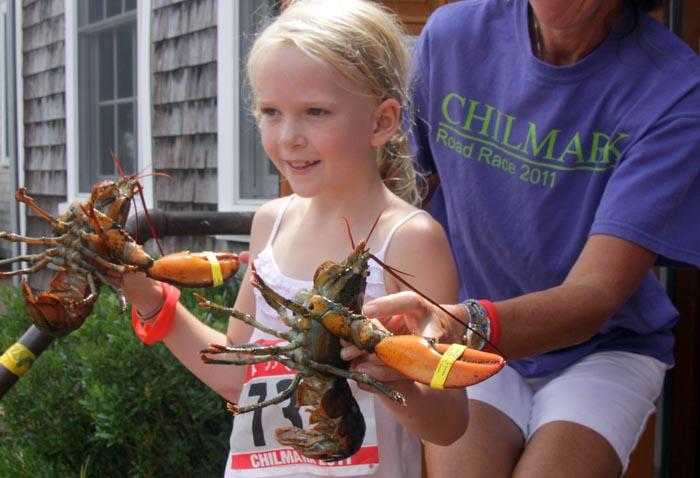 The race generated over $20,000 for the Chilmark Community Center. Prizes for the top finishers in each age and gender division were all donated from local establishments, and included boxes of Chilmark Chocolates, apparel from Vineyard Vines, gift certificates to numerous Island restaurants and photographer Peter Simon's Martha's Vineyard calendar, among others.
Among those walking away with goodies in hand was Susan Wilson, 80, who won the most senior age division in 43:42, none of 3.1 miles walked.
"I told myself, 'one foot in front of the other,'" she said, beaming.
For others, including 55-year-old Joan Miller from Chestnut Hill, preparation for the road race began almost a year earlier. Despite being defending champion of her age group for two straight years and three of the last four, Ms. Miller joined a running club predominately with the idea of keeping her Chilmark streak intact. The result?
"A personal record (21 minutes flat) of over a minute!" she enthused.
Of course, at Chilmark, as grassroots a race as there is, the individual medalists tell only a fraction of the story. Teams of racers, from numerous Island companies to extended families, also dot the course and congregate at Beetlebung Corner afterward. Perhaps none raced in greater numbers than the MacMaster clan, a family whose Saturday contingent totaled more than 50 racers. A Chilmark Road Race staple for 25 years, the MacMaster family was led by fourth overall finisher Keegan Skidmore, who crossed in 17:31.
"It's always a great event," Mr. Weisman said. "We're proud of this race and what it means to so many people."
Complete Chilmark Road Race results can be viewed at coolrunning.com/results/11/ma/Aug13_CHILMA_set1.shtml.