As the sun began to set at the Martha's Vineyard Agricultural Hall fair grounds Sunday evening, farmers began to haul their animals into waiting trailers, the last skillets were tossed in the air and only a few whirls of cotton candy remained shrouded in the golden August haze.
All signs pointed to the end of the 150th Martha's Vineyard Agricultural Livestock Show and Fair but there were still a few awards to be handed out.
Chris Riger walked into the agricultural hall in a whirlwind of excitement after returning from several site visits across the Island. Results in hand, Mr. Riger had been out judging special classes designated only for the grand anniversary – best vegetable farm and garden, fruit farm and compost.
"Oh, was that good!" he said late Sunday afternoon. "We can't have any ties for first place, right?"
Mr. Riger, a farmhand for Allen Healy at Mermaid Farm in Chilmark, huddled in the back office combing through his notes, a letter on the preparation of one entry's compost and circling the prize number next to the best of the class.
"It's pretty important stuff," Mr. Riger said of the compost category. There were two designated categories — one with compost including kelp and one without; there were no entries for compost without it.
"I have a real interest in some way helping to coordinate a compost system between farmers on the Island."
The best compost has the perfect balance of materials with nitrogen and carbon, and the blue ribbon for best compost went to Randy Ben David and Rebecca Gilbert of Native Earth Teaching Farm.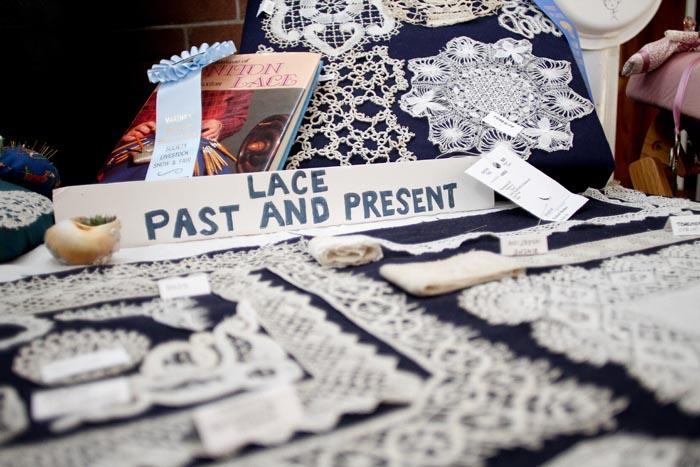 Native Earth has seven different types of animals on their farm, including ducks, pigs, goats and chickens to name a few, and all of the manure goes into their compost pile.
"They had the widest range of materials and manures," Mr. Riger said. "They had three good piles in various stages of aging and good quality."
In second place was home grower Paul Jackson, whose Ocean Heights vegetable and fruit garden thrives off of his special concoction of compost tea made from soaked scallops and compost piles of horse manure, straw bedding and heavy woodchips. Mr. Jackson didn't have as broad a range of material, but his efforts earned him the title of nature wizard, Mr. Riger said.
"He's a magician," said Mr. Riger. "Stuff happens by magic, he has so much love in that garden it makes things happen that aren't supposed to."
For example, Mr. Jackson has pumpkins growing in his pile of compost that would make Cinderella's fairy godmother jealous. "That pile should not have enough nitrogen to grow pumpkins," Mr. Riger said.
Mr. Jackson's crushed scallop shell driveway also adds to his crops' productivity — he's discovered that the direction of the wind blows just so the calcium and nutrients from the pieces of shells deposit directly onto the garden.
Island Alpaca Farm took third place, and Mr. Riger was quite impressed with their use of cardboard. Due to the nature of the barn and need of alpacas, the farm does not use much bedding, namely straw or wood shavings, but the use of cardboard is an extra boost to the nutrient balance.
"Philippe [Morin] is constantly experimenting and constantly thinking," Mr. Riger said of the farm manager. "In a sense it's much more active but the materials are more limited, there's not as full a spectrum as other [composts]."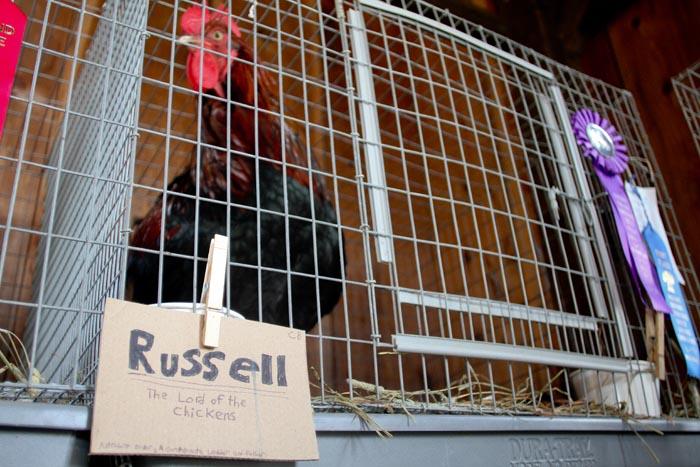 The cardboard retains the moisture, Mr. Riger said, and the earthworms just eat it up. The "billions of red wiggler worms" only add to the larger issue of how to deal with hundreds of pounds of alpaca manure the farm has to deal with daily.
"He's consciously cultivating," he added.
Mr. Riger awarded the Capece family of West Tisbury fourth place and noted their reclamation of the old sand pit off Edgartown-West Tisbury road into compost.
"You can't call it compost really because it was piles of raw material, but it has the potential to be activated into real compost," he said. Mr. Riger said he is looking forward to working with the family to make their piles of raw material into a usable product.
When it came to best vegetable and fruit gardens, Mr. Riger was almost delerious with happiness. Tiasquin Orchards took home first place for commercial fruit farms. Mr. Riger described it as "a gem, like a handcrafted sculpture."
Nancy Strecker and her grandsons, Devin and Brady Neale, work at their Lambert's Cove Road home garden, about a 100-square-foot garden of raised beds. Mr. Riger said it was a "very nice garden, a really nice family effort," and awarded them third place.
And then taking first place in both home vegetable garden and home fruit garden was Mr. Jackson again.
"I had to put some distance between them and Paul," Mr. Riger explained about not awarding second place.
"He's stratospheric blue," he said when it came to Mr. Jackson's plethora of ribbons.
Vegetable arrangements, alienlike cabbages and an entire table dedicated to his vegetables, garnered him blue ribbons from the fair judges and state officials.
"You see the quality of leaves and it's not just the beautiful peppers and tomatoes on the vine," Mr. Riger said. "His plants are so healthy you just go, Wow.
"There's so much love behind it, which feeds the plants."
Other special categories from the premium book included cheese, lace work, work boxes and flower arrangements in a pitcher and a "South Beach" arrangement in a shell. Katherine Long won first prize for her manchego cheese, mother and daughter duo Charlotte and Helen Hall won first and second prize respectively for their work boxes and Winifred Blacklow, Helen Hall, Lynne Silva and Heather Thurber, all won first place for their lace work because they were all so different.
Entry manager Eve Heyman said both the cheese and lace work category will make a return at next year's fair. Until then, away go the display cases, the tables and the signposts back into the rafters of the agricultural hall for another year.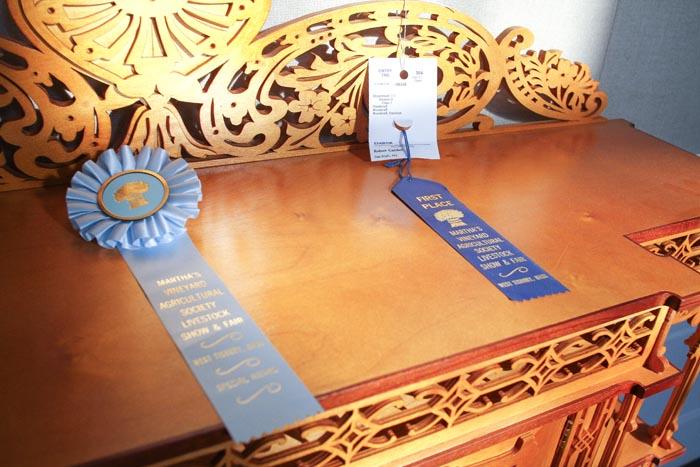 This column is meant to reflect all aspects of agricultural activity and farm life on the Vineyard. To reach Remy Tumin, please call 508-627-4311, extension 120, or e-mail rtumin@mvgazette.com.