Last spring Betty Burton received a call from a producer for Sesame Street. One of the most respected television programs for children had been branching out recently, from singing songs and learning how to count with fuzzy Muppet friends, to producing shows that educate kids about some of the bigger, more tragic issues kids face today. A new episode in the works was to be about poverty, specifically the issue of kids in America going hungry. Elmo would still be on board, but this time his big eyes and cuddly red body would be presenting the question: "Why don't people have enough food?"
Recent statistics released by the Food Research and Action Center state that more than 48.8 million Americans struggle with hunger or what is now called "food insecurity." Children account for 16.2 million of this statistic. This number translates to 21.6 per cent, or about one in five, of all children living in America today.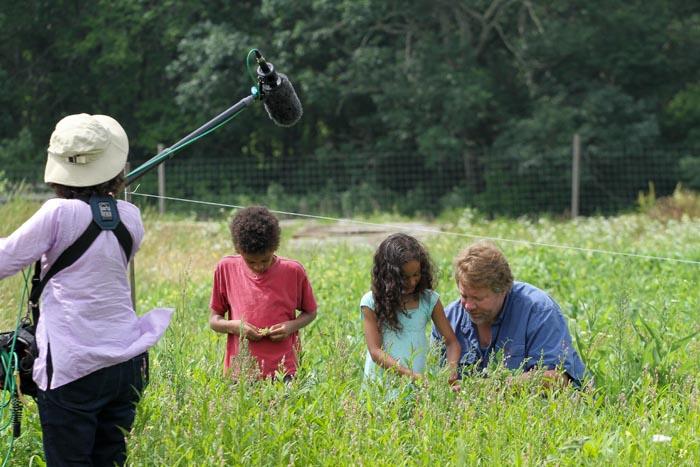 The producer had contacted Ms. Burton due to her knowledge of many of the local services on Martha's Vineyard that distribute free food, including the Island Food Pantry and Serving Hands. They were looking for a representative family to film on the Island who was dealing, day-to-day, with the issue of putting food on the table.
"Sesame Street wanted to do it here to show that even places like Martha's Vineyard, a supposed playground for the wealthy, has people in need," Ms. Burton said. Ultimately, they would film in three additional locations along the East Coast.
Ms. Burton knew just the family.
John Chivers spent a few years on the Vineyard a few decades back. More recently he had settled in Jacksonville, Fla. with his wife and three young children. A few years ago he and his wife separated, and needing to put some space between himself and what was at the time not a good situation, he came to the Vineyard to help out an old friend, Jeff Heard, whose mother had Alzheimer's.
However, a month after he arrived on the Island, his wife told him she couldn't take care of the children anymore. Suddenly, Mr. Chivers was a single dad trying to house and feed three small children, ages three to eight. At first he made do with unemployment checks and then that ran out. Eventually, he found a job driving a bus for the Vineyard Transit Authority. But he still couldn't make ends meet and began going to the food bank on a regular basis.
"It wasn't always what the kids wanted to eat, but they had food," Mr. Chivers said.
At the food pickups he met Ms. Burton, the distribution director for Serving Hands, which distributes food out of the First Baptist Church in Vineyard Haven.
"He was just this guy who said, 'What can I do to help out, what can I help move?'" Ms. Burton remembered. "And inevitably he had these little kids with him. When a man is trying to feed three children that's a lot to come up with."
Sesame Street arrived on the Island in June and spent a week filming Mr. Chivers and his family. The film crew accompanied them to their food pickup at Serving Hands, and to Whippoorwill Farm to get their CSA share. This year Andrew Woodruff, who owns the farm, donated two shares to Serving Hands and the Slow Food Network of Martha's Vineyard donated another two shares to help needy Islanders.
The film crew also joined Mr. Chivers and his kids at Morning Glory Farm as they worked with M.V. Gleaners, a relatively new organization here that goes into the fields after the local farmers have harvested their crops and gathers any surplus food and distributes it to organizations around the Island, including senior centers and the school system through the Island Grown Initiative.
Although in need himself, Mr. Chivers was determined to return the favor even before his life stabilized.
The actual filming was, according to Mr. Chivers, stressful. "The film crew was so sweet and magnificent but it was hard because you were on their agenda. They filmed for 60 hours and it was hard getting the children to cope in the fields for hours."
It was also difficult emotionally.
"It's embarrassing to admit to needing help and difficult to admit you are unable to provide for your family anymore," he said.
At one point in the filming, the director asked Mr. Chivers to look into the mirror and think about all the difficulty he was facing. The director was looking for a money shot, that scene of a grown man weeping over his predicament. The director also urged Mr. Chivers to lie on the bed with his arm over his face in a pose of giving up. But what actually made it into the show was a scene of Mr. Chivers crying, "un-cued, when I was talking about how grateful I was to this community."
His 67-year-old aunt, Susan Fieldsmith, provided a spare room at her home while he got settled. "I'm not sure how we'll handle this, but we're going to make it work," she said to him. Another friend gave him and his children so many clothes and toys, Mr. Chivers said to her, "You must be from one of those hoarding shows."
And then there was Ms. Burton at Serving Hands, the free CSA share at Whippoorwill Farm, the Island Food Pantry (which was not open during the summer when the crew was filming and so is not in the film), the Farm Institute, the free potluck suppers held at churches around the Island during the winter months, and countless other people in the community who helped Mr. Chivers by providing meals or babysitting.
This outpouring of help from the community is one of the main reasons he agreed to do the show. While he knew it would expose his vulnerability, he felt the costs to his personal integrity were offset by the possibility of educating others about how pervasive poverty and hunger is and that it is not just something that happens to other people.
The film, titled Growing Hope Against Hunger which will be screened here on the Island at the Vineyard Haven Library on Sunday, Oct. 9 at 7 p.m., and also air nationally at that time on PBS, begins by talking about, with Muppets no less, how the number of people going hungry in this country has been rapidly increasing, particularly in recent years following the recession. It also shows how the problem goes largely unnoticed as many people don't want to reveal the extent of their needs.
These needs are only growing, too, as the country moves forward with its agenda of strict austerity measures on social services to address the current deficit faced by federal and state governments. Recently it was reported by the Greater Boston Food Bank, which services Serving Hands and the senior centers around the Island, that it was facing cutbacks as stimulus funds disappear. Initial projections of a 20 to 30 per cent decrease in pounds of food received have swelled to reductions of up to 50 per cent in the new year.
"I'm hoping people can come and understand that we are in big trouble in this country now," Ms. Burton said, when referring to the film she will present on Sunday night. But to end on a positive note, Mr. Chivers and his family are experiencing a more stable lifestyle now. On Monday of this week, he started a full-time job as a driver for Vineyard Propane. He also won an affordable housing lottery earlier this summer and moved his family into the Morgan Woods community in Edgartown.
But his recent experiences are still very much with him and he's taking every precaution.
"In my mind I don't think of myself as poor," he said. "I'm a clothes horse and I dress well, I just get my clothes from the thrift shop now. I especially like it when I pay $3 for a shirt."