As hundreds of West Tisbury residents, including selectmen and moderator, awaited the beginning of the annual town meeting, Daniel Waters stood up to recite, not a prayer but a poem written especially for the occasion.
Tonight the gym is filled with chairs
In which our town will sit
Our democratic derrieres
And chew the fat a bit.
'It seems we did this just last week,'
We comment with a groan;
Yet measured by our own physique,
Another year has flown.
Mr. Waters read on for another several stanzas, performing one of his duties as the town's poet laureate. At this 2007 town meeting, he had a particular task in mind.
"I saw it as a chance to bring harmony to the crowd," he said, recalling the event this week. He paused, broke into a smile and added:
"Before they started tearing each other apart . . . It was an opportunity, a challenge and a scary thing, too."
Since he moved to the Island in 1977, Mr. Waters has put his wit, wide-ranging skills and commitment to work for his art and his community, and that has earned him one of the Island's most prestigious honors, the 2011 Creative Living Award, which will be presented by the Permanent Endowment for Martha's Vineyard at 5:30 p.m. Tuesday at the Grange Hall in West Tisbury.
Founded in memory of the late Ruth Bogan, a nurse by training who taught herself painting, photography, sculpture and three languages and was known to be an ingenious cook, an avid gardener and someone who could fix anything, the Creative Living Award for the past three decades has gone to people who have worked to preserve and protect the Vineyard and who in some way represent the unique Island way of life. Past recipients have included artists, farmers, doctors and volunteers.
Mr. Waters, 55, is at once honored and humbled to be in such company, but can't resist a bit of dark humor.
"This is the pinnacle, from which I will [now] be going down," he quipped, before turning serious. "To live in a place that actually recognizes creativity — it's a huge thing."
His rhyme and meter verse and accompanying linoleum-block prints are widely known, and his work has been featured in a number of books, on National Public Radio, in the Vineyard Gazette, Martha's Vineyard Magazine, Yankee Magazine and others. But his commitment to helping improve the Island has elevated him to something more than just an artist channeling the Island's beauty.
He has served as a trustee on the West Tisbury Library board during its multi-million-dollar expansion campaign that won a state grant earlier this year. (One year, he distributed perhaps the highest quality campaign literature ever, inscribed on three-by-five cards on heavy bond paper, urging people to vote for him, with the campaign slogan, "A Vote for Rhyme is a Vote for Reason.")
He has been chairman of the Martha's Vineyard Cultural Council, for which he received statewide recognition. And he has used his fluent Portuguese to help others.
Born in New Jersey but raised from age three through high school in Brazil, Mr. Waters has taught ESL classes and connected with Brazilian students whose parents work on the Island. And, of course, he was West Tisbury's poet laureate from 2006 to 2009.
Mr. Waters says he has appreciated every job he has performed on the Island, whether he liked them or not (and some he definitely did not.) They helped him to acquire a set of skills he has combined in a variety of his expressions, including greeting cards, books of poems and now songs.
When he first arrived on the Island with Hal Garneau, now his spouse, Mr. Waters sold factory second shoes, but also designed the products' newspaper ads, even drawing pictures of the sneakers. He picked up printing, photography, copywriting and graphic design skills at a series of jobs at printers, an ad agency and newspapers, including the Gazette.
He has composed thousands of poems, many of which appeared in the Gazette over the initials D.A.W., for Daniel Alan Waters. (Not Daniel Waters, the Connecticut author of teenaged zombie novels, for which D.A.W. still gets fan mail from girls who admire the zombie cheerleader's character.)
Tall and lanky with salt-and-pepper hair, Mr. Waters gestured around the second floor space at Indian Hill Press in West Tisbury, and described how various tools — a vintage press, typesetting machine, dictionaries, quality paper, inks, even the Internet — help him tap his creative impulses.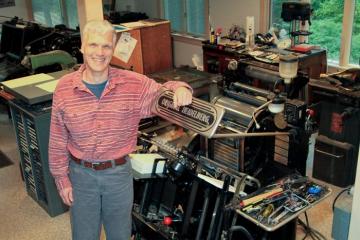 "This place is my laboratory," he said. "I feel I have the ingredients for a number of projects and experiments." He added with a smile: "You can wreak all sorts of havoc with what I've got."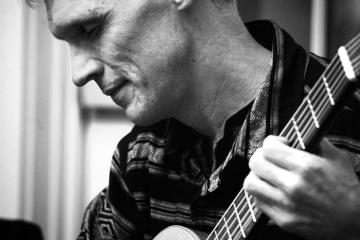 His new passion is writing music and playing guitar with musician Jemima James. But on this day, he and an old friend and coworker Libby Ellis are experimenting with mono-printing.
"I feel like I was admitted to Oz in here," said Ms. Ellis, an author, illustrator and painter, in a hushed tone. "He's like the Wizard of Oz. He's a wordsmith, a visual genius, a musician. I don't know when he sleeps."
Back at the West Tisbury town meeting, Mr. Waters ended his poem:
Remember us for decades later
Since time on earth is fleeting;
And also since the moderator
Would like to start the meeting —
So carpenter and blizzard plower,
When all is done and said,
May leave here at a decent hour,
And we may go to bed.