As the 2011 season winds to a close, look for make-up games to begin dominating team schedules.
Football
In their first conference game since Sept. 23, the Vineyarders took on Somerset in an away matchup last Saturday, staging a comeback in the second half before ultimately falling 21-20 to the Warriors.
The game was leaning in Somerset's favor after the first half, with the Vineyard down 14-0. Two third-quarter touchdowns by senior quarterback Delmont Araujo — extra points provided by Mike Cutrer — evened the score, 14-14.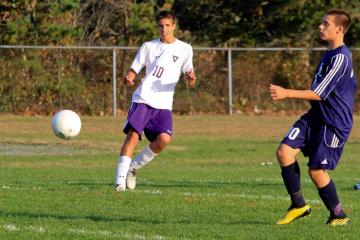 Somerset turned in another touchdown in the third, but the team again rallied for another Araujo touchdown with 3:30 remaining in the quarter. The Vineyard was unable to complete the two-point conversion, however, as senior Ryan Fisher was stopped by Somerset just short of the line.
The team takes on nonleague opponent Case in an away match tomorrow. The homecoming game will be Oct. 28 against Bishop Feehan.
Cross-Country
Just three days after setting personal bests during the Vineyard's near-sweep of Somerset, juniors Michael Schroeder and Cooper Chapman again had personal bests at the Brown Invitational in Rhode Island, placing 13th and 20th in a field of 200 runners with times of 16:52 and 17:03, respectively.
Sophomore Jeremy Alley-Tarter ran a 17:44 to place 42nd, with junior Kyle Joba-Woodruff right behind with a 17:46. Junior Sam Oslyn rounded out the quintent of sub-18:00 finishers (17:54), while junior Job DeForest finished in 18:01. Sophomore James Roddy had a time of 18:23.
On the girls' side, junior Hannah Moore placed 35th of 215 runners with a time of 20:56. Sophomore Lily Neville turned in a 21:16 for 47th, while freshman Willoe Maynard was 54th with 21:23. Senior Shivonne Schofield posted a 21:44 while senior Eva Balboni and sophomore Sophie Ulyatte ran matching times of 22:33. Sophomore Lucy Norris and senior Maya Harcourt completed the varsity roster.
Boys' Soccer
The Vineyarders continued their win streak this week, taking down previously undefeated Nantucket at home on Sunday 6-0 and routing EAC competitor Somerset on Tuesday 4-0.
The team remains undefeated in the EAC. Keepers Rafael Maciel and Jackson McBride have shut out their opponents for the past four matches.
The boys are away this week, taking on Dennis-Yarmouth today and traveling to Somerset for a rematch on Tuesday.
Girls' Soccer
The Vineyarders took on the Nantucket Whalers Saturday in what coach Richard Bennett described as a "fabulous game." Although the girls fell 2-1, Coach Bennet described the game as "evenly played . . . the kids were happy and I was happy."
Senior Aubrea McCormick scored the Vineyard goal on a free kick from 30 yards out.
In their second match of the week, the girls took on EAC opponent Somerset in an away match. The team struggled defensively, however, and fell 6-0.
The girls will run the gauntlet this week, playing five games in six days. They first take on Cape Cod Regional Tech in an away game at 3 p.m. before traveling to Wellesley on Saturday. A home game against Bishop Feehan takes place Monday at 4 p.m.; the girls play Somerset at home on Wednesday at 3 p.m. They will also play Scituate in a Tuesday away game.
Field Hockey, Golf
Field hockey takes on Nauset tomorrow at home at 1 p.m. and will play Falmouth in an away game on Wednesday.
Golf travels to the Cape Cod School today. The team travels to the state tournament on Tuesday.