After being postponed a week due to rain, the annual middle-school quad track meet — this year a pent meet, with the charter school participating for the first time — went off without a hitch last Friday at the regional high school track. West Tisbury, undefeated in the regular season, took first place on the girls' side, and tied with Tisbury for the win on the boys' side, despite showing up with a somewhat depleted squad of just five boys.
"I'm so proud of my kids," said West Tisbury coach Bob Ogden, describing the team as a Cinderella — or Rocky — group. "In a sport that can be really individualistic, they all came together as a team."
West Tisbury's Chase Sylvia put points on the board early, taking first in the long jump with a 13'11" leap, 100 metre-dash (12:95), and the hurdles (12:50). Teammate Chris Mayhew took second in the discus and fourth in the 200 metres, while Lewis Neville placed fourth in the mile.
Wayman Harrison and Nevin Wallis picked up a pair of wins for the Oak Bluffs School, taking the shot put (29'2") and the 200 metres (29.8), respectively. Wayman placed in multiple events as well, taking third in the 100 and second in the hurdles. Blazer Gabe Oliveira was third in the hurdles.
The Edgartown School cleaned up in the discus, taking first (Jordan Tate, with a throw of 70'9"), third (Josh Tate) and fourth (Curtis Fournier). Josh also ran to a second-place time in the 200 metres. Teammate Charlie Fenske took third place in the mile and the long jump; Daniel Gaines was third in shot put, while John Morris took fourth in the hurdles.
Tucker Cosgrove notched points for the charter school with his second-place run in the 100-metres, while classmate Ethan Hall took fourth place in the shot put.
Tisbury's Jake Janek ran a 6:29 mile to take first place in the event, edging out Avaires Gedvilas of the Oak Bluffs School by just one second. Jake also turned in second-place finishes in the long jump and shot put. Fellow Tiger Cole Houston was third in the 200 metres, while Ben Davey took fourth place in the long jump and 100 metres. Gabe Oliveira finished third in hurdles.
Tisbury also slipped by the competition in the 4x100 relay, winning with a time of 1:02.7, just .04 seconds ahead of Oak Bluffs and one second ahead of West Tisbury. The win surprised even coach Kevin Nichols, who had had to make last-minute adjustments in the race, substituting sixth-graders Cole and Gabe into spots normally held by eighth graders.
"They were scared," said Coach Nichols. "And we ended up winning anyway."
The Tigers' 4x100 team eked out a victory on the girls' side as well, with .06 seconds separating them from West Tisbury and 1.5 seconds from third-place Edgartown.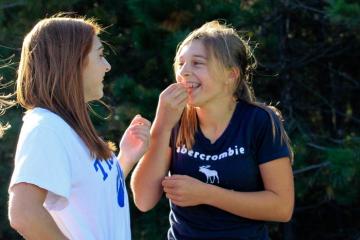 The West Tisbury girls rolled to their team win by taking first in four events. Emily Turney took both the shot put and discus (the latter with an impressive 90'6" toss), while Juniper Ezanno and Livy Smith won long jump (12'6") and hurdles (12:71), respectively. Juniper also took second in the 100-metre dash, while Livy finished second in long jump. Fellow Hawks Whitney Schroeder and Madison McBride placed second and third, respectively, in the mile, and Hadley Chapman and Rose Capoblanco ran to second and fourth place in the 200 metres.
Sam Hargy helped the Edgartown School to a second-place team finish with a first-place 100-metre run (13:55) and a second-place shot put throw. Teammates Shannon Morris and Erin Hill took third and fourth in the shotput. Lucy Ulyatt and Rebeca Lima were second and third in the discus; Angel Shepard turned in a fourth-place time in the hurdles.
In Tisbury's corner of the track, Casey McAndrew placed in three events, missing second place in long jump by just one inch, and taking third and fourth in the 200 metres and discus. Genny Kent took second in hurdles, and Lily Pigott turned in a fourth-place time in the 100 metres.
Rose Engler of Oak Bluffs outpaced her opponents to take the mile in 6:39, while teammate Julia Reagan was fourth in the event with a 7:29. Oak Bluffs' other points came from Natalia Lakis, who placed first in the 200 metres and third in hurdles.
Charter schoolers Amanda McKenzie and Autumn Richards placed in the 100 metres (Amanda, third place) and long jump (Autumn, fourth place).