There's a fully furnished kitchen, living room, study area, recording studio, performance stage, pool table and sound booth. Not to mention two pinball machines.
The new YMCA's Alexandra Gagnon Teen Center may sound like a hip downtown apartment building, but it promises to become a hub of teen life on the Vineyard.
After the opening of the center last Saturday afternoon, Island teens now have a place to call their own. Community members young and old gathered for a ribbon-cutting ceremony to celebrate a safe and fun space.
"It's important they have a sense of ownership," said executive director Jill Robie. "I don't think there are a lot of places on the Island where teens feel like it's theirs. The space is really like a home; it has everything a home has other than a bedroom. I think for some kids that's really important."
Upstairs, teens will be able to use a fully furnished kitchen, TV area, desks and tables for homework, and sofas for a power nap in between studying. The downstairs is a basement — called The Base — that you dreamed about as a teen.
It was a bittersweet event that both marked a new chapter for Vineyard teens and paid tribute to the memory of Alexandra Gagnon, a summer resident who spent much of her free time at YMCAs. She died in 1998 at age 23.
State Rep. Tim Madden set the tone early on in the ceremony.
"Alexandra is smiling down on all of the Vineyard and your efforts," he said. "This by far is the most exciting and heartwarming thing I've seen because we always hear living on islands [that] we have to have something for our kids to do. No more excuses, kids . . . Alexandra would be happy for all of you."
Ms. Robie echoed Mr. Madden's sentiments and thanked Ms. Gagnon's parents, Jacques and Marfi Gagnon, for their dedication to the Island.
"This is something that is bittersweet as a mother of two daughters," Ms. Robie said. "I do feel her here. I didn't know her, but I feel her. I think that feeling is going to permeate this center for all its years, in perpetuity. I'm very, very thankful for the courage, generosity that the two of you have brought to the Y and shared with all of us."
Ms. Robie pointed to teen center director Tony Lombardi as the "visionary" behind the center; Mr. Lombardi in turn thanked the Gagnons.
"I want to offer my thanks to both of you," Mr. Lombardi said. "You always hope if you lived long enough that whatever your dreams are, they'll come true and I for one am living proof of that and everyone here at the Y is part of that."
"I'm so grateful you'd share your daughter's legacy with us," he added.
Funding for the $1.2 million facility came from the Alexandra Gagnon Foundation, which Mr. and Mrs. Gagnon set up immediately following their daughter's death after a long battle with drug addiction. The teen center has existed in different forms, most recently at Cottagers' Corner and then in the basement of the new Y facility.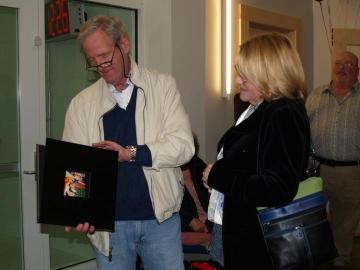 On Saturday, a little over a year from the foundation's pledge for a brand new facility at the Y, a red ribbon hung across the threshold. In front of the center will be a garden named in honor of Jena Pothier, who died in 2009 at age 18 in a car accident where the driver was drunk.
Much of the work was donated in kind by Vineyard contractors and businesses. Comcast donated nearly $100,000 worth of equipment, including computers, recording equipment, projectors and other supplies.
Mr. Gagnon thanked the community for its support. "Thank you, thank you, thank you, all of you who participated in making this possible, " he said.
The vision of the teen center was created through a series of focus groups led by Mr. Lombardi. Ideas for everything from the state-of-the-art deejay station and recording booth to pinball machines and teen-only yoga classes came from teens who saw pockets of entertainment and amenities missing on the Island.
"This is awesome," one student said to Mr. Lombardi, after the ceremony.
"Everything in here is organic and designed to change as the culture of youth changes," said Mr. Lombardi, who is proud of his reputation as the "cool adult" among the teens. "I anticipate and can already see that happening. What was cool even three years ago, now not so much. It all has to be able to move with the times," he said.
The teen center will be in full swing after a New Year's Eve party, at which all are welcome. Programming will include monthly cooking classes by Island chefs; Friday dance parties; live performances that include bands, poetry and theater on Saturdays; film production workshops in the spring; a deejay mentorship program; and a weekly program for youth in early recovery from drug and alcohol. And the list goes on.
If Mr. Lombardi has his way, the center will continue to grow. In fact it will need to grow to meet the Island's needs, he said.
"When you have 2,000 diverse kids, if you want to be successful in creating a place that belongs to them and will impact them, then you have to provide diversity in programming and that's why I'm so happy to be a part of this Y," he said.
"This YMCA understands when you have an isolated community you have to respond in a very different way than say if you were in Boston or New York," he added.
"It's a very different set of obstacles and issues. Although we strive to make sure kids have a healthy and safe option to drug use, we are not a rehab center. We are simply providing an alternative and I believe kids will rise to the challenge of rejecting 'the party' if you provide them with something that's going to entertain them in a way that they should be entertained."
Mr. Lombardi said the only way the teen center will continue to be relevant is with the emotional and financial help of the community.
"It's a blessing," he said.