Gannon and Benjamin Marine Railway, a well-known boatbuilding operation on Beach Road in Vineyard Haven, has a new partner. Ross Gannon and Nat Benjamin have been running the boatyard since 1980 and together have built 50 wooden boats and a far-ranging reputation in preserving the heritage of wooden boat building.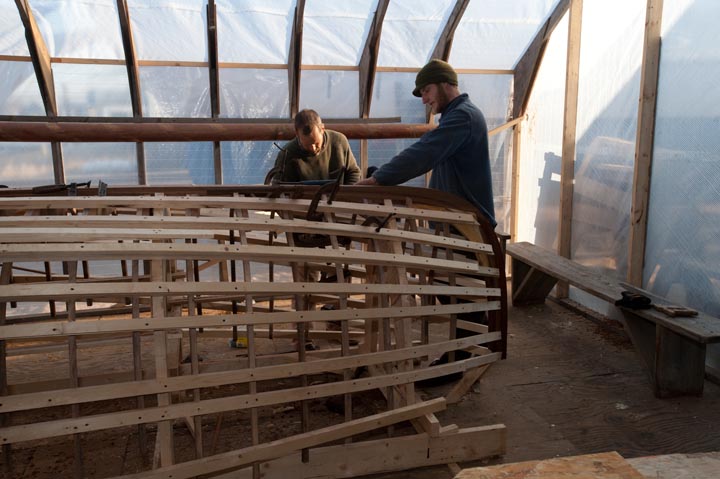 Now, Brad Abbott, who has worked day to day in the shop for nearly two years, has joined with the two in running the business.
Mr. Abbott's new title represents more than simply the addition of a third person. It marks a significant expansion of the services the company can offer its customers. "Brad brings a whole set of skills, mechanical skills, engine work skills, generator, plumbing and electrical experience," Mr. Gannon said. "It is something we lacked before."
The partnership arose out of a mutual interest in the present and future of the boatyard, its huge role in the wooden boat community and family. Mr. Abbott had run his own boatyard in Pickett, Wisc., and started working for the two in the spring of 2010. Each of the three men had thought about the idea separately, but did not discuss it with one another until Mr. Abbott brought it up last spring. Now, just the final lawyerly details remain to be worked out.
The announcement comes at a time when the boatyard crew is building two nearly identical 18-foot day sailboats, both designed by Nat Benjamin.
Mr. Abbott and his wife, Alice Kyburg, sailed into Vineyard Haven harbor in 2010 and met the Gannon and Benjamin family while returning from a cruise to the Caribbean. Ten years ago, Mr. Abbott started Ames' Point Boatworks in Pickett, where he said, "There is a post office and a gas station and they are both in the same building."
Mr. Abbott, 47, said he and his wife decided to take a year off and go sailing in their 48-foot aluminum yawl Aurora. They sailed out of the Great Lakes, through the St. Lawrence Seaway and down to the Caribbean and back.
"We pulled into Vineyard Haven and never left," Mr. Abbott said.
Prior to their trip the couple thought of relocating. His wife had spent time on the Vineyard after college and had been a teacher on Nantucket for a year. "The Great Lakes are great for sailing, but it lacks a bit for the real old maritime culture," he said.
They were impressed by the Vineyard and more particularly what was going on at Gannon and Benjamin. During their Caribbean trip they made two visits to the boatyard, once in the fall of 2009 and again in spring of 2010 on their way back up the coast.
"I remember I stopped in on Memorial Day weekend, in 2010. Ross at the time was finishing his own boat, Elita, a 45-foot Marconi rig sloop. He was working on a frantic deadline. I introduced myself and mentioned that I had a specialty in mechanical work and systems work. There was a real need to get things done," Mr. Abbott said. And that is precisely what Elita needed — systems work, and to stay on schedule and get done.
It was decided that Mr. Abbott would stay and help.
Elita was launched in July 2010, and Mr. Abbott stayed.
The changes he brought to the boatyard were apparent, particularly last summer.
"The summer is normally slow for us," Mr. Gannon said "Brad had a whole repair regime going on here. We've never had that before. Normally, we take a lot of time off in the summer and go sailing, it is so slow. But not with Brad. Brad worked right through summer putting in 12-hour days," he added.
"There is a large transient yachting scene that goes through here every summer. We are trying to tap into it with service." Mr. Abbott said.
But it wasn't just a fit with skills. Mr. Abbott, who already ran a boatyard himself, said he wanted to be part of the decision making and have a long-term commitment with the boatyard.
Mr. Benjamin said he and Mr. Gannon, both 64, had often talked about having someone else step into a larger role in their company.
And Mr. Abbott's decision to commit to the Island involved more than wood, salt water and boat building. "Part of the thing that I was completely struck by, immediately, was the warmth, the importance of family and the family environment here," he said. He and his wife have eight-year-old twins, Henry and Amelia, who have been attending Vineyard schools for two years. Ms. Kyburg continues to commute between the Vineyard and Wisconsin, where she teaches philosophy at the University of Wisconsin.
On a recent afternoon, Henry and Amelia arrived at the boatyard after school and ran playfully around the yard. (They are not the first set of twins in the boatyard family; Mr. Gannon and his wife, Kirsten, also parent 11 1/2-year-old-twins, Olin and Greta Jane.)
Mr. Benjamin said the two 18-foot boats under construction were commissioned by a resident of Shelter Island who is helping to subsidize the project. The boats will go up for public sale when completed.
The design of the boats follows the Quitsa class gaff-rigged boat, 14 feet long with a centerboard and popular among young and old sailors.
One of the two new 18-footers will be Marconi rigged, the other gaff rigged. Mr. Benjamin said he wanted to design a boat that would give sailors something they can race in the Holmes Hole Sailing Association summer races and can be sailed around with authority. There is no ballast. "There is human ballast," Mr. Benjamin said.
Last week the boatyard crew were busy putting in steam-bent, white oak frames in one of the boats. A wood steam box powered by a propane fire and metal container containing hot water produced the needed heat and steam. New England grown white oak frames were stashed in the box and heated. Once cooked with the steam they are temporarily pliable. Using many firm hands and an assortment of clamps, each frame was bent to fit into its intended place.
Each boat is a mix of many different woods: Each as an angelique backbone and a wana transom. Each boat will have cypress, white cedar and wana planking. Mr. Benjamin said both boats will be finished by spring.
In a ceremony the partners hope presages a successful year, the boatyard will be honored with a special tribute dinner at the 21st annual Wooden Boat Show, in Mystic, Conn, on the evening of June 30th.
In making the announcement, Jon Wilson, founder and editor-in-chief, of Wooden Boat magazine said: "Following their passion for wooden boats, [Gannon and Benjamin] embarked on an enterprise and a way of life that has brought them—for more than thirty years—peerless reputation and world renown."
He said further: "The Gannon and Benjamin Marine Railway became much more than a small business. The many design and construction endeavors of the yard have brought vitality to the future of traditional wooden boat building, illumination to the finer skills of traditional seamanship, a sense of pride to the people of the Island, and something more to the already-unique Vineyard Haven Harbor."
The addition of Mr. Abbott will not facilitate a name change to Gannon, Benjamin and Abbott, Mr. Abbott said.
"We don't want to sound like a law firm."