Edgartown wastewater plant manager Joseph Alosso resigned Tuesday, bringing to an end a tenure that culminated in a scathing report from special counsel last week alleging Mr. Alosso had acted with "reckless disregard" for Edgartown taxpayers through lax billing practices at the plant.
Town attorney Ronald Rappaport, labor counsel Jack Collins and Mr. Alosso's own counsel reached an agreement immediately prior to a joint meeting of the town selectmen, wastewater commission and personnel board. Mr. Alosso had been on paid administrative leave for the past week.
At the meeting, the wastewater commission voted to accept an agreement letter between Mr. Alosso and the town of Edgartown. The letter, detailed by Mr. Rappaport, stipulates that Mr. Alosso's resignation will be effective May 16, and he will go on unpaid leave starting on Friday, Feb. 10.
Last week, special counsel John Paul Sullivan, a retired judge who was appointed by the town to investigate allegations of billing mismanagement at the Edgartown wastewater plant, delivered a sharply critical, 64-page report detailing a long list of deficiencies in billing practices at the plant and criticized town wastewater commissioners' lack of oversight at the plant.
After Friday, Mr. Alosso will have "no active or passive role in [plant] affairs and will perform no services on behalf of the [plant] or the town," the letter states.
Mr. Alosso will be paid for accrued vacation and 25 per cent of any accrued sick leave, per the agreement. Nothing in the agreement "will affect Alosso's creditable service for retirement calculations," the letter states; he has not participated in the town's health insurance plan, and he will continue not to do so.
The agreement also includes a stipulation that Mr. Alosso and the town will not make "any public oral or written communication to any person or entity which has the effect of damaging either's reputation, or otherwise working in any way to either's detriment."
"Just for the record, the board of selectmen is in concurrence with the decision to sign this agreement," said selectman and board chairman Arthur Smadbeck.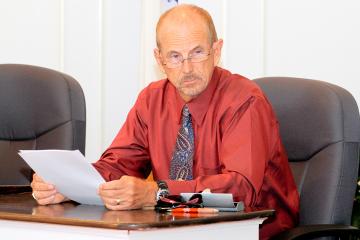 "I'm personally saddened, I think we all are, by these events," Mr. Rappaport said at the end of the meeting, noting that better systems have been instituted at the plant. "I think in the long run Edgartown will be better off for this unfortunate series of events that have happened."
Mr. Alosso is still in his job as plant superintendent at the Oak Bluffs wastewater facility, though the wastewater commission there voted two weeks ago to eliminate his position. Labor counsel Jack Collins informed the Oak Bluffs wastewater commission on Tuesday afternoon that they do not have the authority to fire Mr. Alosso; only the board of selectmen may do so. The commission then voted 2 to 1 to recommend the selectmen eliminate Mr. Alosso's position at an upcoming meeting.