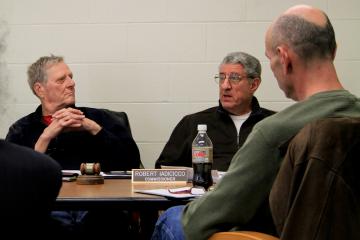 The Oak Bluffs wastewater commission Tuesday rescinded a recent decision to eliminate plant manager Joseph Alosso's position, instead forwarding a recommendation to the town selectmen, who have the authority to make such a decision.
With town counsel Ronald Rappaport, labor counsel Jack Collins, interim town administrator Robert Whritenour and selectman Michael Santoro attending the meeting, the commission voted unanimously to rescind its Jan. 26 decision to eliminate Mr. Alosso's position for budgetary reasons. The board then voted 2-1 to recommend the selectmen eliminate the position.
Mr. Rappaport and Mr. Collins both said the commission did not have the power to eliminate the position.
Commissioners Gail Barmakian and Hans von Steiger voted to recommend that the selectmen eliminate the position effective July 1. Commissioner Robert Iadicicco voted against the measure.
Ms. Barmakian reiterated her financial concerns. "We need to take proactive steps and assure the public that we're doing everything we can to avoid raising rates," she said.
As he did last week, Mr. Iadicicco spoke against the decision. "I would oppose this action," he said, noting that Mr. Alosso has "always performed in an exemplary manner."
The future of Mr. Alosso's job is now in the hands of the Oak Bluffs selectmen.
Calling the decision to eliminate Mr. Alosso's position a "bolt from the blue," Mr. Iadicicco questioned the two other commissioners about a discussion they had in the hallway prior to the meeting last week.
Mr. von Steiger said he and Ms. Barmakian did not discuss anything relating to Mr. Alosso's dismissal, but he did say the discussion was about matters on the agenda.
Mr. Alosso, who spoke little at the meeting, said if the commissioners privately discussed a matter on the agenda, they had violated the state open meeting law. "Just so you know," he said.
Earlier in the day, Mr. Alosso submitted his resignation from his job as wastewater manager at the Edgartown plant, following a report criticizing his management there.
The matter now moves on to the hands of the Oak Bluffs selectmen.