There can be an aura around musicians, an impenetrable mystique. But for Phil daRosa sitting behind the soundboard at his new recording studio, the Print Shop, humming a tune here and there, spitting a beat every so often, there was none of that.
"I've never been down with that approach, both [on the Vineyard] and in the industry," he said. "This facade that's untouchable and unaccessible – whatever. We're all doing the same thing, why even have that whole vibe?"
The Print Shop is located above daRosa's Martha's Vineyard Printing Co. in the same room where Mr. daRosa (now 33) once watched cartoons after school while waiting for his parents to finish work. And if his family downstairs isn't reminder enough of where he came from, the 1970s orange carpeting and faux wood paneling still in place complete the memory.
The Print Shop opened in December of 2011 after Mr. daRosa transformed what had become storage rooms stacked ceiling high with paper and boxes into a state of the art recording studio. Couches, wall murals, and soft lighting create the cool factor of a major recording studio. Circuit avenue buzzing below maintains the Island feel.
The name of the studio is an ode to his past and present.
"Downstairs my dad used to call it 'the shop' all the time, and most engineers call bouncing tracks down to a stereo track 'printing' so there's a musical reference to the Print Shop, so the whole thing ties into itself," he said.
The goal, Mr. daRosa said, was to create a welcoming environment where musicians of all walks and genres would be able record their work at affordable rates. Studio time is $50 an hour; day rates are also available.
"There hasn't been an affordable studio of this caliber on the Island," he said. "A huge motivator for me with this space was to bridge that gap."
Mr. daRosa has a solo career, plays guitar in the band Kodacrome and bass in Dukes County Love Affair (DCLA). The studio has served as a home base for those endeavors, but Mr. daRosa hopes the studio will serve a broader purpose by reaching out to a large cast of musicians.
"There isn't a launching pad for anybody. Yeah, people can do their own recording these days, but there's something about having a studio where you go in, you feel like you can stay there all day. That's why I made it vibey and comfortable," he said. "There's something about having someone else press all of the buttons ... I hate having to stop and start and do it all by myself. Having someone else there to do it all adds this whole other level to the recording process.
"Come and check it out if nothing else, come and see it, see what's here and available ... if there's some high school kid that wants to call me and check this place out — great! I want to be accessible."
Mr. daRosa said he wants to capture the magic of the creative process.
In high school Mr. daRosa was in the high school orchestra band and sang in the Minnesingers, but it wasn't until he arrived at Keene State College that he realized he could make a living doing something he loved. After studying music theory and composition in college, Mr. daRosa began to teach himself the technical side of mastering sound.
He's now considering offering mixing and recording classes.
Mr. daRosa admits being a music producer is a constant learning process.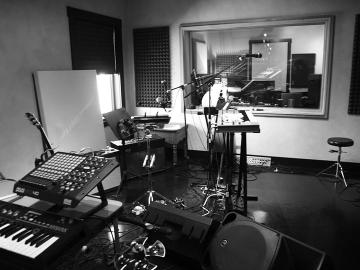 "It's really a trial and error thing," he said. "I have some friends who gave me pointers and are still giving me ideas. It's not like I'm even close to where I should probably be with a space like this, but that's part of the fun. It's ever-changing and there's lots of learning still to be done."
In the Print Shop's five months of operation, Mr. daRosa has recorded Island artists Brian Alexander, the Daytrippers, Alex Karalekas, and most recently Kodacrome's new album Perla and mastered DCLA's second album, Ghost Town Sessions.
Tonight, fans will travel to Boston for DCLA's record release party at the Hard Rock Cafe. The band recorded five new tracks at a former creamery in Oakland, Calif. and brought the tracks back to Oak Bluffs for mastering under Mr. daRosa's tutelage.
"DCLA is a raw live vibe. That's what we wanted, we recorded it all analog to one-inch tape. We all got in a room and played through the songs and then [lead vocalist] Mike Parker overdubbed his vocals in one take," Mr. daRosa said. "It's totally different and not polished. We liked that approach."
Kodacrome's music is technical, synthesized and precise, and Mr. daRosa said he enjoys working with both bands, contrasting with his own acoustic style. On April 21, Kodacrome will perform at the Lampost in Oak Bluffs for their record release.
It's bound to be a busy summer for Mr. daRosa, between gigging with his bands, booking weddings for himself and running the studio, but he already has ideas brewing for expansion. Standing in the room where the bands play live, Mr. daRosa dreams big.
DCLA plays tonight at the Hard Rock Cafe in Boston. A bus leaves from Woods Hole at 7 p.m. and returns at 2 p.m. on Saturday. Tickets are $30 for the bus, show, and a copy of the CD. Tickets are available at the Green Room or info@dclamusic.com. Kodacrome performs April 21 at the Lampost in Oak Bluffs. For more information on the Print Shop visit printshopaudio.com.