On a rainy Tuesday morning at the Chilmark library, children's librarian Kristin Maloney was in the middle of her Stories and Songs program, reading April Pulley Sayre's book, If You're Hoppy, to 30 toddlers and infants. Parents, preschool teachers and babysitters sat behind the main circle, which was littered with strands of bells, egg-shaped maracas and various types of drums. Mrs. Maloney's clear voice narrated the happenings of the book, matching words with the bright paintings of animals on each page.
If you're flappy and you know it, you're a bird.
Mrs. Maloney looked out at the group.
"What else flaps their wings?" she asked.
The responses were immediate. "Butterflies! Owls! Hawks! Vampires! A vampire bat!"
"It's very geared towards involving the kids," Mrs. Maloney said of her story time, after she'd stowed away the guitar she plays for most of the hour-long Stories and Songs. "I'm always using their names, it's interactive, and there's a lot of music."
If there's a magic formula for the perfect story time, Mrs. Maloney and her fellow children's librarians on the Vineyard have hit upon it, with impressive results. There are a minimum of eleven different opportunities each week for pre-readers to discover the joys of books, music, and even foreign languages — Oak Bluffs librarian Sondra Murphy recently hosted a story hour for petits francophiles. Large groups such as the Tuesday crowd in Chilmark are common, as preschools and daycares often bring their charges.
In the summer, story times reach capacity.
"The kids get on the stairs, they sit on people's laps," said West Tisbury librarian Nelia Decker of her summer sessions, which often draw 60 to 70 people. "I have no room to move," she added, laughing.
"It's just a really exciting thing," Chris Rasmussen, a teacher at the Vineyard Montessori School said. "[Kids] find it very fun and different when it's a new adult that reads to them."
And while the toddlers are laughing at a silly story or rhyming along with Dr. Seuss, they get a sense of the fun of reading as well. When kids are singing, they're breaking words down into syllables and component parts. When they're hearing a story, they're learning to associate words with concepts. Early literacy is the not-so-hidden agenda of story time.
The landmark Hart-Risley study, conducted in 1995 and still used as a benchmark for literacy programs, found that young children from upper-class homes tended to hear about three times as many words at home as did those from poorer households. Library programs help fill in these vocabulary gaps, preparing the toddlers for kindergarten and beyond.
"Something I've been trying to get across to parents is that early literacy starts at birth," Vineyard Haven librarian Sarah Hines said. "I don't want them to be scared to bring their babies. It's not [even] all about reading; it's also about babies being able to handle the book and know how to flip a page."
"If you make reading warm and fuzzy...it gives [kids] a desire to want to do it on their own," said Edgartown librarian Debbie MacInnis, a 37-year veteran of the children's room.
"I love story hour," she continued. "That's the reason I do what I do for a living . . . it's the connection."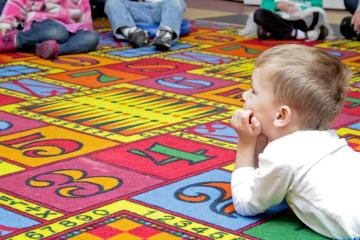 There's a certain age, Sondra Murphy said, when preschoolers love to talk to you. "They don't care what they're saying, they're just going to say it," she said. From the girl who blurted out that her dad wears a toupee to the preschooler who pulled "Miss Sondra" aside after story hour to excitedly tell of going to kindergarten soon and "learning math, but I don't even know what that means," it wouldn't be a story time if it didn't generate its own tales.
Mrs. MacInnis recounted the story of a two-year-old who regularly attends Edgartown story hour. The toddler "has a vocabulary of about ten words," said Mrs. MacInnis, "and she woke up one morning and said to her grandmother 'Library.' She knew it was library day."
"You just can't do anything better for your kids than get them hooked on books," she said.
Story times are held throughout the week at Vineyard libraries.
Monday: West Tisbury, Mother Goose on the Loose at 10:30 a.m.
Tuesday: Chilmark, Stories and Songs at 10:30 a.m.; Vineyard Haven, Story Time, ages newborn to two at 10 a.m., ages three to five at 11 a.m.
Wednesday: Oak Bluffs, Story Time for toddlers at 10:30 a.m. and preschoolers at 11:30 a.m.
Thursday: Edgartown, Story Hour at 10:30 a.m.; West Tisbury, Story Time at 10:30 a.m.
Friday: West Tisbury, Mother Goose on the Loose at 10:30 a.m.
Saturday: Chilmark, Stories and Songs at 10:30 a.m.; Edgartown, Toddler Time at 10:30 a.m.