Both the boys' and girls' tennis teams remain undefeated this season. The boys play two home matches this week, taking on Quaboag Regional on Sunday at 11 a.m. and Coyle and Cassidy Wednesday at 3 p.m. The girls are at home today, playing Barnstable at 4 p.m.
Boys' Tennis
The boys traveled to Bishop Feehan last Thursday, winning 4-0 (number two doubles player Patrick McCarthy's match was called due to rain). At number one singles, junior co-captain Kent Leonard defeated Matt Boland 6-3, 6-1, while fellow co-captain Justice Yennie took a 6-4, 6-1 win over Josh Loew. On the doubles courts, juniors Natty Schneider and Jackson McBride powered to a 6-1, 6-1 win, and Ryan Sawyer and Justin Smith went 6-0, 6-4.
On Monday, the team hosted and swept Sandwich. Leonard avenged an earlier-season loss to Sandwich's number one player, Matt Martin, going 6-1 in the first set and rallying from an initial 4-1 hole to win five games in a row and take the second set. McCarthy took a 6-2, 6-1 win, while Yennie was 6-1, 6-1 (Yennie is undefeated on the season).
In doubles, Schneider and McBride won 6-1, 6-0. Michael Piland and Austin Stephenson paired at number two doubles to take a close 6-3, 7-5 win.
Girls' Tennis
The girls hosted Bishop Feehan last Thursday in their most challenging match of the season, coming away with a 3-2 league win. Feehan gave the Vineyard one of their three losses last year. Freshman Samantha Potter prevailed 6-1, 6-1 in the number one singles spot, while junior Annie Burton also picked up a win, going 6-1, 6-0. Senior Wendy Wen took close 4-6, 4-6 losses in her match, and a loss by Dylan Brockmeyer and Alyssa Adler at first doubles evened the score temporarily. Brockmeyer and Adler fell 1-6 in the first set, and nearly pulled off a rally in the second, but lost 6-7.
After similarly dropping their first set 1-6, juniors Julia Cooper and Annabelle Hackney rallied to take the next two sets 6-1, 6-2 and win the day for the Vineyard.
On Monday, the team took on Sandwich and picked up a 4-1 win to move their season record to 6-0 (scores from Wednesday's Somerset match were unavailable at press time). Brockmeyer moved into the number three singles spot to pick up a 6-0, 6-1 win, while Wen partnered with freshman Josie Iadicicco at second doubles.
Track and Field
The boys picked up an 83-53 win over league opponent Bishop Stang in the last home meet of the season Wednesday, sweeping two events and decisively carrying two others.
Seniors Tyler Araujo and Charles Goldthwait and junior Andrew Freitas swept the shotput with throws of 40' 9.5", 36' 7.5" and 34' 6.5", respectively. Araujo placed third in the discus with a throw of 96' 9", behind second-place Vineyard finisher senior Liam Weston (100' 7.5"). Sophomore Joe Turney won the javelin with a throw of 140' 3"; Will Trapp placed third in the event with 133' 10".
Senior Je'Vaughn Crooks cleared the bar at 5' 10" to win the high jump, while seniors Rafael Maciel and Peter Keaney took first and third in the triple jump with leaps of 39' 3.5" and 34' 3.25", respectively.
Maciel led a Vineyard sweep of the 400-metre hurdles with a time of 60.8 (sophomores Galen Mayhew and Sawyer Krebs took second and third), and was first in the 400 metres with 54.2, 0.4 seconds ahead of Keaney.
The Vineyarders finished just out of first place in the 100 and 200-metre dashes, with junior Jacob Lawrence taking second in both with times of 11.8 (0.4 seconds behind Stang) and 24.1 (0.5 seconds behind Stang) respectively. Junior Brandon Watkins took third in the 100, while sophomore Marc Piland took third in the 200.
Junior Mike Schroeder and Kyle Joba-Woodruff finished 1-2 in the mile run with times of 4:43 and 4:55; Joba-Woodruff took first place in the two-mile run, three seconds ahead of sophomore Thorpe Karabees, who finished third. Sophomore Jeremy Alley-Tarter and junior Sam Oslyn took another 1-2 Vineyard finish in the 800-metre run.
The teams split the relays, with the Vineyard winning the 4-by-400 metres and Stang pulling off a come-from-behind win in the 4-by-100.
On the girls side, the Vineyarders narrowly lost to Bishop Stang 63-72. Junior Maggie Riseborough took first in the shot put (33'2.5") and discus (89'), with senior Kaija Nivala taking second in both with throws of 26' 7" and 73' 10", respectively.
Sophomore Mariah Campbell cleared 4'6" to take third in the high jump. Senior Maggie Lindland took second in the 100-metre dash (14.6 seconds), third in the long jump with 14'3.5" and first in the triple jump with 31' 2". Fellow senior Mia Benedetto took second in the triple.
Nivala and Campbell finished 1-2 in the 400-metre hurdles with times of 78.8 and 82 seconds, respectively, while Benedetto was also second in the 200-metre run (30.1 seconds). Dana Jacobs took third in the 200 with a time of 30.7. Senior Maya Harcourt placed first in the 100-metre hurdles (19.6 seconds).
Sophomore Katherine Dorr won the 400 metres with a time of 66 seconds, while sophomore Sabrina Reppert finished 0.2 seconds out of second place in the event, taking a time of 68.4 for third. Senior Shivonne Schofield took second in the two-mile run. The girls took second and third place in both the 800-metre and the mile run, with junior Ella Mahoney (6:23) and sophomore Lilly Neville (6:31) competing in the former and freshmen Julia Neville (2:30.1) and Willoe Maynard (2:45) in the latter.
Girls' Lacrosse
The Vineyarders took on two tough opponents, Wayland and Natick, last weekend, falling 14-11 and 20-8, respectively.
On Monday, the team re-energized to take a 17-13 nonleague win over visiting Oliver Ames. Oliver Ames scored twice in the first minute of the game, but the Vineyard came back with four goals, scored by senior captain Madison Hughes, juniors Jennie Lindland and Alayna Hutchinson, and freshman Lucy Hackney, with two assists coming from junior Taylor Poggi. The score was 13-9 Vineyard at the half.
Poggi finished the game with four goals in addition to her previous assists, leading Vineyard scoring. Hughes and Lindland scored four goals and one assists each, with Hutchinson contributed three goals and two assists.
The JV squad, led by coach Jessie Wilcoxsin, defeated Oliver Ames 10-2. Leila Gardner led the scoring with three goals and two assists, while Hartley Sierputoksi scored three goals and one assist. Teo Azzolini scored twice, and freshmen Emily deBettencourt and Sydney Davies each had a goal and an assist. Goalie Faith Smalley had nine saves.
Baseball
The boys took home wins in two league games last week, moving into second place in the Eastern Athletic Conference. The team trails only undefeated Coyle and Cassidy in league play.
Senior Ryan Fisher pitched his first complete game of the season last Wednesday en route to a 7-2 win against visting Bishop Stang. Fisher had three strikes, three hits and four walks. Junior Jack Roberts launched his first home run of the season, and was one for two with a walk. Seniors Will Stewart and Andrew Williamson both went two for three and had a single and a double apiece. Stewart scored two runs, while Williamson scored once with one RBI.
"With Ryan limiting them, all we had to do was hit," said head coach Gary Simmons. "It worked out really well."
Last Thursday, the team took on Bishop Feehan, earning a 5-4 extra-innings win for the Vineyard's first-ever victory over the Shamrocks. Stewart pitched the first six innings, striking out five with five hits, a walk and two earned runs. The Vineyard scored the first run of the game in the top of the first, with Feehan answering in the third, a pattern that continued until the top of the fiftth, when the game was tied 4-4. The deadlock remained until the seventh, at which point umpires declared the eighth the final inning of the game due to time constraints—the Vineyarders had a ferry home to catch.
Senior Noah Stobie, who went two for three in the game, drew a walk in the top of the eighth, and scored the game-winning run on a wild Feehan pitch.
"Jack came in and shut the door on them in the bottom of the eighth," Coach Simmons said. "It was a great battle." Roberts, who also pitched the seventh, had four strikeouts with no hits, no runs and one walk.
Senior Chris Morris had a standout game, going two for four with two runs scored and two stolen bases.
Earlier in the month, the team competed in the Westwood Tournament, going 1-1 with a loss to the host team and a win against Boston Latin.
Sailing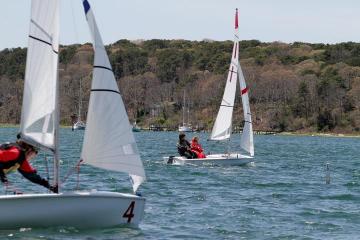 The team took two wins last weekend against visiting Nauset and Cheverus (Maine), but lost 3-0 in a hard-fought race against Cape and Islands League opponent Barnstable on Sunday. Barnstable is undefeated in the league. Changing weather conditions Sunday forced the race to be a best of three instead of the usual best of five, putting pressure on the Vineyard sailors early on. Increased winds also led to the cancellation of the Vineyard's races against Hotchkiss.
"I feel like we were very competitive with Barnstable, but it didn't work out," said head coach Andrew Burr. "It was winnable."
The team takes on the Red Raiders again today, and will also sail against Nantucket.