The storied American eel was once one of the Vineyard's most valued resources.
Even though the eel now faces hard times, memories are still fresh of the role the American eel played in Vineyard waters, where it was shipped to the mainland in barrels. Generations of native Islanders regarded it once as a staple food. Locally harvested eel was as familiar and as local as boiled lobster, stuffed quahaugs and bay scallops sautéed in butter.
Linsey Lee, oral curator for the Martha's Vineyard Museum, marvels at the eel stories she first heard from Vineyarders while researching a college paper on the subject. "There is wonderful folklore about the eel," Ms. Lee said. "But you know, it isn't lore at all. It is the stories about how they caught eels. They knew what they were doing. They had done it for so long. In fact, they knew more about the eel back then than the scientists seem to know now."
Bettina Washington, a member of the Wampanoag Tribe of Gay Head (Aquinnah) has childhood memories of her father Donald Malonson, then chief of the tribe, taking her bay scalloping in Menemsha Pond and hauling onboard eels.
"This was among the foods we ate. You ate what was available," said Ms. Washington, the tribe's historic preservation officer.
No one thought back then that the eels would come close to disappearing.
Once abundant all along the Eastern seaboard, the eel today is thought by some to be on the brink of extinction. Today, the eel is hard to find in any of the Island ponds.
It has already dropped off the Vineyard menu and is about to drop off the state's list of commercially viable fisheries.
The Vineyard and most of the rest of the country now import eel from Canada and Maine. Its scarcity in Europe and Asia is driving up the cost of elvers, juvenile eels (the Tsunami in Japan is partly to blame for the rising value).
To most, the eel is a slimy, ugly creature to avoid, let alone consider as a meal.
For the second time in five years, the federal government is looking at whether to list the American eel on the endangered species list. New science indicates that global warming has introduced a parasite that is killing 70 per cent of the adults before they can reproduce.
This spring the Atlantic States Marine Fisheries Commission (ASMFC) characterized the eel as commercially "depleted," like the river herring. There is some debate over whether it is on the verge of extinction.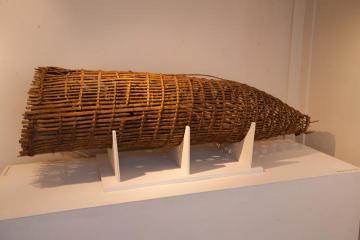 Regardless of how it is classified, the eel is precious, so valuable in some places, that the juvenile elvers were being bought this spring for as high as $2,000 a pound in Maine, so that they could be shipped by air to Asia to be raised in eel farms. No one yet knows how to get adult eels to spawn in captivity.
The eel is worth gold in Europe, where countries are spending a considerable amount of resources trying to protect the animal. Eels remain a valuable treat on the dinner table throughout Europe, especially in Italy and Portugal, along with Scandinavian countries..
Part of the problem is tied to its mysterious life cycle. Scientists still don't know how these diadromous creatures reproduce in its primary spawning ground, the Sargasso Sea in the North Atlantic. The American eel is a slightly different variety from the European eel, but their life cycle is believed to be the same. By the time these tiny larvae reach the coast, they have the nickname "glass eels" because they are without pigment, as transparent as glass.
In the spring, they migrate into inshore waters and head upstream as elvers, less than three inches in size. They reside wherever freshwater streams and rivers meet the ocean. They cover the Atlantic from Greenland to Brazil.
In the country's early history, eels constituted the most abundant biomass in freshwater ponds and streams, according to Bradford C. Chase, a diadromous fish biologist with the state Division of Marine Fisheries. It is Mr. Chase's technical committee that will draft any future regulations aimed at saving the creatures by curbing eel fishing.
Not too long ago in Massachusetts commercial fishermen landed between 50,000 and 100,000 pounds a year, Mr. Chase observed. "Since I have been with the state," he said, "it is less than 5,000 pounds a year."
Of the 100 commercial permit holders in Massachusetts today, only 20 of them report any landings at all, Mr. Chase said, adding: "It is almost not even a fishery."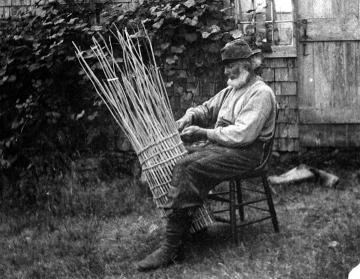 Anyone in Massachusetts can catch an eel if they can find one (The recreational bag limit is 50 per day and the minimum size is six inches).
Today eel is used largely as bait. Steve Morris of Dick's Bait and Tackle Shop in Oak Bluffs, who won first place in 1983 and again in 2000 and last year in the Martha's Vineyard Striped Bass and Bluefish Derby, used live eel as bait each time.
Dick Hopwood, 76, who owns Maco's Bait and Tackle Shop in Buzzards Bay has shipped 400 to 500 of pounds of eels to tackle shops so far this spring. He said most of his eels come from Canada and Maine, though he does have eel farm suppliers farther down the coast.
Mr. Hopwood said he knows how effective commercial harvesting of eels can wipe out a local population. He saw it happen in Buttermilk Bay, when two commercial fishermen, brothers, depleted the resource in just one year. But the biggest threat to eels in this region, Mr. Hopwood believes, is a bird, the cormorant.
"When I first opened my business 42 to 43 years ago, I didn't know what a cormorant was. Now there are so many in this area. They not only wipe out the baby eels, I have seen them drift in the tide into Buttermilk Bay, picking up all the small fish, particularly baby flounders," Mr. Hopwood said.
Mike Armstrong, an assistant director with the state Division of Marine Fisheries, said: "Eels are like river herring. There has never been a species that has been more widely impacted by human activity." He cited overfishing and habitat degradation.
Earl Peters and Kerry Alley, both of Oak Bluffs, remember John Ferreira, a neighbor, walking County Road, carrying a burlap bag full of eels he'd just caught.
"He carried a burlap bag over his shoulder and an eel spear. He did that every single day in the winter," said Mr. Peters.
Mr. Alley said he remembers Mr. Ferreira, too. "He sold his eels to the Portuguese ladies on the street. That is what he did. If he came down our street, we knew we would all have eels for supper tonight."
Mr. Kerry recalls his mother cooking them in a frying pan. "Skin it first," he said, then cut it in two- or three-inch lengths and fry. "They tasted a little like chicken," Mr. Kerry said.
Norman Benson of Lambert's Cove and his son, Franklin Benson, harvested eels. Ms. Lee has recordings of the Bensons and their stories at the museum.
Mr. Morris Morris remembers visiting with the Bensons in 1983, to purchase eels to sell as bait at his shop. It was a big year for Mr. Morris, the year he won the fall derby, for the first time. "The eels were all in a galvanized wash basin. I'd go up there in the afternoon. He fished the eels out of the ponds. There were no worries in those days," Mr. Morris said.
The U.S. Fish and Wildlife Service received a petition to list the eel as an endangered species in 2004. The request was declined. A second request was made in 2010, by a Sacramento nonprofit organization called Council for Endangered Species Act Reliability. That review is underway.
Martin Miller, chief of endangered species for the Northeastern region of the U.S. Fish and Wildlife Service, sees a long road to the eel becoming listed as endangered. "Nationally there are 200 candidates [for the endangered classification], " he said.
Rob Roy Ramey, a science advisor with the council, said: "The eel has slipped out of the public consciousness of the American people. [The eel] was incredibly abundant, and now it is going extinct."
Mr. Chase, who sits on the American eel technical committee under the ASMFC and has been reviewing that assessment, said: "I think this time around, we will have to do something."