In the morning Diana Reilly puts on her garden gloves and travels around the Island with a gardening crew.
At night she turns into DJ Di and makes dance parties bloom with her beats.
"I'm like a vampire," she joked.
Leading this double life makes for long days, but for Ms. Reilly it is worth it, and she is not alone.
"By day we are doing our money thing and by night we are swinging our art."
Scattered around the Vineyard community are landscapers, farmers, business owners and even town selectmen mowing the lawn, planting tomatoes, selling frozen ice cream and handling legal affairs all for a greater goal: surviving to make music.
"It's a labor of love and I choose to do it, but it's a struggle," Ms. Reilly said.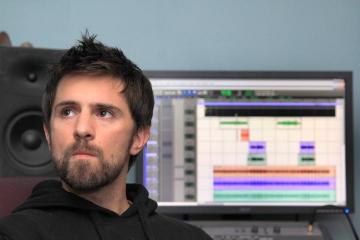 After a day of gardening, she typically goes to meetings at the Pit Stop or other music venues, researches new talents, books bands, designs flyers for upcoming shows and then deejays her mix of house, tropical and funk beats.
For her it's not about the money.
"I've probably bumped my head too many times or something to keep doing all of this," she laughed. "But I think I'm afraid to get paid for what I love to do because it might take away from that love. I like doing something for the sake of art and the community and as service to others," she said.
Tristan Israel, Tisbury town selectman and owner of Tristan's Landscaping, also finds balance in serving the community.
"Being a selectman is a form of social service for me, while music fulfills my creative part, and landscaping is what I do to survive. They are all parts of the whole."
When spring and summer arrive, there are more opportunities for both landscaping and music gigs. Unfortunately, the busy work season has taken a toll on his music; he has a new CD ready to release, but has not had the time to actually package it and get it out.
"I'd love to quit my day job and just play music all the time, but the winds of life have carried me in a different direction," Mr. Israel said. "I have to work to put food on the table."
Adam Lipsky, jazz pianist of Hee Hawk and a member of several other bands, recently took the full plunge. After four years of landscaping on the Island, this spring he did not take his job back.
"I could see the years going by fast," Mr. Lipsky said. "I would be so tired after work that I had no energy to do the footwork that needed to happen to be playing music enough to make money."
He's hoping to play at weddings and other private events while composing new music for Hee Hawk and landing gigs both off and on-Island.
"The best phrase I ever heard is, 'it's not selling out, it's buying in,'" he said. "You gotta eat. You gotta make money. So if music is your job or profession, you gotta buy in."
Mike Parker, singer of Dukes Country Love Affair, is buying in, too. At the end of June he's quitting his landscaping job and focusing on music-oriented work.
"I'm trying to find my balance," he said. "When I'm doing the work thing, I'm thinking about art. When I'm doing the art thing, I'm thinking about work. I want to do something one-hundred per cent."
Mr. Parker wants to explore producing events and has already begun booking both local and off-Island bands.
"There's a starving artist line, and it's a very thin line," he said.
Bandmate Phil daRosa remembers the struggle of holding down a full-time job, paying bills and trying to find time to make music. After a decade of jobs, from lifeguarding to marketing to stone masonry, Mr. daRosa has found a way to incorporate music and money harmoniously. Last November he and his friends finished construction on his music studio, The Print Shop, that gives local bands space to record music at a reasonable price.
He also has diversified his musical acts. In addition to playing with DCLA, he is a member of the band Kodachrome, performs solo gigs, and DJ's weddings and events.
"It's hard, man, if you decide that you're gonna be a musician," Mr. daRosa said. "But now that I'm past 30, everything is kind of coming around to what I want it to be."
Not everyone wants to be all music all the time. Mr. Parker said he knows farmers who like the change of pace from their day jobs to playing music at night.
"All day they are out on this beautiful Island, working with the earth, and not displeased about where they are," Mr. Parker said. "Everyone is different."
While Eric Johnson isn't plowing any fields, he finds his day job to be rather satisfying. Struggling to make enough money teaching guitar, bass and drums in the winter, Mr. Johnson decided to try something new and opened tisberry yogurt in Vineyard Haven after falling in love with the concept in Boston.
"My frozen yogurt business is a reaction to trying to make a living as a musician," he said. "It's kind of bizarre that I got into it because I have no experience with food service."
Although waking up early in the morning to open up his shop is not an easy task after a late night playing music, Mr. Johnson enjoys the freedom of being his own boss, allowing him time to compose music and play with numerous Island bands.
Plus tisberry yogurt is a nice avenue into the social community.
"Everyone who walks into the door is happy and ready to have a treat. There are a lot of kids and smiling faces."
DJ Ricky Prime also enjoys the faces he sees working at Up Island Paint and Tool. In fact, he thinks it helps him stay creative and grounded at the same time.
"It's a nice country pace for me from the big city of Oak Bluffs," he said. "It's a place for me to have my feet on the ground because working at night can be surreal. During the day it's like, 'What do I do now?'"
At the store he mixes paint, at night he mixes beats, and when he's a little low on energy, he mixes up some veggie banana smoothies.
He also realized early on the sacrifices musicians have to make in their lifestyles. For instance, he rides a bike everywhere, packing his equipment in a cart towed behind him.
"There are sacrifices in everything you choose to do," he said. "If you want to live comfortably, you might not make it in the music life. But if you stay humble, as soon as you start serving and helping other people out, it'll come back to you. You've gotta recycle that. You've gotta mix in the discipline and the play."