Gladys Widdiss of Aquinnah, a longtime Native American leader, noted potter and tribal historian who led the Wampanoag Tribe of Gay Head for many years, died at the Martha's Vineyard Hospital on Wednesday. Although she was 97 and frail, Mrs. Widdiss was alert and active. The day before she died she had gone on a happy outing to the cliffs and Menemsha, and in recent weeks she had enjoyed trips to the Whiting Farm with Lynn Whiting of West Tisbury, a Hospice volunteer who was a frequent visitor, and afternoons of card playing.
She was president of the tribe from 1978 to 1987, a formative time for the Wampanoags. During her tenure the tribe acquired the Gay Head Cliffs, the cranberry bogs and Herring Creek from the town, and the Wampanoag Tribe of Gay Head won federal recognition from the Bureau of Indian Affairs. For some years afterwards, Mrs. Widdiss continued to serve as vice chairman of the tribal council.
In an interview with Martha's Vineyard Magazine some years ago she recalled how at the age of eight she began making and selling ashtrays, paperweights, candleholders and miniature lighthouses filled with colored clay. Although for many years she lived off-Island, when on the Vineyard she happily returned to her tireless pottery making. She was one of only a few who held a town permit to take clay from the famed Gay Head Cliffs. Several of her pieces are in the Boston Children's Museum, and for a time, one of her large bowls was on display in a bank in Kyoto, Japan. All her work is sun-baked since the colors of Gay Head clay will fade in the heat of a kiln. A cranberry is the signature on all her work; Wild Cranberry is her native name. In recent years, she and her sons, Carl and Donald have been operating the Howwasswee Trading Post at the Cliffs, the same site where she sold clay souvenirs as a child with her mother, Minnie Malonson. The trading post took its name from her great-grandmother, Rosabelle Howwasswee.
One of her most recent artistic endeavors was fashioning small clay medallions to be attached to Aquinnah photographer John Wightman's pictures.
In addition to her artwork and Island tribal activities, Mrs. Widdiss traveled the country attending Native American gatherings as a representative of the Wampanoags. In the 1960s she was active in the Coaltion of Eastern Native Americans. In 1993, the Gay Head Council on Aging nominated her as senior citizen of the year, declaring that she exemplified "the spirit of positive aging."
She was born at home in Gay Head on Oct. 26, 1914, a daughter of William and Minnie (Manning) Malonson. Her grandfather Thomas Manning had helped rescue 20 passengers from the City of Columbus that went aground on Devil's Bridge off Gay Head in a snowstorm in 1884 with the loss of more than 100 lives. He received a citation for valor for his efforts.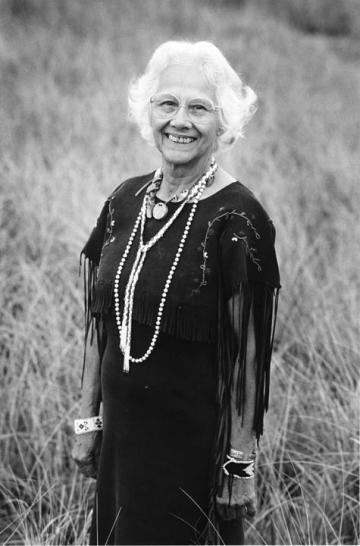 Gladys and her brother, Donald — later the chief of the Wampanoag tribe — grew up in the Manning homestead off Lobsterville Road. It had been built for her great-grandfather, the whaleman Thomas Manning, and his bride in the mid-19th century. The cottage that Gladys long called home is on the homestead property. In later years, she frequently reminisced about her happy Gay Head childhood when the village of Gay Head was a far simpler place than Aquinnah is today. In those days, she recalled, fishing and farming were the principal occupations in the community and there were wide expanses of potato and corn fields.
"We had 3,400 acres for a playground when I was growing up in the 1920s," she recalled in an interview. "In winter, we had a game we loved to play by the edge of the cranberry bogs. After the bogs freeze, they're frozen just on top, but not underneath, and we'd see who could get closest without getting wet feet. And we had a balancing game on the stone walls, too.
"There was a baseball field where the town all now stands. We didn't have any money for real balls so we'd rake stones and tear up pieces of rag and wrap them around the stones to make our balls."
She remembered happy swimming days at Lobsterville and watching her grandfather back his ox cart into the water there. "And we'd scoop up hake and scup in a pail and afterwards we'd salt the hake for winter."
In an interview with Island oral historian Linsey Lee for her book More Vineyard Voices, Mrs. Widdiss recalled picking up fossilized quahaugs and sharks teeth on the Cliffs and playing with them. "We never took any of them home, though, because the next day, if you wanted them, you could go back," she said. When the children grew tired of playing they would head for the Coast Guard Station where Jesse Smalley was the cook and would offer them cookies. "But every once in awhile, he'd think he was being cute and put pepper in the cookies and laugh and laugh when we bit into them."
She recalled getting clams year-round in her childhood. She remembered how in her first days of selling souvenir clay items at the top of the cliffs, her display case was the top of an orange crate. "We'd jump for joy if we had as many as 500 tourists come in a summer," she said.
Gladys attended the Gay Head School and then Tisbury High School after her mother got a job in Vineyard Haven. Her father, a French Canadian, had never taken to the Island.
She was the valedictorian of the class of 1932. She dreamed of becoming a teacher and hoped to attend Salem State College, but that was during the Depression and there was no money to send her to college. She went to Boston instead to work for a company making gowns for hospitals. There she met Leonard Widdiss, a postal worker and musician. They married and settled in Wayland. When World War II broke out, her husband joined the Marines and went to the Pacific while she took a job painting airplane dials. When Leonard returned from the war, the couple started their family. When daughter Dawn, the youngest, was about six, Gladys went to work part-time at Jordan Marsh and part-time in a Wayland school cafeteria. Later, from 1964 until 1981, she was a saleswoman at Filene's. But she wanted to make sure that her children had an intimate knowledge of the Gay Head she so loved, so in the summer they would come to stay at her mother's house there.
In 1987 Leonard Widdiss died. Gladys sold the Wayland home and built her own Gay Head cottage on the family homestead land. A short time later she moved to the Vineyard full-time.
She was a member of the Boston Children's Museum Board for many years and regularly attended the Martha's Vineyard Center for Living and the Baptist Church of Gay Head. During her off-Island years, when her children were growing up, she was an active supporter of the Boy Scouts.
She is survived by two sons, Donald of Chilmark and Carl of Aquinnah and a daughter, Dawn, of Natick; two grandsons, Jason of Connecticut and Heath of Southboro; and two great-grandchildren, Josie Iadiccico of Oak Bluffs and Cameron Widdiss of Southboro. In addition to her husband, she was predeceased by her son, Marc.
Friends are invited to pay their respects tomorrow beginning at 1 p.m. at her house on Lobsterville Road. A graveside service will be held on Sunday at 11 a.m. at the Gay Head Cemetery. Donations in her memory may be made to the Aquinnah Cultural Center, Inc., 10 Black Brook Road, Aquinnah 02539.