When Laura Roosevelt, the Yard's new president of the executive board, first started funding the arts in the early 1990s, she did not "get" contemporary dance.
"I don't know if I ever confessed that to you," she said to the Yard's executive and artistic director, David White, during a double interview with the Gazette. "I thought about dance as ballet, and then this other weird thing called contemporary. But then I went to more and more dances and it became my favorite performing art form, just once you learn to get it a little bit"
"You let it happen to you," Mr. White added. "It is an intimate human form . . . and anybody can do it."
Ms. Roosevelt and Mr. White's relationship dates back to New York city in the 1990s when Ms. Roosevelt worked for JP Morgan's philanthropic program in the area of arts and culture. As part of her job, she helped fund numerous organizations including the Dance Theater Workshop, which Mr. White ran for nearly 30 years.
The two had not spoken in some time, but last winter Ms. Roosevelt, a year-round resident since 1995, read that Mr. White was coming to the Vineyard as executive and artistic director for the Yard.
She immediately sent him a message.
"I said, 'David, I can't believe you are coming to Martha's Vineyard. I live here.' And he wrote back and said 'You have to join my board.' It was as easy as that," she said.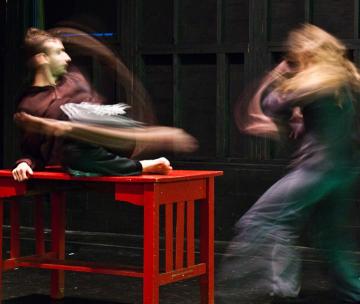 "Or as desperate as that," Mr. White laughed.
Mr. White had been recruited to help repair the Yard during a time of significant financial trouble; earlier that winter the Yard publicly announced it had a $230,000 deficit.
Staying true to The Yard's mission of pushing the margins with performing arts came easily for Mr. White. But he and the rest of the current board needed reinforcements financially.
"They were exhausted," he said. "We needed new people with new resources, but most of all we needed someone who had not been involved with the Yard, but knew the Island."
Not only did Ms. Roosevelt have connections on the Island through her family, her friends and her artistic career as a writer, poet and photographer, she also had years of experience funding arts organizations, many that had faced government and corporate financial cutbacks.
"I felt it was time for me to do something again on the Island," Ms. Roosevelt said. "I liked David a lot, I liked the Yard a lot. So it seemed like a perfect time to get involved and give back to the community."
Together the two of them and the rest of the board have erased 75 per cent of the debt, thanks to generous donors, including many new funders. They have also begun shaping the Yard's future.
After the Yard's founder Patricia Nanon passed away in 2008, Mr. White said the organization faced a transitional period that often happens when leadership shifts.
The challenge for Ms. Roosevelt and the board was creating a sustainable institution that could reflect changes in the performing arts as well as survive changes in leadership.
"We inherited a coherent and valid mission," Mr. White said. "We then had the obligation to create the framework that doesn't stifle the mission but also makes sure that it can be protected."
The Yard's mission has always been to support artists wanting to explore areas of choreography and performing arts while providing them the freedom of a well-resourced sanctuary.
In addition to preserving the tradition of artists' residencies at the Yard this summer, the organization will host the first ever Tap The Yard: A Vineyard Festival of Rhythm and Beats, curated by David Parker, who last year utilized Velcro suits into a percussion-filled dance.
Vaudevillian Geoff Sobelle will be exploring the human fascination with "things" in his comic performance, The Object Lesson. And Doug Elkins and Friends return with Fraulein Maria on July 25 at a benefit to celebrate the Yard's 40th Anniversary.
The Yard also wants to stimulate artistic dialogue within the Vineyard community. Currently they are at work selecting a pool of 25 to 30 people across the Vineyard with some experience of dance in their life, whether it be studying ballroom at 10 years old or teaching salsa lessons in adulthood. Choreographers will then piece together these stories into a "memory quilt," one story weaving into the next. The dance is called From the Horse's Mouth and will be performed August 2 through 4.
"It is the idea that dance exists imminently within the lives and histories of people," Mr. White said about the piece. "It's a different way of drawing a portrait of the Island."
The Yard looks to a future that caters to the community year-round, not just in the summer.
One event they hope to make monthly is Public Dancing Allowed, which debuted last summer and had a brief but snowy stint in the off-season when Johnny Hoy and the Bluefish played.
Basically a band provides the tunes and the people come ready to shake a leg.
"You don't have the distractions of a club. It's not about going to the bar, getting some food, having a drink and you can dance," Ms. Roosevelt said. "It's really all about the dancing,"
For someone apprehensive about dance, as Ms. Roosevelt once was, this is a safe starting point.
"I think people find dance to be a scarier and less accessible art form than other performing arts," Ms. Roosevelt said. "People who don't know enough about it feel like they can't own it. So we want to bring in people and say, 'Here, you dance.'"
Mr. White hopes that Public Dancing Allowed can break down that boundary and bring a level of understanding to the contemporary work appearing at the Yard.
"Dance is a very intimate art form... It is a highly creative and pedestrian thing that everybody experiences, and that was the centerpiece of the mission as the place was founded," Mr. White said. "Everybody moves."