There will be plenty of gusto on the water this summer. The Vineyard sailing season has begun. Sailors are already racing between East and West Chops and sailors have filled their calendars with contests that were drafted over the past winter.
Whether you love to sail or just love being on the water and watching sailboats, there are plenty of opportunities to watch or, even better, get out and participate.
Sailors will compete all around the Island, from the waters of Nantucket Sound and off Chappaquiddick to the mostly stilled waters of Menemsha Pond. The vessels are as big as the 108-foot topsail schooner Shenandoah, now in its 48th year, to the small Sunfish moving like ballerinas across Lagoon Pond.
All the Vineyard's sailing organizations have committed to giving their enthusiasts, followers and members plenty of opportunities to sail, and that means advancing in the skill and art of sailing. Sail Martha's Vineyard is the Island's gateway for most first-time sailors, young and old. Their season is chock-full of expanded programs to get people on the water.
Vineyard Haven Yacht Club is not too far up the street from the Sail Martha's Vineyard headquarters on Main street, and they are getting plenty of use out of their four-year-old clubhouse, which sits on a beach overlooking the harbor. There is a long list of junior sailing events and regattas running through the summer.
The venerable Edgartown Yacht Club has raised the bar for sailing events this summer by spacing out three significant events: their ever-popular 'Round the Island race comes two weeks after their 89th annual July regatta. Two weeks later, the club offers their annual 12-metre regatta.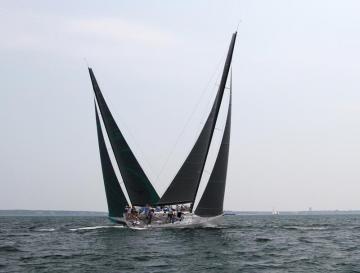 What sailors and friends of sailors will especially like about this year's schedule is the addition of a full day of racing preceding the 'Round the Island Race. They are calling it a "tune-up race" but it is far more interesting than that. It will remind many Vineyarders when the Edgartown Yacht Club hosted large sailboats in their annual summer regatta.
A whole fleet of cruising vessels, many of them over 30 feet in length, will be racing on Friday, July 27, outside of Edgartown outer harbor. They'll be speeding along downwind with colorful spinnakers and rounding marks with the push of wind and the pressure of competitive sailing. It may be the prettiest sailing scene of summer in quite a few years.
Sail Martha's Vineyard is hosting its seventh annual Vineyard Cup from Friday, July 13 through Sunday, July 15. As many as 100 sailboats and their crews will be racing in the waters off East Chop and West Chop. Sailboats of all sizes, from the large 91-foot schooner Alabama to the smaller 18-foot catboats, will be racing during the three days.
An even more accessible celebration of sail and celebration of Sail Martha's Vineyard takes place on Saturday, July 7, when they host their 21st annual Seafood Buffet dinner at Tisbury Wharf. Some of the Island's classic sailboats will be tied up at the wharf and available for viewing. The seafood buffet is the nonprofit organization's key fund- raiser. Sail Martha's Vineyard was created to offer free sailing classes to all Island youngsters, starting at age eight. And they've grown. Last year they introduced 380 youngsters to sailing at the Sailing Camp Park, on the shore of Lagoon Pond in Oak Bluffs. This year, the organizers are expecting to attract over 400 youths.
Hope Callen, administrator for Sail Martha's Vineyard, said the seafood buffet and Vineyard Cup on July 13, 14 and 15 have a critical role helping the organization meet the needs of its mission. This summer there is a greatly expanded rowing club for adults. There is afternoon sailing for adults, from 4 to 7 p.m., two days a week. They are held in three-week sessions.
This year Sail Martha's Vineyard has a new waterfront program director, Margaret (Maggie) Lumkes. She is a familiar face, having worked as an instructor years ago. Formerly a top sailing instructor with the Chicago Yacht Club, she returns here with an expanded position. For the first time, Mrs. Callen said, they will be offering windsurfing for children. "We want to help everyone get out on the water," she said.
A good time to engage in sailing will be during Vineyard Cup, when classics and modern design sailboats compete for three days, from Friday, July 13 to Sunday, July 15. It is all handicap racing, so big boats get to race against small boats. A handicap evens the playing field, so that a small boat could win over the bigger, often faster boats.
The sailor's weekend will be celebrated on land as well as on the water. For instance, take Saturday morning, which begins with a 10 a.m. parade of classic sailboats going out of the harbor. Following a full day of racing, there will be a free concert by Entrain, a six-member band, at Beach Road Extension Saturday night. Mrs. Callen said a lot of pieces have come together to make this racing weekend a step up from last year. She said support of the local business community has increased, giving sailors and friends of sailors all an opportunity to share in the fellowship.
One of the most inclusive organizations that encourages sailboat racing on the Island is the Holmes Hole Sailing Association. They've already been racing on Thursday and Sunday afternoons in the outer Vineyard Haven harbor. David Lott, 62, a member of the association, discovered sailing fairly late in life. He was a well-respected tennis player and tennis instructor at the Vineyard Haven Yacht Club for years. He went on to teaching and even did some time at the West Chop tennis courts. But five years ago, with the help of friends and the discovery of sailing, Mr. Lott became a key advocate of sailing, not just for the competitive spirit but for the experience. "I think late afternoon sailing offers one of the most beautiful sights around," he said.
At the end of an afternoon race, Mr. Lott said the sailors gather at the Vineyard Haven Yacht Club deck to talk. "Those conversations within the Holmes Hole Sailing Association taught me how to sail," he said.
The Vineyard Haven Yacht Club will be hosting Sonar Club fleet racing every Saturday afternoon through the summer. The racing begins at 1 p.m. A Sonar sailboat is a fast-acting, 23-foot fiberglass boat with a 900 pound keel. Charles Felder, manager of the club, said he often sees over 10 boats competing. In just that one afternoon they'll have from four to six races.
The yacht club also hosts a number of races between 420-class sailboats, a fast boat that measures less than 14 feet. They usually have a crew of two. A lot of Vineyard youngsters learned how to do team racing in this boat.
Mr. Felder said the yacht club has a special affordable program of junior memberships for Island youths. This is Mr. Felder's tenth summer as manager. "Every year is a new adventure," Mr. Felder said. "It is not unlike the changing weather and the changing wind."
The club's big event of the summer is their junior regatta and it runs from July 16 to July 18. Young sailors from around the region will converge at the club to compete, and nearly all of it within view of anyone out on the Vineyard Haven water. They'll be racing Optimists and 420s. Optimists are eight-foot-long sailing dingies.
Optimists may steal the show at the 89th annual Edgartown Regatta, which runs from July 12 through 14. Bill Roman, manager of the Edgartown Yacht Club, is preparing for its one big weekend of intense one-design racing.
There will be beautiful Wianno Senior sailboats racing from Cape Cod to Edgartown on Friday, July 13. These are 25-foot gaff-rigged sailboats with a classic look. They will join with other one-design class sailboats, like Herreshoffs, Shields and even a few Rhodes 19s for a weekend of racing.
Mr. Roman said they can expect more than 100 boats in the regatta, including up to 70 Optimist sailboats racing.
"We get a lot of good representation from the Vineyard Haven Yacht Club, and Sail Martha's Vineyard. It is a great event on the water," Mr. Roman said. This is a compatible event with Vineyard Cup; most of the boats that race in the Edgartown Yacht Club regatta are too small to compete in Vineyard Cup races.
There is a notable return of an old one-design class of sailboat. The Rhodes 19, once very popular on the Edgartown waterfront 50 years ago, has come back. The Rhodes 19 fleet dropped to as few as two or three boats only a few years ago. It has since jumped to more than 10.
The big event of summer for the Edgartown Yacht Club will be their weekend of the 'Round the Island race. This resembles yacht club regattas of years ago, when sailors devoted a whole weekend to racing in a mix to both big and small sailboats. On July 27, there will be racing outside of Edgartown harbor. It is being called a tune-up race, but nearly every sailor aboard is ready for a full day of fast racing. The 'Round the Island race runs well through July 28, with an 8 a.m. start. More than 30 sailboats of varying size and shape will race the 52.8 mile-long race. Some of the slowest sailors will come in well after nightfall, 12 or more hours later.
The next big event of summer is the 12-metre Regatta, which runs from August 11 to August 12. Close to a half dozen 60-plus-foot sailboats, many having raced years ago for America's Cup, will compete in Nantucket Sound for trophies. Most of these high performance boats come from Newport.
There is plenty of evidence on the waterfront that this summer will reflect some of the positive thinking that goes with an economic turn. Mr. Roman said: "There is a general sense of change. There are always down years, but we've been seeing activity build for the last couple of years."
A case in point is the number and frequency of other yacht clubs coming to the Vineyard this year. Mr. Roman said his calendar is loaded with visiting yacht clubs that have made Edgartown their summer destinations. The Barrington Yacht Club visits on July 3. There are boats coming from the Edgewood Yacht Club on July 15. East Greenwich Yacht Club is coming on August 8. The American Yacht Club of Newburyport is coming on August 21 through 22. Beverly Yacht Club, from Marion, is coming Labor Day weekend.