All teenagers have to do is show up. Everything else is paid for, and it is state-of-the-art quality.
The Alexandra Gagnon Teen Center at the YMCA is entering its first summer at its permanent location. The center has been open for six months, and in that time the bright green walls and larger-than-life Spiderman wall decal have witnessed hundreds of Island teenagers dropping by to play guitar, hang out with friends, watch TV or even create full length CD's at Studio 57, the Teen Center's recording studio.
Some of that music will be performed live at tomorrow night's Stars and Stripes music festival to be held at the Flatbread Company, located at 17 Airport Road in Edgartown.
Katherine Reid, 15, and Nate D'Angelo, 14, are on the list of performers. They've been regulars at Studio 57 and at the Teen Center's open mic nights.
"This is Katherine and Nate's first time performing in a venue such as Flatbread, and their first time opening for a major national act," said Tony Lombardi, the director of the Teen Center. "Both are young and talented."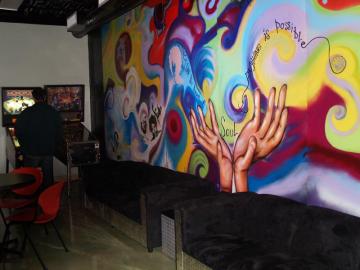 The national act is indie rock band, Grouplove, fresh off a sold-out tour and an appearance on The Tonight Show with Jay Leno. The Seastreak Ferry and the Beach Plum Inn have donated their services to transport and house the band during its Vineyard stay, before heading back to New York city to perform on The Today Show.
Alex Winston, St. Lucia and Sea Monsters are also on tomorrow night's bill. The show begins at 9 p.m. and all proceeds benefit the YMCA.
The YMCA promotes good health for body, mind and spirit, and the gym and pool cover the corporal part.
"The Teen Center uses the power of creative arts to enhance the mind and the spirit," said Mr. Lombardi.
The funding for the Teen Center comes from the Alexandra Gagnon Foundation, created by Jacques and Marfi Gagnon in memory of their daughter Alexandra. There's a computer lab with several iMacs and MacBook Pros, numerous guitars, a massive television, video games and a full kitchen donated by Crane Appliance and the Crane family. Upstairs is a place to lounge and relax. Downstairs is like a springboard for creative teens.
Nicknamed The Base, it has a stage, a piano, DJ booth and Studio 57. Teens not only have access to this equipment, they can learn how to use it themselves to create CDs and videos. Comcast donated all of the technology upstairs and in The Base. Summer Sun dance parties take place every Friday and are free for Island teens. Visitors are also welcome at the Teen Center and to rent out Studio 57 for a fee.
"It's the nicest, cleanest club on the Vineyard," said Mr. Lombardi.
The staff at the Teen Center is composed of those rare adults who are still kids and yet somehow wise. Mr. Lombardi has traveled everywhere and seen just about everything, the good and the bad. He's open with Island teenagers about his own experience with heroin which nearly ended his life.
"I had a choice — live or die. I chose to live, and everything I've done since has been in the spirit of the opposite of the way I used to live," he said. "I'm trying to turn the tragedy into wisdom and hopefully pass it along."
And his team is equally selfless. Curtis Chandler has been working with Mr. Lombardi for five years, though he attributes his initial involvement to a trivial triumph.
"My wife wouldn't let me play video games anymore, so I brought my system over here," he said, while laughing. Mr. Chandler has invested his time and heart, along with seven other staff members who work at the Center, often arriving just after finishing work at their fulltime jobs. "They're great kids. We want to be here and we love being here, but this space is theirs. They know that," Mr. Chandler said.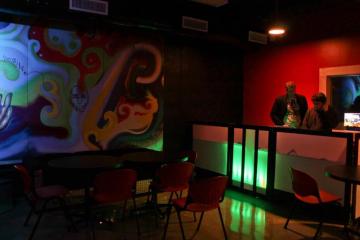 "We don't pretend to solve all the problems that face teens," Mr. Lombardi said. "But we do offer positive, entertaining and inspiring choices to what are often destructive options."
Every Thursday is open mic night at The Base, with full band jams following the show. The jams are open to all ages, so adults can enjoy the drug-and-alcohol-free facility as well.
"Many adults say that they'd rather be here than out at the bars," said Mr. Lombardi.
The Stars and Stripes Festival takes place at 9 p.m. on Saturday, July 7. General Admission tickets are available for $30 on ticketsmv.com/ymca for this 21 and older event. Tickets are $35 at the door. There are also sponsorship packets available for $1,000. In exchange for a donation, sponsors will receive four concert tickets and T-shirts, and access to the VIP area.
Anyone who wishes to make a direct contribution to the Alexander Gagnon Teen Center should contact Mr. Lombardi at 508-696-7171, extension 128.