It's summer on the Vineyard; crowds are expected. But nobody, from event organizers to the hundreds of people who gathered outside the Martha's Vineyard Hebrew Center last Thursday night, expected mayhem at a speaking event about the Supreme Court.
That night, CNN legal analyst and New Yorker writer Jeffrey Toobin was elevated to bona fide rock star status (think Justin Bieber for the intellectual set), and seats inside the Hebrew Center were more prized than a key to Quansoo Beach. There was a sudden crush at the door as people tried to get in, and even as the event started, disappointed would-be audience members clamored about, looking for a way inside.
It was the first night of the Summer Institute at the Hebrew Center, a weekly series featuring noted speakers. Event organizers said what they experienced was a perfect storm of extended holiday weekend, advance publicity and timing — Mr. Toobin was speaking about the Supreme Court a week after the court's landmark decision to uphold President Barack Obama's health care act.
Event tickets are $15 and sold on a first-come, first-served basis. Donors to the event are allowed free admission and a limited number of guests.
More than an hour before the 7:30 p.m. event, the line stretched down Centre street in Vineyard Haven, and when doors opened at about 6:45 p.m., an orderly line evolved into mayhem as people rushed the door.
"It's an absolute fiasco," said Craig Beaumont, a ticket holder standing outside amid the scrum of people clamoring to get in.
Mr. Beaumont, a United Kingdom resident visiting the Island, said it seemed that donors' seats were oversold and the ticketing system and communication between the organizers and those waiting in line was "inept."
His girlfriend, Meredith Tomason, took a more optimistic view. "It speaks volumes of the intelligence of people who live here," she said of the crowd.
Inside the center, which seats 325, people rushed for chairs, donors snagging reserved spots and several people holding space for friends or family members. One well-prepared attendee brought her own beach chair, and several people tried to get in through the center's back door.
Around front, organizers had to physically block the door as people tried to get in, some shouting that other people were holding seats for them.
Even as the event was getting under way, a large crowd continued to clamor for seats.
"We have a sold-out situation," program administrator Joleen King told the crowd.
"Is there standing room?" one person shouted.
"This is not a negotiation," they were told.
"This is ridiculous," one woman said as she walked away. She declined to give her name, but said she would be putting it in a letter of complaint.
"I apologize . . . but the Supreme Court did us in," Summer Institute chairman Gerri Alpert told the group.
"We were looking forward to this," said Michael Parker, a seasonal resident who said he came an hour early to the event. "Throngs of people charged the doors" when they opened, he said, calling it "chaos."
"A line here, a line there, people are desperate, shouting 'I'm a donor!'" he recounted.
"I don't think they anticipated this," he added.
"We'll catch the guy on CNN," he said. "We're disappointed, but we'll live."
As it turned out, Mr. Parker was one a of group of people that squeezed onto the patio outside the room to listen to the talk.
Ms. Alpert and Hebrew Center president Alan Ganapol apologized to the community in a letter to the editor published in today's Gazette. In an e-mail to the Gazette yesterday, Ms. Alpert said the Institute plans to expand capacity with overflow seats outside, including audio and video feeds "Hopefully this will alleviate future overcrowding. We remain committed to bringing important leaders to the Vineyard," she wrote.
Meanwhile, for those who did make it inside on Thursday, the talk went on.
"I'm very flattered by this turnout," Mr. Toobin said before launching into his talk about the Obama White House and the Supreme Court. After the Supreme Court's landmark decision to uphold Mr. Obama's health care law, he said he would have to change the title of his upcoming book, The Oath: the Obama White House and the Supreme Court. It used to be "the Obama White House vs. the Supreme Court."
Mr. Toobin talked inside baseball about the Supreme Court justices, including the story behind Chief Justice John Roberts' famous flub during President Obama's oath of office and about how the composition of the court has changed over the years, now comprising a more activist conservative court that mirrors the modern Republican party.
But the main point of conversation was the health care decision, "a critical moment for the Supreme Court and our country" and "one of the most moving and unusual and special spectacles that I've had the privilege to see," Mr. Toobin said.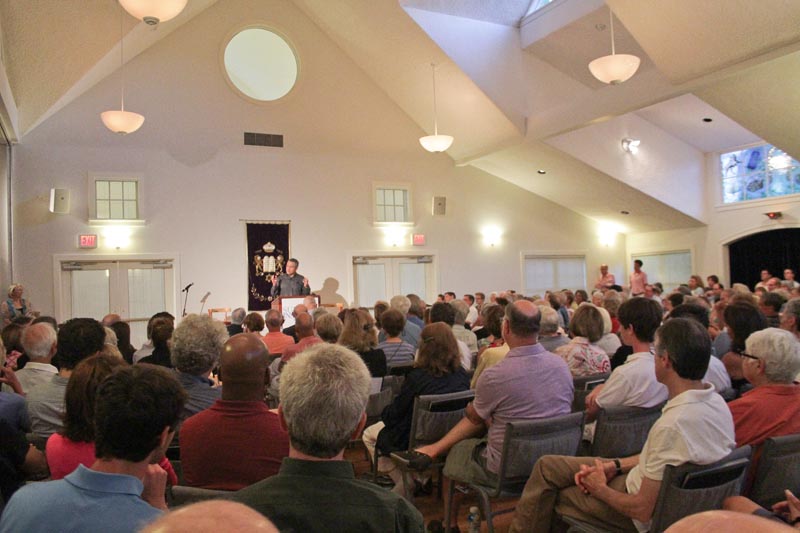 Mr. Toobin described the justices appearing in the silent Supreme Court chambers. "They were exhausted. They were drained," he said. "They all needed haircuts."
Chief Justice John Roberts (who was the so-called swing vote, voting with the majority to uphold the act) "was really shattered by what he had to do . . . emotionally drained and very, very unhappy."
As Mr. Roberts started to read his decision, Mr. Toobin said, it appeared that the act would be killed. "To say I was surprised, and to say my colleagues were surprised, is an understatement," he said.
Mr. Toobin recalled recent court cases that were politically controversial, like Bush vs. Gore, which decided the 2000 presidency, and politicized decisions over the last few years, including the Citizens United case that allowed for unlimited campaign spending by corporations."It is not often in law that so few undid so much," he said.
With that in mind, Mr. Toobin offered some tentative thoughts about Mr. Roberts's surprise decision to uphold the affordable health care act.
The first reason, he said, could be that Mr. Roberts thought the law "compelled that decision," he said, and he acted as an umpire, calling balls and strikes. Or it could be that coming on the heels of Bush vs. Gore and Citizens United — each of which "dramatically transformed how we perceive our politics," he said — reversing the decision would have put the court at the center of the presidential campaign, and he was concerned about the court's reputation.
Mr. Roberts "cares about the court deeply as an institution," he said responding to an audience question, adding that the court would have been thrown into a "political maelstrom" if it overturned the law.
Mr. Toobin also noted that the decision "does establish a narrower scope of congressional power," limiting the ability of the federal government to interfere with states through legislation.
"I don't think this decision is going to have that big an impact on the campaign," Mr. Toobin said in response to other questions, noting that those opposed to the decision weren't likely to vote for President Obama anyway.
The Summer Institute series continues this week with economist Jared Bernstein speaking about competing visions of the size and role of government. Doors open at 6:45 p.m. for the 7:30 p.m. event, organizers said. Early arrival is recommended.