Growing up on a ranch in Wyoming, Barbara Erickson received an early education in the importance of open space.
"You get an appreciation for nature that sticks with you," the newly-appointed president of The Trustees of Reservations said on Friday during a sun-splashed walk through Long Point Reservation in West Tisbury. "Then you come to a place like Massachusetts which is 10 times smaller and I really think it's a call to action to preserve as much as we can. I think the Trustees has been a trailblazer in that effort."
Mrs. Erickson comes to the job after serving as vice president of the international nonprofit organization Save the Children, and prior to that, as chief development officer at the Earthwatch Institute. Since taking the helm at the Trustees on June 25 as the first female president in the organization's 131-year history, Mrs. Erickson has visited 25 of the organization's 106 properties throughout the state. She hopes to visit them all within her first six months.
"My husband tells me my soul was born in Massachusetts," she said. "It's my adopted home state so it's a blessing to be so active with this organization and to see so many different, beautiful parts of it."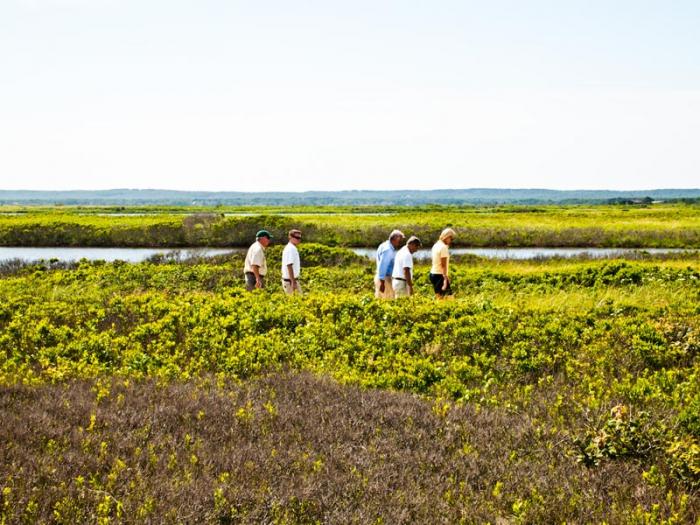 Long Point provides a case study in the organization's past, present and future. Not only is it a vast property (637 acres) that encompasses a spectrum of ecological habitats, from freshwater ponds and crashing Atlantic surf to a host of terrestrial environments, including scrub oak shrublands, sandplain grasslands, coastal heathlands and pitch pine barrens, Long Point also enjoys a rich cultural history. That history includes a longstanding use of the property by Wampanoags as a fishing and agricultural camp that stretches into the mists of prehistory, to its more recent use in the 20th century as a duck-hunting camp for Bostonians. Though ostensibly a wildlife refuge, Long Point's human use has not abated under the aegis of the Trustees, which still allows duck and deer hunting on the property, and hosts a wide range of programming and activities, including kayak tours of Tisbury Great Pond.
On Friday an osprey vigilantly swiveled its head from atop its stand and acknowledged a parade of sweltering beachgoers entering its realm.
"I think what makes us unique among all conservation organizations is that we really understand the human component of conservation," Mrs. Erickson said. "That you can protect places, but if you don't invite people into them, then you've lost the cause."
Like most of the Trustees' properties the preservation of Long Point has also relied on the beneficence of private landowners, who have donated a patchwork of land over the course of several decades.
"Most of the Trustees properties on the Vineyard were donated by families, and it's an incredible gesture when you think about it," Mrs. Erickson said.
And Long Point is eroding. The familiar wall of dune grass that for so long has served as the final barrier between umbrella-toting-tourists and their little plot of heaven on the beach is rapidly diminishing. The situation is more dramatic at Wasque Reservation, another Trustees property on Chappaquiddick.
"We are letting nature take its course at Wasque but we're doing all we can to make sure the experience for people is still an enjoyable one," Mrs. Erickson said. "But we do have to worry about safety obviously. It's an interesting dynamic. A 100-car parking lot was just swept away there. It's amazing."
Besides the opportunity to lead one of the most venerable institutions in the state, Mrs. Erickson, who has two young children, also took the job for its most obvious natural attractions, and the opportunity she now has to impart the same sort of love of the environment that was imbued in her during her own childhood.
"The Trustees are about family," she said. "Having been out here all week, being able to take my children onto each of the properties and have them enjoy them as much as I do is incredibly fulfilling."
But she has more serious work to do than simply appreciate the natural splendor of the properties under her guardianship. She will also oversee a yearly operating budget of over $20 million. The Trustees weathered the economic storm of the past few years with steadily growing membership and property gains, but Mrs. Erickson says it isn't enough. She hopes to recruit 100,000 member families by 2017, up from the organization's current 45,000, and is leading an effort to preserve the state's agricultural past.
"A big theme for us now is saving farms and encouraging locally-grown food," she said. "If there are any farm owners who would like to talk to us, we'd like to talk to them."
She said the Trustees have been acquiring properties at a clip of one to two per year over the past decade, a pace that she hopes to continue despite the economic headwinds.
Begun in 1891 by Boston landscape architect Charles Eliot, the Trustees was the world's first land trust organization, inspiring other efforts worldwide, including the British National Trust. Despite that august history, the organization has never called on a woman to lead the charge. Mrs. Erickson does not think much of the distinction, but acknowledged its significance on Friday.
"Not that there was anything wrong with my male predecessors, but I think it just speaks to the board's commitment to diversity of all types," she said. "I have young kids, I'm from Wyoming and I'm female. It represents that the Trustees is meant for everybody."