How do you like your Shakespeare? Light and comedic or deeply tragic? The Vineyard Playhouse is offering both this year in its annual summer run of outdoor Shakespeare productions at the Tisbury Amphitheatre. Those who fancy both will have the opportunity to see Twelfth Night and Romeo and Juliet, which are each running twice a week at the woodsy amphitheatre near the Tashmoo Overlook until August 18.
And this is Shakespeare with a slight gender twist.
When Anna Yukevich attended auditions for two Shakespeare plays in May, she was surprised when she was asked to read the part of Romeo. "It was funny because at the auditions I was joking with one of the men about [the director] asking me to read Romeo, and he said, I have some competition, eh?" The two laughed it off. But to their surprise, Ms. Yukevich got the part, in an all-female cast of Romeo and Juliet.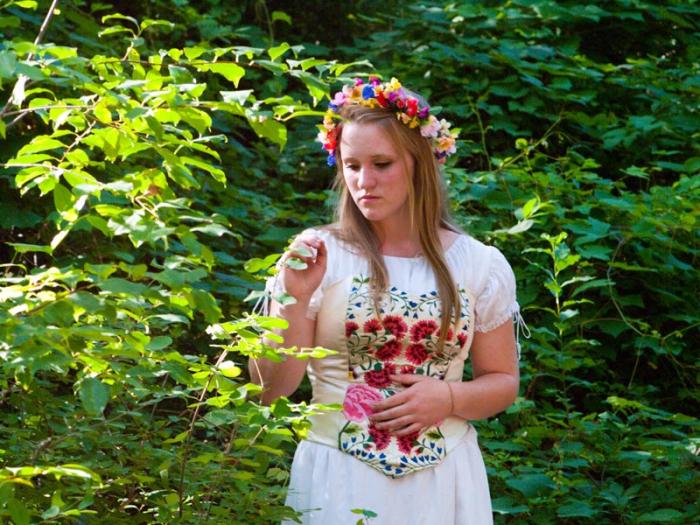 "We didn't get enough men to audition," said MJ Bruder Munafo, artistic director of the Vineyard Playhouse, who directs Romeo and Juliet. "So it was a real opportunity to give them the opportunity to play roles they wouldn't have otherwise." Though the actors were surprised at first, they warmed up to the idea right away, Ms. Munafo said. "Everyone was psyched from the first day of rehearsal."
Romeo and Juliet is one of Ms. Munafo's favorite plays. "The poetry and language are just beautiful," she said. The well-loved classic features three sonnets, and a host of bawdy jokes, for which the female actors seamlessly adopt testosterone-charged body language, only enhancing the hilarity. After all, Shakespeare's plays were first performed with all-male casts. "It's interesting to see female faces," whispered a woman in the third row. "I like it."
The play's comedy incited resounding laughter, and the tragedy drew audible moans from the audience. Ms. Yukevich, who just graduated from the regional high school and will attend Kenyon College in the fall, plays a convincing young lover who falls in love with Juliet, played by 15-year-old Katherine Reid. Both deliver their lines with poise and a keen sense of the Bard's cadence and diction. Ms. Yukevich, who plans to pursue acting in college, often delivers her lines in a quivering, frustrated voice, one that much resembles a frustrated teenage boy. All deaths are performed with startling authenticity, most significantly Tybalt's, complete with convulsions, severe facial expressions and terrifying moans. Liz Hartford's mischievous Mercutio complements the exaggerated swoons of Juliet's nurse, played by Chelsea McCarthy.
Perhaps the most enchanting moment is the final scene, in which the town wakes to the untimely deaths of Romeo and Juliet. Actors, hidden by ivy curtains, call out in mourning, their voices surrounding the audience with a chilling sense of unease. The play begins with a mournful violin solo played by Ms. Yukevich. It ends with a three-part harmony.
This is the third production of Romeo and Juliet at the amphitheatre and the first all-female production. Ms. Munafo cut down the nearly three-hour script to present a concise version of the play performed six years ago, and modified it further for this summer's production. She cut down long speeches, such as the friar's at the end of the play. "He says, let me be brief, and then he tells the entire story in case we missed it," Ms. Munafo said.
This show runs in concert with Twelfth Night, a comedy about mistaken identity, also performed in the amphitheatre. Despite drizzle on opening night, the production met an eager, determined audience equipped with sweatshirts and raincoats. "We were pleasantly surprised to have an audience of 40 people . . . it was really like oh, they're not going to leave whatever happens," said Chelsea McCarthy, director of Twelfth Night. "The audience seemed to love it . . . I couldn't have been more pleased."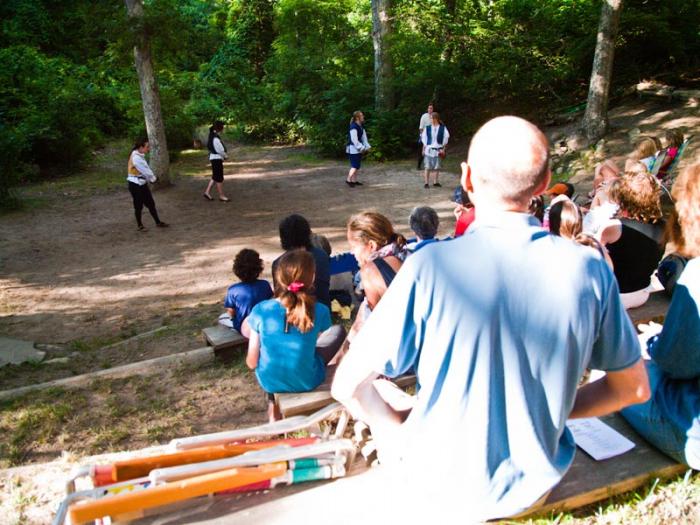 Ms. McCarthy also edited the play in preparation for the production. "I trimmed down the text a little bit," she said. "It's nice to have an intermission-free Shakespeare." Ms. McCarthy co-founded Shakespeare for the Masses, a theatrical group that stages "lovingly tweaked" readings of Shakespeare. "I want to have as much of the words as possible, but I also want it to be succinct," Ms. McCarthy said. Twelfth Night has a mixed-gender cast; half the cast also performs in Romeo and Juliet. These crossover cast members noticed a marked shift in energies as they moved from the "warm, loving, supportive female energy" of Romeo and Juliet to the "boisterous," "sassy" scene over at Twelfth Night, Ms. McCarthy said.
To compensate for the reduced number of productions the Playhouse can offer this summer during the renovation of the playhouse in Vineyard Haven, Ms. Munafo decided to put on two Shakespeare plays at the same time instead of one. "Otherwise, most of the cast wouldn't have a role this summer," she said.
The variety in repertoire allows theatergoers to pick and choose. "It's fun to be able to have a tragedy and a comedy in the some season," Ms. McCarthy said. "For those people who don't want to see a goofy comedy about drunks who say, I want to watch something serious, they can see Romeo, and for those who say, I just can't watch a [couple] of teenagers kill themselves, they can go over to see Twelfth Night."
Ms. McCarthy hopes the tradition continues. "I hope we can expand on that, and do some of the really obscure Shakespeares," she said. "It would be nice to have big Shakespeare combined with a weird one."
In both productions, the outdoor setting adds to the enchantment. "As an actor and a director, it's my favorite place in the entire world," Ms. McCarthy said. Ms. McCarthy, who played Nurse in Romeo and Juliet, also appeared as Nurse in the 2005 production.
Romeo and Juliet will be performed at the Tashmoo Amphitheatre Wednesdays and Fridays, while Twelfth Night shows Thursdays and Saturdays, through August 18. All productions begin at 5 p.m. Tickets available on the day of show, cash or check only. Tickets must be purchased at the show. Visit vineyardplayhouse.org for more information or call 508-696-6300.