Tomatoes and melons are on the way, cucumbers are having a banner year and demand is up for Island-grown produce, especially kale and chard. The biggest problem? Vineyard farmers can sum it up at the mid-summer mark in a single word.
"Dry," said Bob Daniels of Old Town Gardens at the West Tisbury Farmers' Market on Saturday. "I have irrigation, but it's not like rain."
Like much of the rest of the country, Vineyard farmers are battling the worst drought since the Great Depression, which on a national scale is expected to drive up the cost of food.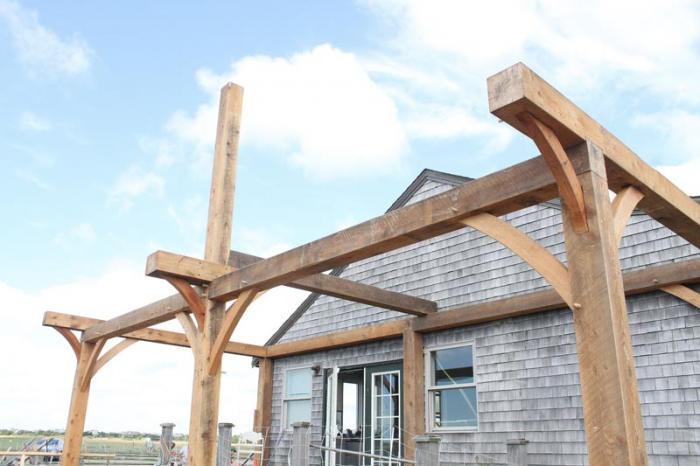 Locally, the Island received nearly two inches of rain over the weekend, but that was after the morning farmers' market on Saturday where Mr. Daniels was selling his potatoes, onions and flowers, and the talk among farmers was all about the dry weather this summer.
Down the road from the market at the Nip n' Tuck farm stand in West Tisbury, Rusty Gordon of Ghost Island Farm has corn, tomatoes and cucumbers — lots of cucumbers —lemon, salt and pepper and Asian seedless cucumbers are all in abundance, he said.
"I have a lot of crops on the verge . . . you can push crops ahead as much as you want, but things are taking their time," Mr. Gordon said.
As for the drought, he said, simply: "You can't count on Mother Nature."
Andrew Woodruff of Whippoorwill Farm agreed, calling the scattered thunderstorms last week "a teaser" and the summer in general "extremely challenging" on Island farmers. Overhead irrigation has been on constantly at his farm, he said.
Mr. Woodruff found one reason to be thankful for the dry summer.
"We haven't had any washout days at the farmers' market," he said, echoing other farmers who report that business has been brisk this summer.
Mr. Woodruff said the salad crops have been thriving despite the heat; with no rain there have also been fewer bugs and blights.
The heat-loving Whippoorwill tomatoes are in, and in another week or so Mr. Woodruff expects to have melons.
And vegetables aren't the only thing suffering from the heat and drought this year.
At Cackleberry Farm in West Tisbury, Emma Young said some of the chickens have stopped laying in the heat. "The older laying coop we imagined would slow down but they just broke at a point a week ago and stopped," she said. "They're not producing anywhere near what they should be."
The Young family has sold eggs from their front porch for 15 years; Ms. Young said this year the demand has been higher than ever.
Jon Previant, executive director of the Farm Institute in Katama, said he toured hayfields on Friday afternoon and didn't like what he saw.
"The pastures are burned to a crisp," he said. Like other farms on the Island and around the country, Mr. Previant has begun to worry about the price and availability of good-quality hay this year.
"I've already started searching for organic hay," he said.
At Morning Glory Farm in Edgartown yesterday, Simon Athearn applauded the rain received over the weekend and wished for more.
"It's a good turnaround, I'll take it," he said.
Mr. Athearn said irrigation at the farm has been the major cost center for labor and electricity this year. "One hundred per cent of our vegetable fields are irrigated . . . and we have been able to more or less put down three-quarters of an inch of water every week," Mr. Athearn said.
Morning Glory sweet corn, which has many admirers and eager customers, is doing fine despite the drought.
"We definitely saw a new bump in customers now that we have our sweet corn in," Mr. Athearn said "More people are saying, we came down to your store because we heard you had sweet corn. We have it every day and shouldn't run out."
Other warm-weather crops like, peppers and eggplants are being harvested now, and watermelons are ripening in the warm, dry fields, expected to be ready for August picking, Mr. Athearn said.
Kale and chard have also done especially well.
"Chard and kale and have been increasing on the customer demand side," Mr. Athearn said. "Kale has been pretty popular for a few years, but people have been ignoring chard until now. We picked our thousandth pound of it today — and that's exciting for us."
This column is meant to reflect all aspects of agriculture and farm life on the Vineyard. Remy Tumin may be contacted at 508-627-4311, extension 120, or e-mail her at rtumin@mvgazette.com.