Red and green lights flash around the stage and disco balls twirl overhead. Music thumps from the speakers. Neon necklaces glow from amidst the dancing crowd.
Just another party at Flatbread Pizza? Not with this group, where self-consciousness gets checked at the door and Shirley Temples are the drink of choice. Stake out a place onstage or join the conga line, but be sure to watch your step so you don't bump into a twirling toddler. Welcome to Family Dance-O-Rama.
"I just thought how great it would be to have an all-ages dance party," DJ Shizz (Mona Rosenthal in her everyday life), told the Gazette. From her booth overlooking the dance floor, Ms. Rosenthal cues up everything from Wilson Pickett to will.i.am—"the common denominator is that it has to have a good beat," she said, keeping the uptempo mood going from 5:30-7:30 p.m. every Wednesday.
Last week, the party started before the music did. At 5:20, the parking lot was completely full and families lined up outside, as kids scribbled on coloring pages while they waited to go in.
"They said to get here an hour early," Kim Letts of Hingham said, seated next to husband Andrew as daughters Olivia and Sophia finished up their pizza at a coveted indoor spot. The Letts family, along with friends, were first-timers at Dance-O-Rama, and so far the event was living up to the hype. Onstage, a group of girls turned cartwheels before huddling together to plot out some choreography.
The lights dimmed, and DJ Shizz cued up Wanna Be Starting Something. A dad and daughter pair spun around the dance floor while other kids clambered onto the stage and their parents, any star's number-one fans, snapped photos from below. Off to one side, two-year-old Lawrence Jamieson bounced up and down to the music. Complimented on his dance moves, the toddler burst into a giant grin before shyly burying his face in mother Sofia's shoulder.
"I think he's going to be a regular," Mrs. Jamieson said.
Now in its seventh season, Family Dance-o-Rama is actually older than Flatbread. Ms. Rosenthal started the event in 2006 when her family owned the venue, which was then called Outerland. Ms. Rosenthal's children, now 25 and 27, grew up on the Island, and she recognized the need for more family activities—particularly those that took place later in the evening. She created posters and drew up flyers, working to get the word out, and "people discovered it."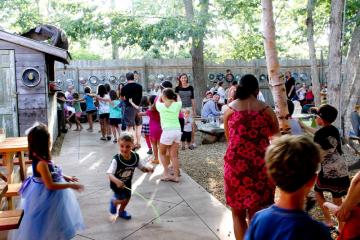 When Flatbread bought Outerland in 2010, they kept the tradition going, literally adding more flavor via their trademark wood-fired pizza. Between the pizza, the music, and the glow sticks, the atmosphere at Dance-O-Rama resembles that of a massive birthday party, minus the cake.
"I'm really grateful to [Flatbread] for continuing it," Ms. Rosenthal said.
"We just come and we dance," Diane Welburn, visiting from Virginia, said. Mrs. Welburn and husband Craig, who summer in Oak Bluffs, had brought their grandchildren, Jordan and Jalen Holeman, 11 and 6, and Cameron Welburn, 8, for the second summer in a row.
"It's an opportunity for families to share quality time," Mrs. Welburn said.
"Everybody meets here, and you can sit back and relax [afterwards]," Pamela Thomas of Edgartown said, joined at a picnic table outdoors by Erin Simmons, also of Edgartown, and Marcy Pouliot of Vineyard Haven. It was the second time the three moms and their children (Jackson and Maksim Pachico, 10 and 7; Avery and Micah Simmons, 9 and 7; and Olivia and Matthew Pouliot, 10 and 7) had come to Dance-O-Rama this year, and a regular summer activity in years past.
"We look forward to it," Mrs. Simmons said.
The best part of Family Dance-O-Rama, obvious though it may sound, is "probably the dancing," according to Jackson, whose handstand splits during a Shaggy number would have put any street dancer to shame. (Young gymnasts seemed to be a disproportionately represented population in the crowd.)
"And the pizza's pretty good, too," Micah noted with just a touch of understatement. Micah and Maksim dubbed LMFAO's Party Rock Anthem their favorite song to dance to.
"I have to play the Party Rock song," Ms. Rosenthal said. 'There are certain songs . . . as soon as it comes on, people start screaming and run onto the floor."
Michael Jackson will always be popular, she added, and the one song that will be played every week is YMCA "because the kids all know how to do the hand motions." Other than that, the playlist for a given week is up in the air. Ms. Rosenthal draws from a "huge list" of current hits, Motown, funk, and disco, although the latter holds less appeal for the young crowd, with one dancer rushing outside, hands over her ears, as soon as Disco Inferno started.
Ms. Rosenthal is working with staff at the YMCA to start a Family Dance-O-Rama during the off-season. Currently, the party only takes place through August.
Still, even a slice of the Dance-O-Rama pie is enough to whet the appetite.
Said Diane Welburn, "I wish we had one where we live."
Family Dance-O-Rama takes place Wednesdays from 5:30 to 7:30 p.m. at Flatbread Pizza. The event is free of charge and open to all ages. For more information e-mail familydanceorama@gmail.com.