The auctioneer leapt off the stage and sat on a bidder's lap. The man responded to the pressure, and upped his bid. But Laure Sudreau-Rippe was determined. She raised her paddle and bid $17,000 to attend Vineyard Playhouse production of Love Letters with Ted Danson and Mary Steenburgen.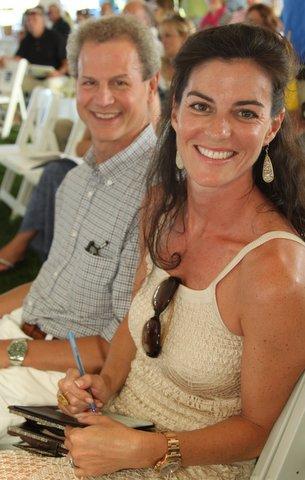 At the 33rd annual Possible Dreams auction, which took place on Monday evening in Ocean Park, caring community members gathered to make donations to one of the Island's most essential organizations in exchange for unforgettable experiences.
"Especially in difficult times, we need to give back to people who need help," said Ms. Sudreau-Rippe. "It's important to recognize that there are people who have less and to help them."
The live auction featured professional auctioneer Dan Flynn, who repeatedly prompted, "Let's have some fun," before opening the bidding on each item. Mr. Flynn didn't disappoint the crowd with his lightening-fast sales tactics and yells of triumph over big bids.
The live auction raised an estimated $183,350, not including food and ticket sales. For the first time, the event featured a silent auction, which raised an additional $9,525.
"We wanted to make the event more accessible," said Sandy Pimentel, the chair of the auction. "We wanted to make it possible for people who wouldn't ordinarily be able to get something to walk with something nice."
"For some people, the dreams are really impossible dreams, but these are within their grasp," said bidder Sissy Biggers. "It's a great idea to get everyone involved." Ms. Biggers bid on Radio Days, a silent-auction item that allows the winner to host a radio show in the "hot seat." Ms. Biggers said, "My family refers to MVY as the soundtrack to the Island." She hoped to hear her husband's voice broadcast on the station.
Other hot-ticket items included a genealogy DNA session over dinner with Henry Louis Gates, Jr., which went for $10,000, and the annual Sushi with Belushi rendezvous, which went for $4,500. Mr. Flynn, joined by Plum TV's Alex Friedman, gave a hearty "grazi" when the donors duplicated a vacation trip to Italy. The two trips went for $13,000 each.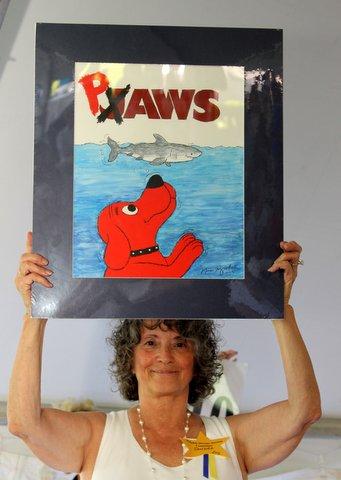 Community Services provides services to 6,000 Islanders annually through disability, violence prevention, early childhood education and counseling services.
"I know firsthand what Community Services means to my students, their parents and the community in general," said Wiet Bacheller, former teacher and president of the board of directors for Community Services. "There is a real misconception that Community Services don't really need money because they have Possible Dreams," she said. "But this is only a small portion of the funds we need," she said. "We may be the poster child of fund-raising, but our needs are great."
"And it takes every dollar," she said.