"I was a pest to a lot of people when I first came to the Vineyard in 1967," confessed Mark Snider, owner and managing director of Mattakeset Properties in Katama since 1983, of the Winnetu Oceanside Resort at Katama since 2000 and now of the Nantucket Hotel and Resort that opened June 29 across Nantucket Sound.
"But, remember," he added with a touch of pride, "that I was only 10 and there was so much I wanted to learn from people here who had history to share."
In those days, Mark hung around the Vineyard Gazette office on quiet afternoons waiting for then-editor and publisher Henry Beetle Hough to tell him Island history, or rummaging in the Gazette attic absorbing history from old bound newspapers. Or he found his way to Vineyard Haven for earnest conversations with Ben Morton, secretary of the chamber of commerce and financial advisor to the Steamship Authority. Both men were adept storytellers devoted to the Vineyard. From the time he was very small, Mark had a love affair with the Steamship Authority boats, fashioning models of each of them from shirt cardboards.
Young Mark also eagerly absorbed what he read and heard about the days at the end of the 19th century when the Martha's Vineyard Railroad ran along the beach from Oak Bluffs to Edgartown and out to Katama, and about the comings and goings of boat lines to the Island over the years.
One dock was at the foot of New York avenue in Eastville in the 1860s and another was where the Steamship Authority dock is now. In the 1870s, a third was built at the site of today's East Chop Beach Club. And West Chop had its own dock, too, Mr. Snider recalled with his photographic memory.
As he grew older, he continued to find Island boat line service fascinating and got a job as a ticket seller for the Steamship Authority while he was still in high school.
He was equally intrigued by the history of the trains that brought vacationers from Boston and New York down to Woods Hole for the Island crossing. The Boston train had ceased running in the 1950s and the train from New York stopped in the 1960s.
Meanwhile, in the mid-1960s, his parents, Stanley and Mary Ann Snider, had built three cluster villages of furnished, attached summer cottages in Katama. They sold the cottages, but managed them for the owners — renting them if the owners wished. They also provided housekeeping services and upkeep, tennis courts and a day camp for children. And Mark and his brother, Jim, and his parents, who had been summering on Nantucket (winters were in Newton), began summering at Katama. Ever-inquisitive, Mark was finding out all he could about the area's history.
In the 19th century, he discovered, the Herring Creek at Katama was rich enough in fish to supply Island whaleships with salt herring for their journeys. A century later, with the whaleships gone, the herring scales were used to make artificial pearls for summer visitors. And he read the history of the Mattakesett Lodge that was opened in 1873 at "Katama the Lovely," as advertising brochures dubbed it. The lodge was built "to siphon business away from the Sea View that had been built in 1872 on the Cottage City (now Oak Bluffs) waterfront and was that town's grande dame hotel."
Mr. Snider explains all this patiently to vacationing guests at Winnetu, his 54-suite Katama resort that he views as the Mattakesett Lodge successor.
"You see, Cottage City was part of Edgartown then and continued to be until 1880," he said. "Edgartown was sort of the dowager seat of the Island because of its whaling. Oak Bluffs and Edgartown became rivals for tourists after the whaling industry foundered. Meanwhile, religion had come to Cottage City in 1835 with the Methodist camp meetings at Wesleyan Grove, and business was booming there. To counteract that, the Edgartown town fathers had the idea of developing Katama so it would be a lure to tourists."
The plan was to build hotels and wharves on Katama and have steamboats come in. Finally, in 1874, there began to be talk of a railroad between Oak Bluffs and Katama.
The railroad was built and the Mattakesett Lodge was there to welcome passengers. The lodge was imposing in the way of Cottage City's Sea View, though not quite so large. But the railroad was not the success backers had envisioned, and in 1896 it made its last run. Long before that, the lodge had closed down.
"In 1891, some of it was barged into town and became part of the Harbor View Hotel that they were building then," Mr. Snider said. "And some of the old Mattakesett is where the land bank has its offices next to [Memorial] Park.
"Incidentally, did you ever ask yourself why Depot Corner in Edgartown got its name? It's because that's where the depot was for the train in the old days. It had an Edgartown stop, and after that there were trains that went out to Katama. The tracks made a Y where the Farm Institute is now. One branch of the Y went toward South Beach, site of today's Winnetu. The other branch went toward Katama Bay, where the Mattakesett Lodge was.
"Anyway, in 1880, Cottage City seceded from Edgartown. It had to do with a lot of services its residents felt they weren't getting from Edgartown. It was able to flourish quite happily on its own. Edgartown wasn't so lucky. It was the arrival of the car that saved Edgartown.
"Once the car came, and you could travel easily by automobile from Oak Bluffs to Edgartown, Edgartown wasn't a backwater anymore."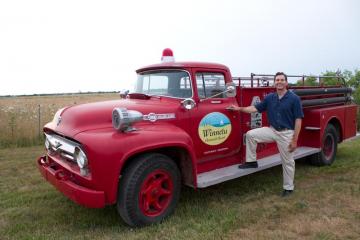 All this knowledge of history and enthusiasm for transportation has stood Mr. Snider in good stead and set him on his successful career. He became a Cape Cod shuttle bus owner just after his graduation from the University of Pennsylvania's Wharton School in 1979.
"It was the peak of the gas crisis," he recalled. "I've always loved the challenge of public transportation, so I started a shuttle bus on Cape Cod that took vacationers from hotels in places like Hyannis and Yarmouth down to Woods Hole so they could make a trip to the Vineyard without a car."
Next he learned that some of Cape Cod's abandoned privately-owned railroad tracks had been purchased by the state to preserve them as a part of history. Freight was still being carried on them, but not passengers.
"So I petitioned the state to run passenger service on them and got it."
Soon he was running the Cape Cod and Hyannis Railroad from Braintree to Hyannis and Falmouth from 1981 to 1989.
Next he became managing director of the Mattakeset Properties that his parents had built, then a Katama hotelier and now he has his Nantucket hotel.
"It's one of the last great 19th-century hotels of Nantucket still standing," he said on Nantucket this week. When it opened in 1891 it was the Point Breeze, and advertisements of the day pointed out that "it had running water, gaslights, billiard halls. croquet lawns, sea views and an orchestra . . . and that guests could relax on rocking chairs on the veranda." In the years since, it has gone through several name and ownership changes. Its last owner had plans to turn it into condominiums, but a foreclosure in 2009 made it available for purchase.
Ever on the alert for anything interesting and historic on the Cape and Islands, Mr. Snider purchased it in January of this year. Then in just 184 days, he and interior decorators, a construction crew and potential service employes from many nations redid the property for guests. There are now 30 elegant suites and six hotel rooms, two pools, two bars and an indoor and outdoor restaurant. A rooftop lounge is planned for next year.
Though the gaslights, billiard rooms and dinner orchestra are gone, the sea views and rocking chairs on the verandah remain. The name was changed to the Nantucket Hotel, honoring a hotel of that name that once stood next door but was torn down.
He hopes the old purchase may lead to closer links between Nantucket and the Vineyard. (Although Mark and his wife, Gwen, who is also his business partner, have had a winter home in Wellesley with their now largely-grown children, Oliver, Annie and Matthew, Mark is an Edgartown voter.)
Ever the transportation guru, he decries the fact that there is only ferry service from the Vineyard to Nantucket once a day, and wishes there could be more.
The Snider family's interest in building goes back 100 years to Mark's grandfather, Harry Snider, who started the Massachusetts Lumber Company in Cambridge. In the 1950s, Mark's father, Stanley, and his mother, Mary Ann, linked their names, Stan and Mar, and their enthusiasms, to establish the original Stanmar company to construct vacation homes across the nation. A decade later, they began their summer cottage complex on Katama.
Given Mr. Snider's insatiable urge to preserve history and to embark on complicated business ventures, somewhere on Nantucket, the Vineyard or Cape Cod there is surely another historic restoration project waiting for his skills and boundless energy.