A New York woman is facing a cocaine trafficking charge in what Edgartown police are calling one of the biggest drug busts in recent memory late last week. Police said the arrest is connected to a larger operation bringing cocaine to the Vineyard.
Mitefea Kelly, 18, was arraigned Friday morning in Edgartown district court for allegedly coming to the Island with more than 270 grams of cocaine, part of what members of the Martha's Vineyard Drug Task Force said was an operation to bring large amounts of cocaine from New York to the Vineyard. Terrence Bell, 34, who police said "was the boss of the operation" was arraigned Friday on an outstanding arrest warrant from January.
"These individuals have been under investigation for quite some time," said Edgartown Det. Michael Snowden. "They had a really good operation."
In Ms. Kelly's case, Judge H. Gregory Williams set bail at $200,000 cash, the amount Cape and Islands assistant district attorney Laura Marshard had requested after saying that Ms. Kelly had limited ties to the Vineyard, except for "coming to this Island to distribute narcotics."
The charge has a mandatory prison term of 15 years, Ms. Marshard said.
Defense attorney Ryan Searle, representing Ms. Kelly, asked that her client be released on personal recognizance.
Both Ms. Kelly and Mr. Bell were being held in the Edgartown house of correction yesterday.
Drafts of Edgartown police reports show Ms. Kelly was under investigation after a confidential informant told police in July that she had been selling cocaine near Arbutus Park in Edgartown, and that she was allegedly associated with a group of men from New York who were under investigation by the drug task force for large distribution of cocaine on the Vineyard.
According to a police report, the task force believed that the men would often have women "mule large amounts of cocaine to the Island."
After learning on August 6 that Ms. Kelly was allegedly to travel to the Island with cocaine, a police report said, she was observed on August 9 getting off a Peter Pan bus at the Woods Hole ferry terminal. Police said they followed her onto the 1:30 p.m. ferry, and she was intercepted when she exited the ferry in Oak Bluffs.
A police report filed by Edgartown Det. Sgt. Chris Dolby said that when police questioned Ms. Kelly, she did not answer questions or deny that there were drugs in her suitcase, and that she started singing, becoming loud and attracting the attention of passersby.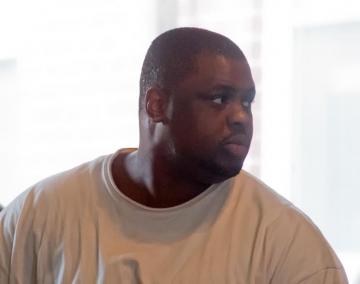 The police report said when police opened Ms. Kelly's black suitcase, they allegedly found two potato-shaped wrapped objects "consistent with packaged narcotics," and that based on size and weight "it was obvious that it was a significant amount of narcotics."
At the police station a sample tested positive for cocaine, and the total weight was 271 grams, packaged into one- and three-gram amounts, with a street value of $30,000, the report said.
A pretrial hearing for Ms. Kelly was scheduled for Sept. 6.
Also arraigned Friday following an arrest on Thursday was Mr. Bell, of Queens Village, N.Y., who police said has been the subject of an ongoing narcotics investigation and who they believe is the boss of the operation and who conspired with Ms. Kelly to transport the cocaine to the Vineyard.
Mr. Bell, who police said was nicknamed Tru, was arrested in Woods Hole on an outstanding warrant Thursday and transported to the Vineyard, according to police.
He was arraigned in district court on charges from January of breaking and entering in the daytime for a felony, two counts of malicious destruction of property more than $250, and intimidation of a witness. Bail was set at $15,000.
"There are significant drug issues involved in this case," Ms. Marshard said in court.
The charges stem from a drug deal in Vineyard Haven, police and Ms. Marshard said. According to police, a Vineyard Haven man ordered a delivery of cocaine and a prostitute to his Vineyard Haven residence, and Mr. Bell agreed to "front" the man the $350 payment. Two days later, police said, he broke into the man's home and "forcefully demanded the payment of his money."
The Vineyard Haven man called the police and police said they received information that Mr. Bell fled the Vineyard because he knew police were looking for him.
Mr. Bell has been the subject of "an ongoing [Martha's Vineyard drug task force] narcotics investigation involving a group of African Americans from the Hollis-Queens area of NYC," the Edgartown police report said. "At this point in the investigation we believe that he is the boss of the operation and conspired with Kelly to transport the aforementioned cocaine to Martha's Vineyard." When they arrested Mr. Bell on Thursday, police seized two cell phones and said they intend to seek a search warrant.
Detective Snowden said yesterday that the drug task force worked hard to trace cocaine coming to the Island to Mr. Bell, with last week's arrests coming together through hard work and information.
"It is the most cocaine that we're confiscated ever in my career," he said. "It was definitely a big score."
When it comes to Mr. Bell, "he is our main guy," Detective Snowden said. "All the cocaine that comes down to the Island that's linked to these individuals, it's coming through him."
Detective Snowden pointed to the April arrest of Emile Rowe, who allegedly came from New York and was selling cocaine in Vineyard Haven. He was charged with possessing to distribute class B drugs in Vineyard Haven, and a default warrant was issued after he posted bail and then failed to appear in court. Mr. Rowe was also connected to Mr. Bell, Detective Snowden said, and the police department recovered documents from Mr. Rowe indicating wire transfers to the Queens/Hollis area.
The police department is now taking information from the arrests and putting together information to "show the court how Mr. Bell conspired to traffic cocaine."
Going forward, Detective Snowden said, "our main goal is to connect everything to him."
A pretrial hearing for his case was also scheduled for Sept. 6
Mr. Bell sat in front of Ms. Kelly in the courtroom Friday, and during a recess court officers moved him to the other end of the bench.