On the morning that Republican presidential candidate Mitt Romney announced that Wisconsin Rep. Paul Ryan will be his running mate, Martha's Vineyard Democrats focused on a more local political decision as they heard from the two candidates they will choose between in the congressional primary on Sept. 6.
Incumbent Cong. William Keating and Bristol County district attorney Sam Sutter, who are both running to represent the new 9th congressional district, addressed issues both local and national — including the vice presidential nomination — at Howes House Saturday morning, with Mr. Sutter criticizing Mr. Keating for not engaging in debate.
The two did not debate or engage in discussion with each other, and Mr. Keating, speaking first before heading to the ferry to attend a function on the mainland, made no mention of his opponent or the primary contest.
He did, however, address national issues facing Democrats in the November election. "This is the most serious time in our country's history," Mr. Keating said, saying that the Republican party, with influence from the Tea Party, is aggressively taking the country in the wrong direction "economically, socially, and in terms of our security."
"The Democratic party is the party of fiscal reason," he said, adding that Republican policies are in danger of taking the country back to what he described as Mad Men-era social policies and women's rights.
"They want to take a woman's privacy rights away, they want to continue to let women pay more for health care than men," he said.
"This country is at the crossroads," he said.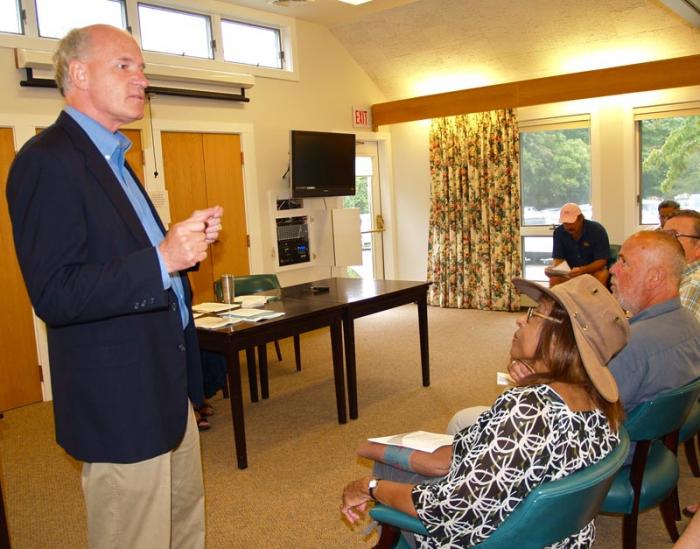 Then there was the political news of the day: Mr. Romney's vice presidential candidate. "We couldn't be more solidified on where they're going and where they've been," Mr. Keating said of what Mr. Ryan's nomination means for the Republican party.
"I work out at the gym with [Mr. Ryan], he's a nice fellow," Mr. Keating said. "But he's the person that epitomizes where this worst congress that ever existed, probably, is trying to take us."
After speaking for about 20 minutes, Mr. Keating left to attend an event for veterans.
"I think many of you who were coming thought Congressman Keating, as I did, as we did in planning this meeting, would be able to stay here and there would be a side-by-side, quite frankly," said Martha's Vineyard Democratic council member Paddy Moore after Mr. Keating left.
Mr. Sutter was critical of what he said was a lack of engagement between the two. "As I listened to Bill . . . I was struck by something that I've been struck by repeatedly over the last eight months," Mr. Sutter, a Fall River resident, said. "And I'll try to say this as tactfully as I can. He's not only trying to ignore me, he's trying to ignore that there's a choice here."
"So let me talk about your choice," he said.
He said he decided to run for the seat when the new 9th district, which includes the Cape and Islands, coastal parts of Plymouth County and parts of Fall River and New Bedford, was created by redistricting last fall. The Vineyard has been represented by Mr. Keating in the 10th congressional district.
Mr. Sutter criticized what he saw as a lack of effectiveness in the congress and he said he differed from Mr. Keating in key areas: he is for bringing troops back from Afghanistan "as quickly as can be logistically done," and is against the National Defense Authorization Act, which includes so-called indefinite detention for suspected terrorists. "As a district attorney I am very cognisant of constitutional rights," he said.
Mr. Sutter said he is also for campaign finance reform and will not accept public action committee money in the campaign.
As district attorney, Mr. Sutter said he has created a strong program against gun violence. "Where is our congressional delegation on this issue?" he said, citing recent shootings in Wisconsin and Colorado.
More locally, he addressed the ongoing issue of lack of access to on-Island health care for veterans. "I can tell you this — on my watch that would have been resolved by now," Mr. Sutter said.
He also said he would be a strong leader in other issues like ongoing repair work on Cape bridges.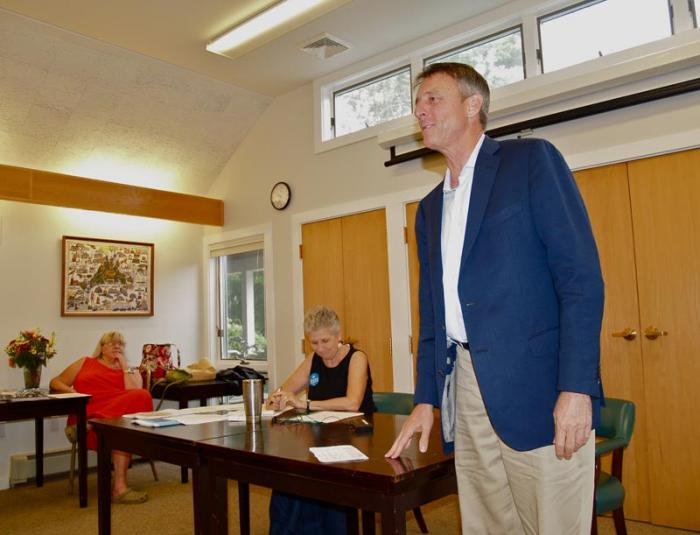 He took questions from the audience, ranging in topics from a two-state solution to the Israeli-Palestinian conflict to the Citizens United Supreme Court case to the civil liberties implications of his decision as district attorney to detain those caught with illegal guns.
Mr. Sutter said he addressed rampant gun use in Bristol County by calling for dangerousness hearings to detain those accused of felony gun hearings, which allows for 90 day pretrial detentions if the defendant is found to be dangerous.
Mr. Sutter said that public safety was a priority for him.
Others asked why he was running for congress instead of finishing his second term as district attorney. He said that he agreed when he ran in 2006 to limit himself to two terms, and sees an opportunity now to go to Washington to bring change.
During a brief interview at the Gazette office on Friday, Mr. Sutter described himself as a "Johnny-come-lately" to politics, though he said he's loved politics since the time he saw John F. Kennedy as a young boy. He said he was prompted to run for district attorney in 2006 when he saw a spate of gun violence and gang activity in Bristol County, and was confident he could do a better job than the existing district attorney. He said he feels the same now about running for congress.
"I really feel as if I have a connection to all parts of the district," he said, adding that Vineyard votes are important to him.
Mr. Sutter said he and Mr. Keating will meet for one scheduled debate on Thursday, August 30 at the University of Massachusetts at Dartmouth.
The deadline to register to vote in the Sept. 6 primary is August 17.