The volume of yoga practitioners on Martha's Vineyard is almost overwhelming, yoga teacher Mollie Doyle said this week. "We have an amazing yoga community here . . . there are nine or 10 classes practicing on a Tuesday morning, and they are all full," she said.
"It's kind of a yoga mecca."
And next week, the yoga-friendly Island will be the site of even more asanas and oms than normal at the third annual Martha's Vineyard Yoga Festival.
The festival unites yoga teachers and enthusiasts from the Vineyard and around the country, with a plethora of classes taught by renowned teachers, free meditation, lectures, paddle-boarding and even a vegan feast. And it all takes place on an Island that has especially embraced the practice of yoga for health, both physical and mental, and the social benefits for those who regularly attend classes and the community of yoga teachers who live here.
The festival was the brainchild of yoga teacher Kathy Bega, with Ms. Doyle coming on board to co-produce the event last year.
Ms. Bega came up with the idea after a yoga trip to Costa Rica. She thought, "Wow, I'd really like to do something and bring everything together, and maybe more people can be introduced to yoga in the community here," she said.
The first year focused on local teachers, which posed a problem — they were the same teachers people saw all the time, she said.
So now the festival has grown to feature off-Island teachers, though "it's still homegrown," Ms. Bega said.
"People were so excited to take a class with teachers they hadn't taken a class with before, and we have an amazing, amazing line-up," Ms. Doyle added.
From Thursday, August 30, through Monday, Sept. 3, the festival will offer more than 25 classes at locations around the Island. The festival will be anchored at the Chilmark Community Center (which can accomodate 90 yoga mats, it should be noted). There will also be events that extend beyond yoga, including free early morning meditation with Sarah Davis, a sunset standup paddle session and a vegan feast created by Beetlebung Farm's Chris Fischer.
At the community center, Mr. Fischer will offer organic local food all weekend at a health food cafe, which will also feature chocolate and coffee from Island companies Not Your Sugar Mamas and Chilmark Coffee. There will be a pop-up clothing shop featuring clothes by Stina Sayre, Gabriella Camilleri, Hyde Yoga and Minneapolis-based Foat Design.
"We don't define yoga as asanas on the mat," Ms. Doyle said. Consider Mr. Fischer: "what he's doing with his farm, it's yoga. He's feeding the land . . . that's yoga right there."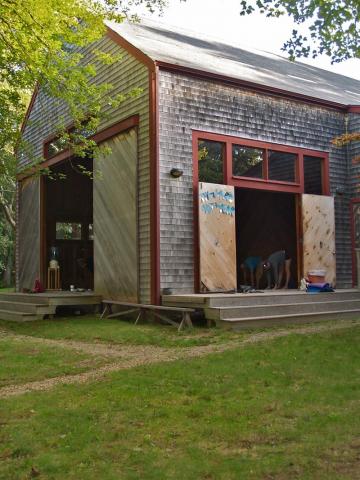 She said the same of stand-up paddling, Todd Christy's Chilmark Coffee, and all of those offering their goods at the festival. "That's why I feel so excited, too, about what we're offering beyond [classes] . . . I love every single product and person we're bringing into the space."
And the event is a true community effort, she said, from the person who brought a box of heart rocks to those who designed the interior of the space. Vineyard Bottled Water is donating water and Islanders are housing the visiting yoga teachers, even lending them their cars.
"A lot of people are stretching to help us," she said.
Some of the teachers coming to the Island are "the most respected and popular yoga teachers on the West Coast, if not the U.S.," Ms. Doyle said. These include Sara Ivanhoe from Yoganation — who emailed to ask to participate in the event — and Lululemon Ambassador Michelle Boullion.
The festival is for everyone, the organizers said, from those who have never tried yoga to teachers themselves. Ms. Doyle compared the practice to a well; one could stay close to the surface or delve deeper.
"I'm happy that there are some people who want to go deep," she said. "I feel very happy and supported by the community," she said. "We're just trying to do, in our little way, a really big festival."
At his new Martha's Vineyard Yoga Center in Oak Bluffs, Primo Lombardi will host Toni Melaas, the founder of Hatch NYC.
"It'll be nice for the people just to get a different flavor of the teaching," Mr. Lombardi said. "It's so wonderful for people who live here on the Island."
"It's quite an event for the Island to have this sampling," he added. "You have to go to a yoga conference to have that array of teaching. I think it's going to be some serious fun."
The teachers attributed the Island's yoga culture to the worldly nature of Island residents, the abundant natural beauty here, and a growing interest in yoga around the country.
A practice that helps one align with nature, Mr. Lombardi said, is especially fitting on the Vineyard. "Being on an Island with the ocean and the skies, I think people are a little more open to that type of exploration," he said. "There's also a sense of community. A lot of yoga is just to remind you we're all connected. We all breathe the same air."
Sherry Sidoti, who recently opened Yoga Haven in Vineyard Haven, will co-produce a one day immersion with Los Angeles yoga teacher Saul David Raye at her studio, as well as host other classes featuring Mr. Raye before the festival begins.
"[The Vineyard has] become much more of a yoga base," said Ms. Sidoti. The Vineyard has always had abundant healing arts, like massage, she said. "The natural environment here lends itself to all things yoga as well . . . it's a place where people are coming to be able to dive deeper into yoga studies."
"There are so many benefits. For one, yoga is very holistic process," she said. "So it looks at the entire being. Yoga class is a small part of the very big practice of yoga. Day-to-day things stay the same, but our relationship to them changes."
Ms. Sidoti and others said the festival offers the Island's community of yoga teachers a role reversal; they get to be students.
"One of the very special things about collaborating is to work with some of the other Island yoga teachers and support each other in that way," Ms. Sidoti said. "We rarely get to go to each other's classes."
"It's a great time of year," Ms. Sidoti added. After a busy summer, "now I'm going to play . . . take a bunch of classes and have a really great weekend."
For more information or to purchase tickets to the yoga festival, visit mvyogafestival.com or call 508-274-4682. For more information on Saul David Raye's classes taking place next week prior to the festival, visit yogahavenmv.com.