State Beach, 7 a.m. on a Friday morning. The beach is empty and calm as the tide laps the shoreline, slowly waking up before summer beachgoers arrive. The sun shines brightly on white sand, silhouetting the few early risers.
But tracks scattered on the sand are a telltale sign that these few people are not the first visitors to the beach today. Seagulls, skunks, raccoons, crows and ghost crabs have been teetering along the sand all night and into the early morning. "You never think about how you go home from the beach at night and there is this whole other world that takes over," said EmmaJean Holley, a summer intern with Biodiversity Works, a fledgling nonprofit dedicated to wildlife research and mentoring for young people.
The organization was started last March by wildlife biologists Luanne Johnson and Liz Baldwin.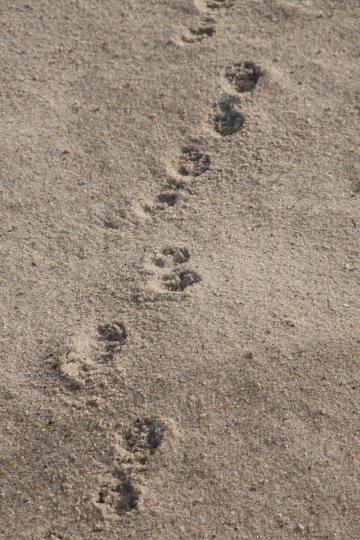 This summer they launched their mentoring program with four interns from the Martha's Vineyard Regional High School and one college intern. In addition to other projects, the interns have been monitoring predator tracks at beaches with nesting birds in different towns across the Island as a pilot study, developing methods to hypothesize whether human activity levels correlate with predator activity levels.
"There are characteristics we want to include as variables," Ms. Johnson told the interns at the beach last week. "Besides just the habitats being different, but also things like human access," she said.
"And trash cans," added intern Eva Faber.
"Yes, trash cans. Good, Eva," said Ms. Johnson.
The interns each monitor their own beach as part of the pilot study. They come out at night and rake a smooth, sandy transect from the shoreline out to where the sand meets shrub.
"If you ever see some kids raking the beach at night, they haven't taken up Buddhism," joked Eva. "It's just a science thing, don't worry about it."
The next morning the interns come back and count each paw print, claw print, footprint and sneaker print within their transect, metre by metre.
"I really never noticed tracks before," said intern Sammi Chaves. "I thought, oh, here's some footprints. But now I notice each one. Like there's a skunk track," she said pointing to trail of quarter-size tracks imprinted on the sand. "And then raccoons have more of a handprint."
She along with Ms. Baldwin and intern Ben Gordon teamed up to count each individual print.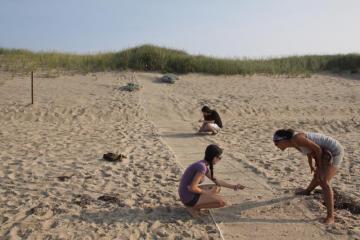 "I just love to learn," said Ben as he stretched out the measuring tape along the transect line. "There's nothing more I like than the moment of discovery."
Walking to the next transect headed east on the beach, the group stopped in their own tracks, gathering around a hole in the sand, home to a ghost crab.
"Oh that's a big one!" said Eva.
"Yep, that's a good-size burrow," said Ms. Johnson, measuring the depth of the hole with a stick.
Along with monitoring predator tracks, BiodiversityWorks is involved in ongoing research surveying Atlantic ghost crabs, monitoring and protecting beach-nesting birds like piping plovers and terns, surveying belted kingfisher and swallow nest burrows in sandy cliffs and banks, and mapping, monitoring and studying the activity and diets of coastal river otters.
"We look at Martha's Vineyard as one big piece of land instead of looking only at the properties you own and the land you manage," said Ms. Johnson. "We think of wildlife without borders, because a river otter doesn't think about who owns the land it's using. It thinks about the habitat and where it wants to sleep and eat."
The two founders said the mission is to provide not only Islandwide wildlife research but the chance to pass on skills to other people.
"I felt like there was a hole to fill," said Ms. Baldwin. "In high school I knew I wanted to study wildlife but there was no program for students to go out in the field."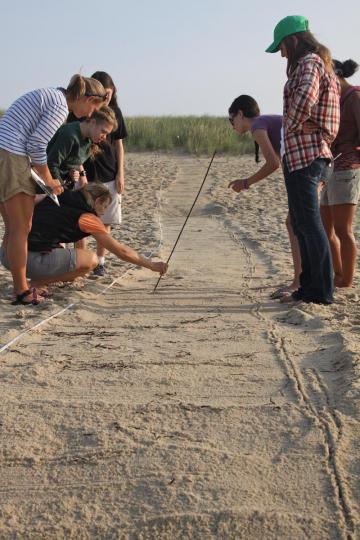 They decided to give one-on-one mentoring to students, helping them identify and fuel their passions, as well as giving them an idea of what being a wildlife biologist is really like, from early mornings at the beach to long hours in the office to nature observation to solid record keeping.
"It's easy to think about being a scientist when you're talking about a lab in a controlled environment," said Ms. Johnson. "Wildlife biologists are at the mercy of the weather, and whether or not the animals wants to cooperate, and whether there will be enough of them to use for a study."
Biodiversity Works also works with interested adults, hosting bird walks on the Edgartwon Great Pond and assembling volunteers to help identify fish scales for river otter dietary analysis.
"Fish scales can be like snowflakes — very unique," said Ms. Johnson. "The Vineyard has a tremendous amount of natural diversity, and there's a lot of things that people have no idea are even here and we want to get them excited about," she said.
"Like Eva is really into bird songs," she added.
"Well, it's like what Sammi was saying about tracks," said Eva. "Now when I'm walking through the woods I can recognize two or three calls. It changes your world because you're aware of something you've never known before."