As the 2012 presidential race heats up — from the GOP convention in Tampa to much ado about a campaign video scuffle on the Vineyard — the new ninth congressional district will have its own excitement in next week's state primary, with an incumbent congressman facing a primary challenger and two Republicans vying for a spot on the November ballot.
The Sept. 6 primary will be the first time the voters will go to the polls as part of the of the new district, which was the result of redistricting last fall.
The old 10th district, which included the Cape and Islands and south shore coastal towns including Quincy, Weymouth and Hingham, was eliminated as the state lost one district. The new ninth district includes the Cape and Islands but does not include Quincy and the surrounding towns, and now includes New Bedford and parts of Fall River.
Cong. William Keating, the incumbent from the current 10th district, moved from Quincy to his home in Bourne to run in the new district. He is facing a primary challenge from Bristol County district attorney C. Samuel Sutter. Republicans Adam G. Chaprales from Sandwich and Christopher Sheldon from Plymouth are facing off on the Republican primary ballot.
According to OpenSecrets.org, which is run by the Center for Responsive Politics, the Democrats have far outraised their Republican counterparts. As of August 30, Mr. Keating had raised $859,766, with Mr. Sutter raising $244,111. Mr. Chaprales had raised $38,217 and Mr. Sheldon $32,929.
All four candidates said in phone conversations this week that jobs and the economy are a focal point, and agreed about common concerns for this coastal area, including fishing and tourism.
Yet while Mr. Keating points to his experience and his record from the last two years, Mr. Sutter said the district needs change, and he could be more effective. Meanwhile, the two Republicans said the revised district is more apt to elect a Republican congressman.
The two Democrats faced off in a debate at the University of Massachusetts Dartmouth last night.
Bill Keating
Mr. Keating said his focus, both in representing the 10th district and looking at the new ninth district, remains on jobs.
"Even in an often toxic environment in Washington, I've been able to work with the administration to bring 10,000 jobs to this district right here," he said."That's important because it begins and ends with jobs."
Mr. Keating was elected in 2010 after serving as the Norfolk County district attorney for 12 years. He previously served as a state representative and state senator.
He has a law degree from Suffolk University School of Law and received a BA and an MBA from Boston College. He and his wife, Tevis, have two children.
He said that during his term, he has met with constituents during "Coffee with Bill" meetings, handling over 1,000 constituent cases.
When it comes to representing the new ninth district, "it's an extension of many of the issues in the other district," Mr. Keating said. As one of the largest coastal areas in the country, he said important issues will continue to include fishing and the environment.
Other people "don't understand the challenges of our district, what many of these communities are like off-season," he said, adding that jobs can be scarce.
On a larger scale, he's focused on facing the nation's debt and cutting military spending.
"I have a pretty good window to see where there's waste," he said, as a member of the Committees on Homeland Security and Foreign Affairs.
When it comes to his opponent, "I would say this," he said. "I've had decades of legislative experience. I was the chairman of five committees in the state senate; I authored hundreds of bills. Legislative experience is not new to me . . . it was an easy transition."
"Already in congress I'm a ranking member," he said.
"I think it's very important in the whole region to have a Democratic member who has experience and has already grown in the region," he said, noting that Sen. John Kerry and Reps. Jim McGovern and Barney Frank have endorsed him.
"We're at the crossroads," he said. The country could end up with crippling financial problems like in Europe, "or we can build out from the middle class and invest." He said he is especially focused on jobs for young people and rebuilding infrastructure.
In this district, "I believe it's going to come back to the sea," he said. "Not just in traditional ways like fishing, but new industries, and we're set for that, and that will mean jobs, and that will mean growth.
"It's a really an exciting place to represent."
Sam Sutter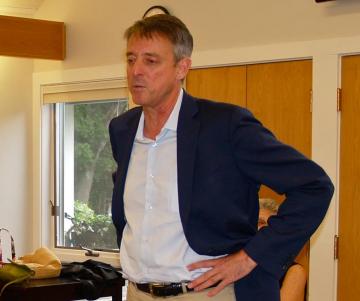 Mr. Sutter, on the other hand, said his central theme is change, criticizing partisan politics and the influence of money in congress. "Voters know that's not a good system," he said.
"What's going on now isn't working. I certainly represent change more than my opponent, who's been in office for the last 34 years."
Mr. Sutter grew up in Connecticut and attended college at Brown University and law school at Vanderbilt University. He now lives in Fall River; he and his wife, Dorothy, have three children.
"Which one of us is truly from the area and has a better understanding of the people and the needs?" he said. He said not enough is being done in terms of energy, immigration, and national debt.
He said his record from serving six years as district attorney for Bristol County has prepared him for leadership, handling 40,000 cases a year and overseeing 120 people. He also served as the president of the Massachusetts District Attorneys Association. In past visits to the Vineyard, he's pointed to his record of reducing gun violence and crime in Bristol County.
In the new district, "adding Fall River and New Bedford . . . makes a major difference with respect to the populations and the needs," Mr. Sutter said, noting high unemployment rates in those communities. "There's now a real thread to the district," he said, "a continuity of concerns" concerning coastal areas, oceans and tourism.
If elected, "first of all, I would be a leader right away on issues of campaign finance reform," he said. "I see a critical need for change there." He said he would work to prevent candidates from being "wedded" to corporate money, and "be part of what I hope is a great spirit of working together to achieve results for the nation and the district."
On jobs, he would focus on "investing in our country and rebuilding our infrastructure." He pointed to bridge and sewer projects on the South Coast and Cape Cod and a need to improve the rail system.
"We need to have a more effective partnership between the federal government and small business . . . to assist them in expanding and prospering." He concluded:
"Anybody who looks at the stark difference has to vote for me."
Adam Chaprales
Mr. Chaprales, 28, said he's running to "spread the message that the residents of the ninth district are not going to put up with the same old rhetoric . . . they want change and the best for America."
A Sandwich native, Mr. Chaprales lives in Marston Mills with his wife, Aynaz and their dogs, Aysel and Kobie. The couple is expecting a baby in January.
Mr. Chaprales received an associate degree from Cape Cod Community College and a bachelor's degree from Suffolk University. He is a partner at the New York Life Company.
He took his first foray into politics at 21, when he ran for Sandwich selectman and won, which he called "a learning experience that I think I'll always take with me." He served one term. "If you can weather the storm of local politics, you can weather the storm of any politics," he said.
When it came to the ninth district race, Mr. Chaprales said his candidacy "was calculated. It's a very winnable seat." He said there is a current lack of representation, and a willingness to embrace change.
"I know I can win this seat," he said.
"I'm a very strong advocate to repeal and replace [the Affordable Health Care Act]," he added. "The verbiage isn't appropriate and we simply can't afford it right now." He called for replacing the act with something that the country could afford that wouldn't hurt business.
He said he would also focus on the fishing industry, "something I hold near and dear to my heart, coming from a family of commercial fishermen."
"I'm against Cape Wind," he said. "I think alternative energy is a direction our country needs to go into and should go into . . . but Cape Wind certainly isn't the answer." He said it will cost residents more money, and "ruin the Nantucket Sound and a lot of fisheries and wildlife."
Echoing a common theme, Mr. Chaprales said he's "running on jobs and the economy."
"Local businesses are not thriving like they should," he said, in the seasonal, tourist-driven area. "We're highly overregulated," he said, and those regulations "make it difficult to make a living. And offer jobs throughout the community."
"I have a very different perspective than that of my colleagues, I can offer a different voice . . . Keating's been a politician longer than I've been alive."
"I live in my community. I'm not out of touch with reality and he is."
He said the new district is "arguably the most winnable for a Republican in all of Massachusetts."
When it comes to his primary opponent, Mr. Chaprales had this to say: "My opponent is not fit for this district. Chris can't beat Bill Keating."
Christopher Sheldon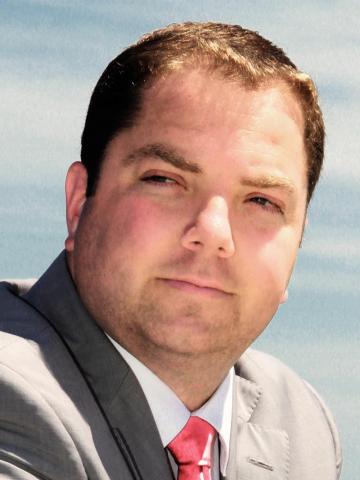 "This was a seat we absolutely need to have a good candidate in," said Mr. Sheldon, 34, about his decision to run for the congressional seat.
Mr. Keating is vulnerable, he added, and the new ninth district is a "conservative district that would respond really to someone with a conservative Republican background."
He grew up in Andover and graduated from Syracuse University. He worked on Wall Street for about six years, and then moved to Florida, where he received an MBA from the University of Florida. He now lives in Plymouth, where he is self-employed as a consultant. He is unmarried but has a girlfriend and two Siamese cats, Devin and Elwood.
He got involved in politics in 2010, when he helped with Joseph Malone's campaign for a 10th district congressional seat. "I'm not very happy with the direction our government has taken" he said, about treating business as "an adversary and not a partner."
He, too, said the new district puts more of a focus on coastal issues like fishing and tourism."We no longer have a Boston influence in the district," he said, saying the new district is more blue-collar and working class, people who are not happy with the direction of the economy.
He said the district also faces the same issues as across the country, the economy. Overregulation has cost hundreds of millions of dollars, and ends up hurting business, he said.
"At some point there is a trade off of over-regulation versus necessary regulation and we need to be mindful of getting rid of regulations that are just burdensome," he said.
Like his opponent, Mr. Sheldon opposes the Affordable Health Care Act. "I think 2,500 pages of [the act] are unwieldy and they institutionalize some of the largest flaws in the health care system," he said.
When it comes to Cape Wind, he said: "I'm all for renewable energy . . . but I don't think it is something we can afford.."
"Growing up as a Massachusetts Republican, surrounded by gobs of Democrats, I've listened to the other side," he said.
"There are some good and great ideas that come from the other side and I'm willing to embrace them," he said. "Representative Keating has a track record over the last 35 years or not showing a willingness, openness to working with those across the aisle."
The Rest of the Race
Beyond the congressional seat, there is one other contested race. In the first district for the governor's council, Nicholas D. Bernier of Swansea, Oliver P. Cipollini, Jr. of Barnstable and Walter D. Moniz of New Bedford are running on the Democratic ticket, while incumbent councillor Charles Cipollini is running unopposed in the Republican primary.
Polls will be open from 7 a.m. to 8 p.m. next Thursday in every Island town.