The varsity boys' soccer team plays its first home game of the season tomorrow evening at 6:30 p.m. against Nauset.
Girls' soccer also plays at home tomorrow, taking on Whitinsville Christian at 1:30 p.m.
Golf has two home matches this week, and will play Eastern Athletic Conference opponents Bishop Feehan on Tuesday and Coyle-Cassidy on Thursday at Farm Neck.
Field Hockey
After a knockout 7-1 home game against Westport on Tuesday afternoon, the Vineyard was 2-0-1 going into Thursday's league opener against EAC opponent Bishop Stang (scores were unavailable at press time).
"The offense was incredible," said coach Lisa Knight after the game. "I think the hustle was outstanding." Coach Knight had difficulty singling out any one player as an MVP, as each of the goals was scored by a different player.
Senior Taylor Poggi landed the first goal on an assist from senior captain Kendall Robinson, who also notched an assist on the second goal (scored by junior Kat Dorr) before landing a goal of her own (assist by Dorr). Junior Chantal Booker scored her first varsity goal on an assist by junior Issy Smith. Smith also assisted on junior Alex Clark's goal, the final of the first half.
In the second half, senior Tayla Kuehne scored on a Robinson assist, and sophomore Sydney Davies landed the final Vineyard goal on Smith's third assist of the day.
Senior goalie Kathryn Antonsen made seven saves on eight shots. The Vineyard had 23 shots on goal.
The team is away next week, taking on EAC opponent Somerset on Tuesday and Needham on Thursday.
Football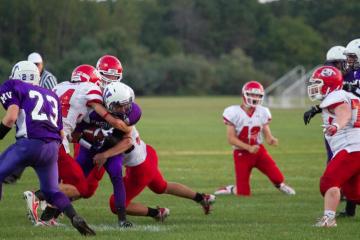 With four starters out due to injuries, the Vineyarders took a rough 25-0 loss to visiting Old Rochester Regional in their first game of the season. The Vineyard defense, led by senior Doug Andrade, picked up key fumble recoveries and held off the option-running Bulldogs into the second quarter, but Old Rochester broke away late in the game, scoring twice in the fourth quarter.
Tonight the team takes on Bristol-Plymouth Vocational Tech, a former Mayflower League opponent, in an away game. Their next home game is Sept. 28 against Randolph.
Boys' Soccer
The boys played two different games of soccer in last week's opener against Nauset, allowing four goals in the first half against the strong Cape team, but shoring up on both ends of the field in the second. The game ended with a score of 5-1.
The Vineyarders look to avenge the loss tomorrow night in their home opener, also against Nauset.
The 2012 squad is led by senior captains Jack Roberts, Rodrigo Honorato and Marc Natichioni, as well as junior captain Sam Entner.
"We usually try to have a junior captain so there's a little continuity [for the team] in terms of leadership," head coach Damon Burke said on Wednesday.
Although the Vineyard lost a bit of scoring power with the graduation of John Marcal and John Olivera, the offense nevertheless remains formidable. Roberts led the EAC in scoring last year; both he and Honorato were named league all-stars. Senior Martín Aranzabe is also key to the Vineyard attack.
Two "notable additions" who have moved up from junior varsity are sophomore midfielders Lee Faraca and Noah Kleinhenz, Coach Burke added. There are just two juniors on the team, with the rest being seniors and sophomores (nearly all of whom also play on the U-16 team that won the travel soccer state championship in the spring).
"I really think this will be one of our best years," Coach Burke said. "We were league champions last year, and I don't see any reason why we shouldn't be in contention to do that again . . . the sooner the team starts to gel, the sooner we'll be off and running."
Cross Country
The boys picked up their second win of the season over the weekend, defeating 12 other schools at the sixth Annual Vineyard Invitational, held on their home course. Last week, the team took a 19-42 away victory in their opening meet against Brockton.
Although New Bedford senior Paolo Tavares blazed to a 16:07.83 win in the varsity race, Vineyard senior Michael Schroeder (17:14.35) and junior Jeremy Alley-Tarter (17:17.97) were seventh and eighth respectively, while seniors Cooper Chapman (17:30.23) and Kyle Joba-Woodruff (17:40.46) placed 10th and 13th. Senior Sam Oslyn also clocked in the top 25, earning 22nd place with a time of 18:12.89. No other school placed more than three runners in the top 25. The Vineyard earned 60 points overall; second-place school Hopkinton had 81 points.
The boys also picked up a win in the junior varsity race, with junior Julian Kelly (18:44.70), sophomore Andrew Wiley (19:03.27) and junior Thorpe Karabees (19:16.04) going 2-3-4.
On the girls' side, the team was sixth of nine schools, with powerhouse Notre Dame Academy picking up the overall win. Sophomore Julia Neville ran a 21:55.95 to place 16th, while senior Hannah Moore was 23rd with a time of 23:07.89. Juniors Lucy Norris (25:33.89) and Willoe Maynard (25:44.65) were 38th and 39th respectively.