A plan to cut down 11 trees, some more than half a century old, to make way for the new West Tisbury Library, came under close inspection by the town selectmen, tree warden and others this week.
Town library trustees approached the selectmen last month with a request to cut down the trees, and to place an article on a special town meeting warrant to pay for the removal. The funding request has since been withdrawn; library trustees now plan to pay for the tree removal from their budget.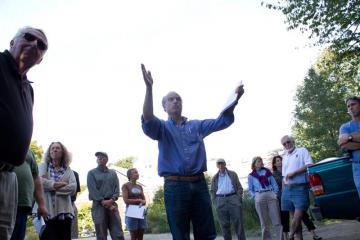 A site visit was held on Wednesday before the regular selectmen's meeting to view the trees on the library property across the road from Alley's General Store. The three selectmen, tree warden Jeremiah Brown, Polly Hill Arboretum executive director Tim Boland, members of the town historic district commission, library trustees and staff and a number of town residents attended.
All the trees targeted for removal are Norway maples. Eight sit on the Field Gallery property (now owned by the town), two are behind Howes House and one sits at the entrance to the library on the road. Mr. Brown said all 11 trees are diseased, rotting or in danger of splitting down the middle.
"I can tell you this tree is dangerous," he said standing beneath one large maple between the gallery and library parking lot. "That's an unsafe tree."
Mr. Brown's recommendation was essentially the same for the other trees, which he said range in age from 10 to 70 years. Mitigation techniques such as cabling and trimming heavy branches could help in the short term, Mr. Brown said, but eventually all the trees would need to come down. He said Norway maples are considered invasive and are listed as a prohibited plant in Massachusetts.
Mr. Brown suggested replacement trees be between 10 and 15 feet high, three to four inches in diameter.
But he also said he was conscious of public opinion about tree removal.
"I think in the long run all of those Norway maples need to come down and have a proper garden planted for the next hundred years," Mr. Brown said. "But I know if you mow all of the trees down now the public is going to freak. It's what I've been hearing, nobody is going to want that right away."
Selectman Richard Knabel said his main concern centers on preserving the quiet environment at the Field Gallery.
"It has a particular atmosphere and environment which is very different than the atmosphere in the that parking lot," Mr. Knabel said. "Those trees maintain that entire environment over there and to lose even the three big ones will open up an enormous hole that's not going to get plugged in at any short period of time.
"We don't have a long-term plan for it . . . I think people have come to see the Field Gallery as a landmark and expect a certain environment over there and I think this is too drastic a change to let it happen all at once," he added.
Selectman Jeffrey (Skipper) Manter 3rd suggested the town make arrangements to remove the two trees by Howes House, which Mr. Brown said are in the worst shape, but he called the remaining trees a defining characteristic of an "old New England town" and said they should be preserved.
Selectman and board chairman Cynthia Mitchell struck a middle ground. "There are certain trees that probably should come down; to the casual non-expert observer these are big beautiful trees and have been there for quite a while," she said. "We need to come up with a plan and react to what we've seen."
The library plan calls for replacing the trees with new ones and also planting a rain garden with hardy native plants. The rain garden is part of the landscape design for the parking lot to capture water runoff and protect the Mill Pond watershed.
Mr. Boland said later during the selectmen's meeting that in addition to protecting the pond watershed, the rain gardens would be used as teaching gardens with naturalistic plantings.
"The idea is to use this as a stewardship garden, teaching people about the principals of ecological planting," Mr. Boland said.
John Hoff, the owner of Middletown Nursery and town resident Virginia Jones have both offered to donate replacement trees.
Tom Clark, grounds and collection manager for the arboretum, said concern about drastic tree-cutting is not misplaced. "A lot of people have an emotional response, but I'd agree with Skipper — the trees are one of the elements of town that create a classic New England picture," he said. "We're the beneficiaries of people who had the foresight to plant trees and the onus is on us to . . . have the same foresight to plant for future generations. It's a real opportunity to revitalize that landscape and get some new trees going and reach a compromise."
In the end selectmen asked Mr. Brown to come up with a plan and a schedule for removing the most badly-damaged trees.
Construction on the new library is slated to begin at the end of November.