On Thursday the largest striped bass caught so far in this year's 67th Martha's Vineyard Striped Bass and Bluefish Derby was weighed in. Peter (Pete) J. Spengler, 75, of Cuttyhunk and Westport, Conn., caught his fish at 9:05 a.m. aboard Capt. Duane Lynch's boat. Recognizing they were short on time, he and the captain sped to Edgartown in Mr. Lynch's 23-foot SeaCraft to weigh in the fish. It was close, but they made it back a few minutes before 10 a.m.
The striper tipped the scale at 37.34 pounds, more than seven pounds heavier than the largest fish weighed in so far. Mr. Spengler said that only once had caught a bigger fish, a 40 pounder back in 2000. The derby is now entering its third week. More than 2,000 fishermen are registered in the contest and they are on the hunt for the largest striped bass, bluefish, bonito and false albacore, all sport fish. While Mr. Spengler's fish may not stay at the top of the contest for long, the message is clear: fishermen will do whatever they can to
get their catch to derby headquarters at the foot of Main street in Edgartown, even if it means flying across the water on a fast boat from Cuttyhunk.
Cuttyhunk is a well-known spot for catching big stripers amid the rocks that surround this outermost island in the Elizabeth islands chain.
Mr. Spengler is chairman of the Greater Cuttyhunk Striped Bass Club and his home is the club's headquarters and former Bosworth House. The club has 16 members. Mr. Spengler and his club were the subject of a New York Times column written in 1990 by the venerable outdoor columnist and West Tisbury resident Nelson Bryant.
Mr. Lynch, 42, is a longtime resident of Cuttyhunk.
Of course Mr. Spengler wouldn't say exactly where the fish was caught. "Just off Cuttyhunk," he said, although he did offer one more bit of information. "It was caught using live menhaden," he said.
Over the weekend junior anglers dominated the derby news, beginning with the annual kids derby on Sunday at the Oak Bluffs Steamship Authority wharf, where there was a record turnout.
"I've never see so many kids," said Lela Gilkes, of Edgartown, who helps run the small-fry derby with her husband, Cooper A. Gilkes 3rd.
There are eight overall leaders in the derby, and two junior anglers lead for the largest bonito. On Sunday, Christopher A. Mayhew, 13, of Chilmark weighed in an 8.32-pound bonito he caught from a boat. Tommy White, from Glastonbury, Conn., weighed in a 7.65-pound bonito he caught from the shore on Monday. When he brought the fish to the weigh-in, the 11 year old thought it was a false albacore. Derby officials corrected him and also told him he now leads the derby.
The weather took a sharp turn for the worse on Tuesday when gale winds hit the Vineyard, slowing even the hardiest fishermen. Amy Coffey, who oversees the weigh-in staff, said only 35 fish were weighed in on Tuesday when the wind blew over 50 m.p.h. from the south. Even fewer fish were caught on Wednesday.
Phil Hollinger, 29, weighed in a false albacore on Wednesday morning, a fish he had caught 20 minutes earlier at Menemsha. Of the previous day's storm, he said: "I finally got some sleep." Mr. Hollinger said he and his younger brother Chas haven't slept much since the derby began. "We fish all the time," he said.
The derby has hundreds of prizes, including daily, weekly and grand prizes at the end.
Tomorrow, the first day of autumn, begins a series called Super Saturday for fishermen who joined a special registration making them eligible for a one-time $500 prize. Tomorrow is false albacore Super Saturday. The following weekend will be striped bass Super Saturday.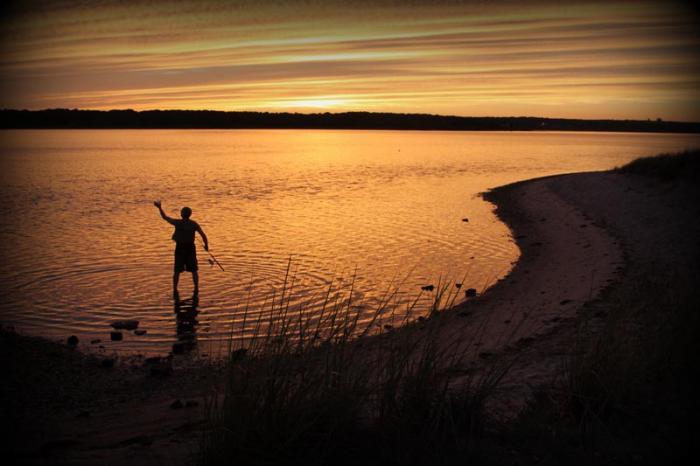 Another derby tradition begins on Sunday with the fourth annual Beach Plum Inn American Heroes Saltwater Challenge. A group of 12 to 15 wounded veterans will visit the Island for six days to fish on charter boats and from the shore. Conceived by Jack Nixon, the son of inn owners Bob and Sarah Nixon four years ago, the fishing event has attracted national attention and is a centerpiece event of the derby. Volunteers are still needed; to volunteer call the Beach Plum Inn at 508-645-9454.
The derby runs until Saturday, Oct. 13. All told, more than $300,000 in prizes will be awarded. The two grand prizes, a 22-foot Eastern center console boat with outboard on a trailer, and a brand new Chevrolet Silverado 1500 pickup truck. Will a junior fisherman win the keys to a truck or a boat? It's certainly possible.
Registration forms are available at all Island tackle shops. Derby headquarters are open from 8 to 10 a.m. and from 8 to 10 p.m. every day. For up-to-date results visit the website mvderby.com.