He was an artist and historian, author and harbor master, boat yard owner and model maker, designer of homes, builder of lobster boats and family yawls, a husband, father and grandfather. Three times he was denied the chance to enlist in the armed forces after the attack on Pearl Harbor. He finally joined a volunteer ambulance service working with the British army and was present at the liberation of Bergen-Belsen.
Yet for all his skills and experiences, and for all his eloquence and abilities as a writer and speaker, Thomas Hale of Vineyard Haven was a modest man, quick to chide anyone who drew attention to his own creative or dutiful role at the center of important events on the waterfront, across the Island, or around the world.
Tom Hale died at home on Sunday at the age of 87, and with his death Martha's Vineyard loses another of those significant men of almost polymathic creative, physical and intellectual skills, whose varied contributions to Island life will be felt both here and far away, now and long after the time in which he lived.
He was an Island refugee from the corporate world of the mainland, arriving ahead of the great migration of fellow transplants who, in the 1960s, were looking for more meaningful, fulfilling offshore lives. He was a successful architect who, with his wife Anne — herself an accomplished landscape architect whom he'd met at the Harvard Graduate School of Design — moved to the Vineyard in the summer of 1961 after they bought Martha's Vineyard Shipyard from Robert M. Love of Vineyard Haven.
Though Mr. and Mrs. Hale could have been called expert and wide-ranging recreational sailors even then, neither had any experience running a large business or a boat yard. But Mr. Hale wanted to design and build sailboats and power craft and to look after the vessels of fellow sailors all year round. And the shipyard — with a history in Vineyard Haven going back at least 170 years and a record of building by far the largest sailing ships ever assembled on the Island — looked like the perfect place to try it. Tom Hale was born to an interest in things maritime. Yankee seamen were in his family line — captains, sailors and ship owners. Two forebears were lost at sea, others doubled Cape Horn and one served aboard a monitor during the Civil War. "Is it their unspoken spell from across the generations that caused me to abandon a profession in midstream for a career in sawdust and shavings, of bottom paint and bottom mud, of small boats and oilskins, and the thrill of almost 100 happy [new boat] launchings?" he wrote in an essay for the Gazette in 1990. "I wonder."
The son of Albert and Mable Stedman Hale, Thomas Hale was born Dec. 30, 1924. He grew up in Newburyport and Dedham but spent his summers in Padanaram (South Dartmouth). In 1931 Tom's parents bought an Alden 12 1/2 sloop and named her Hard-A-Lee. Tom learned to sail in her as did his five children and many of his grandchildren and great-grandchildren.
Mr. Hale had just graduated from Milton Academy when Japan attacked Pearl Harbor. He tried to enlist in the Navy, Air Force, and Army Officer Training Corps, but all three turned him down for physical reasons, as did the draft. Finally he joined the American Field Service and worked with the British army driving wounded soldiers from the front to aid stations and hospitals behind the lines. He crossed the Atlantic four times in convoys during the war and moved with Allied forces through Italy, France and Germany.
He contracted malaria while serving and was to be evacuated to a field hospital in North Africa for convalescence, but "I thought that was for the birds," he told an audience at the Martha's Vineyard Museum in 2010. "So I just got up and walked out, and hitchhiked back to my unit. I took it easy for awhile and recovered from my malaria."
It was while serving with the Second Scottish Brigade on April 15, 1945, that Mr. Hale witnessed the liberation of the concentration camp called Bergen-Belsen. For the rest of his life he kept photographs shot on his own Brownie camera of the horrors he witnessed there. "I will say that nobody should ever tell me that the Holocaust never happened," Mr. Hale told the group at the museum. "Because it did. And it was perfectly terrible."
On his return to the United States after the war, Mr. Hale enrolled in the Harvard Graduate School of Design. There he decided he wanted to work as a naval architect. "And it shows how little I knew," he told Martha's Vineyard Magazine in an interview in 2006. "I didn't know there was a difference in the approach between naval architecture and building architecture." He did well at the school and began to design and remodel houses. "But I realized," he said, "I was spending all my time drawing ships and boats and on the waterfront rather than being an architect."
At the school of design Mr. Hale met Anne Prescott, a landscape architect. In the winter of 1949-1950, Thomas took Anne to a boat yard in Marblehead and rolled back the cover and took her down into the cabin of a 26-foot gaff-rigged sloop he was particularly fond of. Anne said she loved it. "And that was it," said Mr. Hale. "We were married a couple of months later."
Still on the mainland, and interested in maritime history, Mr. Hale became an assistant curator to Edouard A. Stackpole, a noted historian of the whaling era from Nantucket who was serving as curator to the Mystic Seaport Museum in Connecticut. More and more Mr. Hale yearned to be on the waterfront, sailing, caring for boats, and, if possible, designing and building them. Though he and Anne had planned to work together designing and landscaping houses, Mr. Hale said, "she was a wonderful girl, and she knew I was not unhappy, but dissatisfied. She said, 'Do your own thing.' "
In the late 1950s, the two began to search for a boat yard to buy. They explored yards from Mount Desert Island, Me., to Long Island. The couple then learned that the Martha's Vineyard Shipyard was available. The yard, based on Beach Road in Vineyard Haven and in business since at least 1842, had cycled through periods of authentic shipbuilding during the whaling epoch and times of both liveliness and struggle afterward.
Mr. Hale knew the Island and the yard. Starting in 1948, he had visited his friends Robert and Edith W. Potter at Pimpneymouse Farm on Chappaquiddick, and Mr. and Mrs. Hale sailed Vineyard waters often. They bought the shipyard from Mr. Love on July 1, 1961.
"We had a mechanic who worked at the corner service station during the day," Mr. Hale remembered of those first years, "and he'd come down to the yard in the late afternoon and work for us. We had one painter and a helper. We had one shipwright — Albert Allen. We had very few skilled personnel." The yard had not built any boats since before the war, and at that point it was looking after only a few recreational boats all year-round.
But Mr. Hale wanted to design and build boats in the same way that another, much larger yard — Concordia, of his old summer home in South Dartmouth — was doing. From Mystic Seaport, he swiftly acquired the design for a Noank sloop he thought attractive, built three in various ways at the boat yard, and sold them all. Next came a St. Pierre fishing dory. Then the rebuilding of a Friendship sloop. All were built of wood. "The wooden boat was and still is what I'm interested in," Mr. Hale said in 2006.
But in the 1960s, the nautical world was moving into fiberglass, and Mr. Hale and Martha's Vineyard Shipyard moved with it. Though he knew the business was risky and the profit margins thin, he had an eye for appealing, sensible boat designs, and he put his faith in the tried and true. At the Vineyard Haven Yacht Club, the Vineyard Haven 15 — a popular racing sloop designed by the renowned Island boatbuilder Erford Burt in the early 1930s — was wearing out. Beginning in 1963, Mr. Hale built and sold 10 new ones in fiberglass, which revived the fleet for a time.
In 1968, he fell for a lobster boat built in Gloucester and owned by George Cary Mathieson: "I saw the need for a good-looking, staunch sportfisherman . . . . I said, 'This is the boat.' And again, with more enthusiasm than common sense, we took that boat and tipped her upside down and built a mold, and started building those boats in fiberglass. And I was very pleased to see that the first two or three boats were bought by commercial fishermen."
He called this design the Wasque 32, often completing just the hull and sending it off to be finished wherever the owner happened to live. He also built two smaller versions along the same lines, the Wasque 26 and Wasque 21. All told, the shipyard sold more than 100 of them.
In the middle 1970s, he began to sketch a double-ended yawl — after the first boat, the rig was converted to a sloop — for family sailing. His son Tom, taking a course in naval architecture at Brown University, did the formal design, and in this way the popular Vineyard Vixen 34 and 29 were developed, sold and launched. But the shipyard found it could not compete in price with Asian builders, and when another of Mr. Hale's sons, Philip, bought the yard from his father in 1986, he called a halt to the commercial boatbuilding business. Phil Hale continues to run the company as a family boatyard for recreational vessels.
At times, the involvement of Tom Hale in the waters around the Island appeared to extend everywhere and cover everything.
He served as harbor master in Vineyard Haven for eight years and designed the Vineyard Haven Yacht Club building built in 1967, which is now referred to as the old club building. He was a skilled, from-scratch model maker, building large and detailed replicas of tugs and freighters that had sailed (or probably sailed) Island waters.
His model of the Martha's Vineyard stands today in the lunchroom of that ferry, and another of the former ferry Islander holds pride of place at the Steamship Authority terminal in Vineyard Haven. Mr. Hale built a model of the traditional 72-foot yawl Zorra, on which the first family sailed on Island waters during Bill Clinton's presidency, and Mr. Hale received a note of thanks from Mr. Clinton when he sent it to the White House as a gift.
He also served as president of the American Boat Builders and Repairers Association and on the board of both the Martha's Vineyard Museum and Martha's Vineyard Hospital Foundation.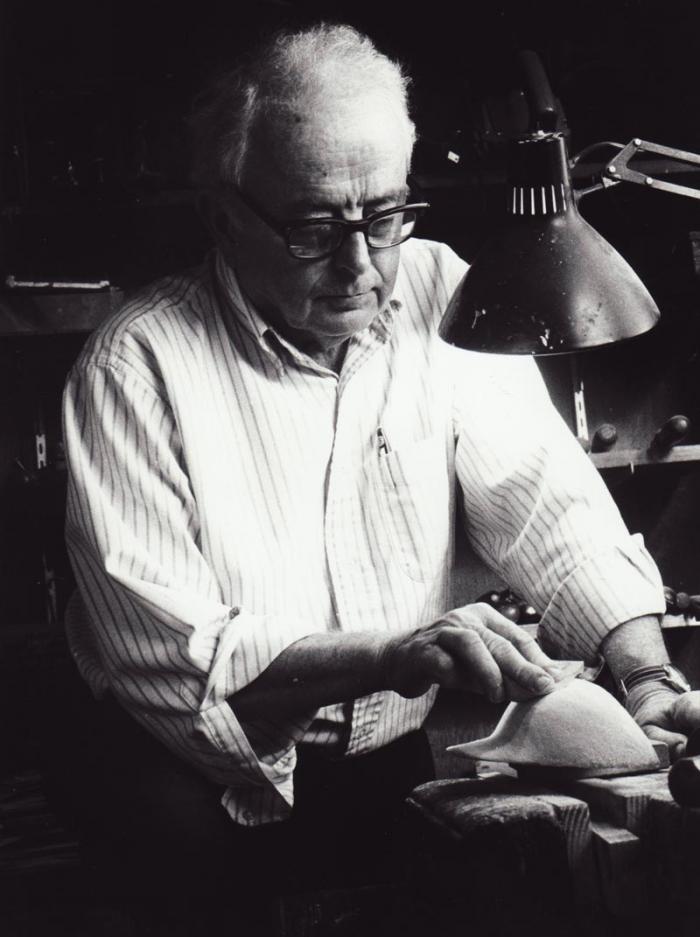 Mr. Hale was a good artist and evocative writer on any topic, publishing four books of artwork, Island history and fiction between the late 1960s and 2010: Vineyard Sketchbook — a Portfolio of the Island (1968), Spun Yarns and Scuttlebutt (1996), The Ghost of the Grasshopper: The Seagirt Saga of Two Families (1999), and There is a Light to Starboard, Sir, Right Off Our Lee Bow! (2010).
With his wife Anne — a pioneering conservationist on the Vineyard — he helped introduce the Islands Trust Bill to the Vineyard. The landmark legislation, sponsored by Sen. Edward M. Kennedy in 1972, would have partially federalized efforts to protect land on the Vineyard and Nantucket. Though the bill never became law — and though Mr. Hale himself opposed certain parts of it as too sweeping and intrusive — it inspired the creation of the Martha's Vineyard Commission, among other conservation agencies and groups that oversee Islandwide planning efforts even today.
But it was for his involvement in the waters around the Island that Vineyarders will chiefly remember the Tom Hale who, beginning more than 50 years ago, built and looked after the boats that many still sail. Late in his ownership of the shipyard, he wrote this in an essay for the Gazette:
"To me, perhaps, the greatest satisfaction is to stand at the end of our pier and see a fleet of boats which we have built and stored and cared for over the past year, just finishing a race. Their owners think they own them. They're wrong, they just pay the bills, but I feel, almost jealously, that they are my boats, and that the owners may use them during two or three months out of the year provided they bring them back safe and sound in the fall. There are only two straight lines on a boat, the mast and the waterline, and the rest is a symphony of complementary curves reflecting and responding to the boat's two natural elements — the wind and the water. To me, it is a privilege and a pleasure to be able to build and care for such an object."
Mr. Hale was married twice. With his first wife Anne, who died in 1992 after 43 years of marriage, he had five children, all of whom survive him: Marion Hale, Thomas May Hale, Philip Prescott Hale, Henry Steadman Hale and Anne Hale Long.
Mr. and Mrs. Hale also had 10 grandchildren: Pamela Vernick. Rachel H. Henderson, Victoria Hehre, Sarah P. Hale, Richard P. Hale, Thomas S. Hale, James L. Hale, Robert E. Hale, Brendan K. Long, and Kerry L. Branca. They also had six great-grandchildren: Ryan and Penelope Vernick, Finn and Nola-Rose Henderson, Laila and Allie Branca. His second wife, Kelsey Beach Hale, died in 2001. A private memorial service will be held later. Contributions in his memory may be made to the Felix Neck Wildlife Sanctuary, P.O. Box 494 Vineyard Haven, MA 02568, or Sail Martha's Vineyard, P.O. Box 1998, Vineyard Haven, MA 02568.