In high school sports action boys' soccer takes on Dennis-Yarmouth today at 3 p.m.
Vineyarders resume after the long weekend with a Monday golf match against Whitman-Hanson at 3 p.m. Girls' soccer and field hockey play Coyle-Cassidy and Barnstable, respectively, on Tuesday at 3 p.m., and the cross country team hosts Coyle at 3:30 p.m. on Wednesday. Field hockey takes on West Bridgewater on Thursday, while girls' soccer plays Bishop Stang and the co-ed golf team takes on Falmouth.
Football
The Vineyard picked up its third win of the season Friday night with a 41-8 rout of visiting Randolph, a first-time opponent. Slippery conditions on the field had little effect on the offense, which lit up the scoreboard throughout the first half. Senior running back Brandon Watkins had a 17-yard run to put the Vineyarders up 6-0 midway through the first quarter; Watkins tallied 171 yards on seven carries before the night was over. The score was the first of three for Watkins, who answered the lone Randolph score with a 51-yard touchdown run in the second quarter. Senior quarterback Alec Tattersall was rock-solid in the pocket, connecting twice with junior Joe Turney for two more Vineyard touchdowns; Turney also had a two-point conversion. Junior Nate Horwitz scored the first touchdown of his varsity career late in the second half to give the Vineyarders 41 points. Although the team did not score in the second half, the early-game bonanza proved enough to secure the win.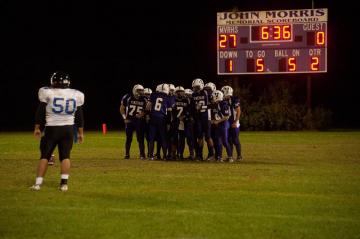 Senior Mike Cutrer kicked three extra points for the team. Watkins and sophomore Mike Mussell each had one interception.
The Vineyarders travel to Medford this evening. They return home next Friday to take on Cardinal Spellman.
Field Hockey
The Vineyarders took a 2-1 loss to Westport last Thursday for their first defeat of the season. After Tuesday's 1-1 tie with league opponent Bishop Stang, they are now 6-1-1 and three games away from qualifying for the state tournament. Last season was the first in head coach Lisa Knight's career that the team did not make states.
Scores from Thursday's game against Somerset were unavailable at press time.
Golf
The golf team moves to a 7-6 record after two wins last week over league opponents. They are now 4-3 in the EAC.
On Friday, the Vineyarders picked up a close 270-273 victory of Bishop Stang, with senior Andrew Hakala shooting a 42 for the lowest score of the match. Senior Mike deBettencourt was the low scorer during Tuesday's 242-282 win over Somerset, shooting a 36.
Boys' Soccer
The boys picked up a decisive 5-0 home win against league opponent Somerset Tuesday afternoon. With its 3-1-4 record, the team is in the strange position of having a winning record despite not having won half of their games.
Despite a slow start during Tuesday's game, senior captain Jack Roberts took advantage of a long Martín Aranzabe boot from the Vineyard end of the field to score the first goal on a breakaway.
Junior goalie Ben Wadleigh stepped in for senior keeper Jackson McBride in the second half, when the team settled into its possession game and controlled much of the flow of the remaining 40 minutes.
Feeling out the rhythm of the game has been a challenge for the team all season, head coach Damon Burke said, but once the Vineyard is in its zone, it's hard for opponents to challenge them.
The Somerset game was "a good one to build on," he said.
Though the Vineyard missed a penalty kick in the second half, a corner kick set up senior Kyp Cooperrider for a perfect 25-yard shot through the Somerset defense and into the net. Less than a minute later, freshman Tim Roberts headed in a goal on another set piece. Older brother Jack scored his second goal of the game on a penalty kick after being downed by a Somerset defender just inside the box. A goalkeeper error late in the game allowed senior Jacob Lawrence to score on a virtually empty net and clinch the game for the Vineyarders.
Last Saturday, the team tied 1-1 with league opponent Bishop Feehan, with Jack Roberts scoring the lone goal.
Girls' Soccer
The girls took a well-fought 2-0 loss to Mashpee on Thursday before hosting league opponent Bishop Feehan on Saturday night. Feehan outpaced the Vineyarders for a 6-0 loss.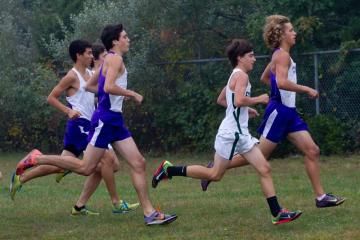 Cross Country
The Vineyard boys took their first loss of the season Wednesday afternoon, falling 38-50 to Bishop Stang, last year's Division 2 state champions. They are now 3-1 in the league.
The tough competition and cool weather combined for excellent running conditions and a still-strong Vineyard showing. Junior Jeremy Alley-Tarter finished third overall with a scorching time of 16:28 (Feehan took first and second place with matched times of 16:22). Alley-Tarter was one of three sub-17 times on the Vineyard squad: seniors Michael Schroeder (16:28) and Cooper Chapman (16:53) finished fifth and seventh, respectively. Seniors Kyle Joba-Woodruff and Sam Oslyn were heel-to-heel in their 13th (17:30) and 14th place (17:33) finishes, and junior Isaiah Maynard narrowly missed the sub-17 mark with a time of 18:01.
Bishop Feehan junior Abbey McNulty broke the Vineyard course record in the girls' race with her time of 18:32, setting the pace for a 15-50 Feehan win. (Feehan also won the state championships on the girls' side last year.) Sophomore Julia Neville finished first for the Vineyarders and 11th overall with a time of 6:56; sophomore Willoe Maynard was just behind with a time of 21:43. Junior Lilly Neville took 23rd with 23:08, while senior Hannah Moore ran a 23:20 for 26th. Junior Lucy Norris was 28th with 23:39.
Last weekend, the teams traveled to the Ocean State Invitational in Rhode Island, where the boys took fourth place of 40 teams in their division. Schroeder crossed the line first for the Vineyarders, taking 22nd (of 266) with a time of 17:01. Alley-Tarter finished 38th (17:23), with Chapman just on his heels to place 40th in 17:25. Joba-Woodruff was 45th with a time of 17:29; Oslyn took 64th in 17:53.
Julia Neville finished first for the Vineyard girls at Ocean State, taking 29th of 213 with 21:11. Sister Lilly took 77th with 22:42, while Maynard ran 23:10 to place 100th. Moore placed 121st (23:35), with Norris (24:04) 133rd and sophomore Phoebe Dandeneau rounding out the varsity runners with 25:47 for 177th.