The football team plays its Homecoming game tonight against Cardinal Spellman. Kickoff is at 6:30 p.m. Golf plays Dartmouth at the Vineyard Golf Club at 3 p.m.
On Saturday, boys' soccer hosts Eastern Athletic Conference opponent Bishop Feehan at 11:30 a.m.
Cross Country
Martha's Vineyard Regional High School junior Jeremy Alley-Tarter had exactly one week atop the record books for the school cross-country team.
Senior Michael Schroeder, in his last home race of his high school career, broke the school record for the Vineyard's 3.1-mile cross-country course during Wednesday afternoon's dual meet against league opponent Coyle and Cassidy. In doing so, Schroeder bested the previous record Alley-Tarter set last week (16:28) by two seconds. With his time of 16:26, Schroeder also beat his own personal best by just under 15 seconds. Schroeder led the boys to a tight 27-29 victory for their final dual meet of the season.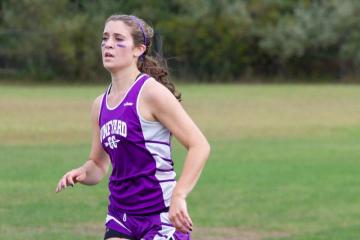 "You can't get any closer than that," head coach Joe Schroeder said after the race. (Michael is Coach Schroeder's son).
Alley-Tarter took fourth place with a time of 17:04, while senior Cooper Chapman placed fifth in 17:14. Senior Sam Oslyn ran a personal best of 17:24 to take eighth, and junior Isaiah Maynard also PB'ed to place ninth with a time of 17:49. Senior Kyle Joba-Woodruff placed tenth with a time of 17:51.
In the girls' race, the team also picked up a win, with sophomore Julia Neville running a personal best time of 20:32 to place third overall and first for the Vineyarders. Teammates Willoe Maynard (21:51), Lilly Neville (22:49), Hannah Moore (24:05), and Willow Wunsch (24:44) took the next four places. Wunsch and sophomore Phoebe Dandeneau (24:56) ran personal bests.
Wednesday was Senior Day for the teams.
The teams travel to the McIntyre Twilight Meet in Barnstable this weekend.
Field Hockey
The Vineyarders fell 1-0 to league opponent Somerset last Thursday, but picked up a Friday win against Pembroke. Junior Kat Dorr scored on an assist from freshman Sydney Davies. Scores from Thursday's game against West Bridgewater were unavailable at press time; the team needs only one more win to secure an EAC league championship and clinch a spot in the state tournament.
"It's definitely field hockey weather right now," head coach Lisa Knight said. "You can feel it."
Golf
The golf team is one win away from qualifying for the state tournament, with an overall record of 9-7 as of Wednesday (scores from Thursday's match against Falmouth were unavailable at press time). Last Thursday, the team played Coyle-Cassidy, walking away with a 253-271 win. Senior Mike deBettencourt shot the Vineyard's low score of 38, while senior Justin Smith shot a 39. The meeting was the final Eastern Athletic Conference match of the year; the Vineyarders finish the season in second place in the league with a 5-3 record. On Friday, the Vineyarders fell 239-243 to Nauset, with Smith and deBettencourt shooting 38 and 39, respectively. The team picked up a 239-261 win against Whitman-Hanson on Monday. DeBettencourt shot a 36, while sister Kat deBettencourt had a 38. Smith and fellow senior Andrew Hakala each shot 39.
Football
The Vineyarders defeated Medford 28-14 last Friday to move to a 4-1 season record.
Senior Stuart Hersh scored the first touchdown of the game on a eight-yard run after a screen pass from senior quarterback Alec Tattersall. Senior running back Brandon Watkins turned in another touchdown before the half; senior Mike Cutrer kicked two extra points to put the team up 14-0.
Medford scored one touchdown early in the second half, while the Vineyarders scored on a fourth-quarter pass from Tattersall to Watkins. Although Medford completed a 70-yard touchdown pass shortly afterwards to tighten the game, the team held on for the win.
The Vineyarders continue to be beset by injuries: Kyle Stobie, after missing the first three weeks of the season with an injury, is now out with a separated shoulder. Junior Aaron Lowe is also out with a shoulder injury.
"We're kind of limping into this week's game against a very good football team," head coach Donald Herman said. Cardinal Spellman lost to Mashpee in last year's Super Bowl game.
Boys' Soccer
After taking a decisive 6-0 home win against Dennis-Yarmouth, the boys fell 1-0 to league opponent Coyle Cassidy on Tuesday. Scores from Thursday's game against Bishop Stang were unavailable at press time.
Girls' Soccer
The girls split their games last week, earning a close 1-0 win against Dennis-Yarmouth on Friday but falling to league opponent Coyle and Cassidy 4-0 on Friday.
Head coach Richard Bennett praised the team's play against Dennis-Yarmouth: Sophomore Annie Ollen scored on an assist from senior captain Alayna Hutchinson, while freshman goalie Emily Turney earned the shutout.
Scores from Thursday's game against Bishop Stang were unavailable at press time.