In most people's lives, glass has become so transparent as to be almost invisible. We drink from glasses, store food in glass jars and look out of glass windows. But a customer walking into the main building of Martha's Vineyard Glassworks can't help but consider the artistic process of making glass, too.
Inside the welcoming cedar-shingled building located on State Road in West Tisbury, the glassblowing studio is separated from the gallery by just a wraparound countertop. Within one building, the before, during and after takes place.
On one side are the completed pieces created by the studio's artists: Michiko Maekawa, Robert Phillips, Russell Carson, and founders and co-owners Andrew Magdanz and Susan Shapiro. Co-owner and founder Mark Weiner describes himself as a glassblower rather than an artist.
Mr. Magdanz and Ms. Shapiro, who are summer residents of Chilmark, also own Almost Perfect Glass in Cambridge. When they first thought of opening a studio on Martha's Vineyard, they reached out to Mr. Weiner, then a freelancer.
Over the next two decades, the other artists came on board. Mr. Phillips has been at the glassworks nearly as long as Mr. Weiner and Mr. Carson and Ms. Maekawa both arrived in 2005 (Ms. Maekawa and Mr. Weiner are married).
"We wouldn't be here without the help of our friends and our neighbors," Mr. Weiner said on Monday. "It was built with a lot of other people's sweat.... [just] like glassblowing is teamwork, this organization is teamwork."
On Wednesday, that teamwork was on full display as the glassblowers began work on the first set of Christmas ornaments for the holiday season. These ornaments, like the glass pumpkins that are also a seasonal favorite, are company pieces; all hands are on deck while they are made. On other days, the studio area is occupied by just one artist working on his or her own specific pieces.
"We can educate... as we explain to the customers [what we do] while we're working," Ms. Maekawa said. "Because a lot of the customers, they're just so used to seeing the glass at, let's say, TJ Maxx or Macy's."
"It seemed to me that it would be more interesting and much more powerful to be creating something more holistic, not just the object, but the...experience of being part of the Martha's Vineyard Glassworks community," Mr. Weiner said. The practice is a throwback to Mr. Weiner's first experience as a glassblower, when he took a three-day course in St. Louis though Craft Alliance, one of the largest Midwestern galleries at the time. Craft Alliance focused on teaching as much as on artistry, then an unusual take. "There was a time when craft... it was really about making a product," Mr. Weiner said. "There wasn't really much emphasis on educating clientele about the product."
In glassblowing, the center of any education begins with the massive furnace on the other side of the countertop. The furnace burns twenty-four hours a day, seven days a week at a temperature of roughly 2000 degrees Fahrenheit. Chambers on either side of the main furnace opening, called glory holes, are used for reheating glass as it is worked and reworked. Other ovens in the room (at the relatively cool temperature of 1000 degrees) are used for cooling a newly-blown product. The studio works with Vineyard Propane and the Cape Cod Light Compact to manage their considerable energy output as efficiently as possible. The glassworks melts their own clear glass using silica quartz from North Carolina, but purchases colored rods from New Zealand.
At one glory hole, Mr. Phillips and studio assistant Joey Huang, who has been at the glassworks since June, lay out long, thin cylinders of glass (canes) into a pattern Ms. Maekawa created yesterday. They place the canes on an already-heated palate ("like a baking sheet for cookies," Mr. Phillips said) and warm them before putting the palate into the glory hole to melt and fuse the canes together. When the canes are hot enough, and melded together, the pair roll the sheet around a glass collar on the end of the blowing rod. Mr. Weiner and Mr. Carson take over for the actual glassblowing.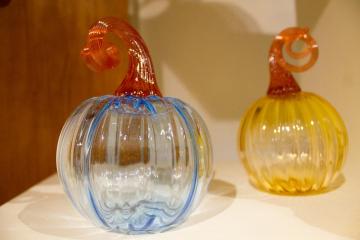 Even for a casual onlooker, it's hard not to be transported when a perfectly spherical and hollow ball forms beneath the steel jacks (tongs) which Mr. Weiner maneuvers while Mr. Carson blows streams of air through a rod and into the soft glass. In seconds, as the ball is formed, the molten material cools into the instantly-recognizable gleam of clear glass. Once this process gets going, "Rob and Joey have already started picking up the next [cane] pattern, so it sort of never stops," Mr. Carson explained. They expect to create about 80 ornaments in one day. All must cool in the ovens overnight before going on display; the considerable temperature differential between 1000 degrees and room temperature will otherwise cause them to crack.
"It's very challenging compared to ceramics or any other art form, because this way you can't touch the glass directly because it's so hot," Ms. Maekawa said. "You have to read the heat and you have to know the colors, because every single color has different chemicals and minerals in it. So every single color is going to move differently with the heat."
Still, the challenge is what she loves most about glassblowing. "It's a very exciting process," she said
"You fall in love with it, man," added Mr. Weiner.