Republican candidate for Congress Christopher Sheldon made a campaign swing through Martha's Vineyard Saturday, chatting with voters in Oak Bluffs, Vineyard Haven and Edgartown and making stump speeches along the way.
"It's not partisan problems, it's good government issues," Mr. Sheldon said about what he's hearing from Vineyard voters. He is challenging incumbent Cong. William Keating in the ninth district congressional race.
While the economy seems to be getting better, the candidate said, more people are taking on jobs that pay less.
Accompanied by his campaign staff and supporters, Mr. Sheldon made stops around the Island with a truck towing a flatbed trailer festooned with Sheldon for Congress signs. When it pulled up across from Bunch of Grapes bookstore on Main street Vineyard Haven, town resident Timo Nivala provided some piano music from the trailer, and Islander Joseph Gervais sang a song he wrote for the candidate.
"It's fall on the Vineyard, election day grows near . . . " the song started. One line: "If there's one thing Chris despises, it's federal debt."
Mr. Sheldon then made a speech to a small gathering of supporters on the street, saying he aimed to bring the two parties together and citing Scott Brown as a legislative role model. He said Mr. Keating's long tenure in elected office and his own background working in the private sector marked the biggest difference between the two.
Shoppers strolled by with kids and dogs and cars drove down Main street, some slowing down to observe the scene. One woman gave Mr. Sheldon a thumbs up as she drove by.
Earlier in the day, Mr. Sheldon said, he talked about health care with voters outside Tivoli Paint in Vineyard Haven, and made stops outside Coop de Ville in Oak Bluffs and at the Triangle in Edgartown. After the Main street stop, he chatted with voters at The Black Dog.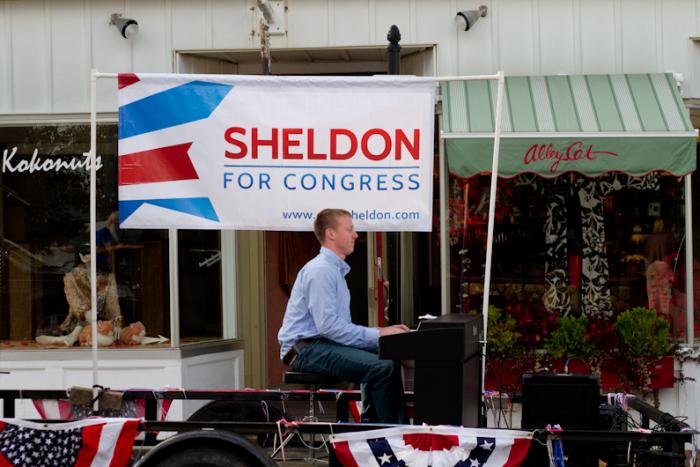 Small business and tourism issues are especially important to Vineyard voters, he said. But "one way or another, it's something to do with the economy," he said.
Mike (Panhead) Fuss, of Edgartown, who was wearing a Sheldon for Congress T-shirt and accompanying the candidate, said the tour had received a positive response, which he said he was glad to see on the Democratic-leaning Island.
"He's for the small business guy, cutting spending . . . the basic things that I admire and stand for," Mr. Fuss said.
Mr. Sheldon said he'll spend the 16 remaining days before the election campaigning, mostly on the Cape.