The cages at the Animal Shelter of Martha's Vineyard are still filled with the most adorable kittens you have ever seen. Most are black or black and white, all from three to 10 months in age. Drop by the shelter to see them.
Other cats who need homes are: Rex, a senior citizen whose adoption fee will be waived for some kind person who will give this nice gentleman a home for his remaining years; Daisy, a sweet gray cat; and Vickie, another older, gentle tabby and white who is new to the shelter and getting along well with the other cats.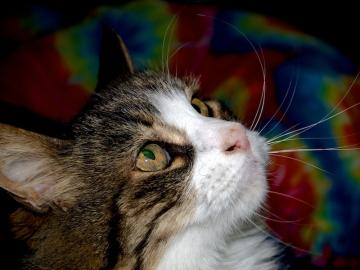 The shelter also has two wonderful small dogs. Buddy is a long haired Chihuahua-possibly-Pomeranian mix, a real lap dog, and so gentle and sweet but shy around young children so would do best in a home where there are no children. Then there is Sarah, a Lhasa apso-beagle cross who has had a tough life and gone from home to home because she needs to be with people. She would make a great dog for a retired person who is home all the time and needs a companion. Both of these great little dogs need a good, quiet home where they can be with people who will adjust to their needs and love them.
The shelter also now has two guinea pigs: Pinto, an Abyssinian black and brown, very gregarious, loves to be held; and Bella , a sweet rather shy tan and brown little girl who would also be great in a home with children.
Shelter hours are Tuesdays and Wednesdays 8:30 a.m. to 2:30 p.m., Thursdays and Fridays 8:30 a.m. to 6:30 p.m. and Saturdays 8:30 a.m. to 4:30 p.m. The shelter is closed Sunday and Monday. The telephone number is 508-627-8662.
Contributions are always gratefully accepted. Please make checks out to The Animal Shelter of Martha's Vineyard; the mailing address is P.O. Box 1829, Edgartown MA 02539.
One final note: The shelter encourages people with black cats to keep them inside on Halloween so they won't be spooked by trick or treaters.