The regular fall season wraps up this weekend with a flurry of home games. Field hockey takes on Falmouth today at 3 p.m., and hosts Needham tomorrow at 10 a.m. Senior recognition begins at 8:30 a.m.
Senior Day continues Saturday afternoon for the girls' and boys' soccer teams, both of whom host Sturgis West Charter. The girls begin play at 1 p.m., while the boys kick off at 3 p.m.
Seedings for the Massachusetts Interscholastic Athletics Association state tournament will be announced Monday for field hockey and Thursday for boys' soccer.
Boys' Soccer
Two early goals in Tuesday's home game against the Barnstable Red Raiders proved all the Vineyarders would need to secure their spot in the postseason tournament. The team is the third Vineyard squad to advance to tournament play: field hockey and golf clinched their berths two weeks ago.
Junior Kane Araujo scored unassisted less than 10 minutes into the first half. Senior captain Jack Roberts followed up Araujo's goal not long after with an arcing shot from 25 yards out that blew past Barnstable's keeper and gave the team a 2-0 lead.
Although the Vineyard scored a goal against itself in the second half to make the score 2-1, they held off Barnstable for the duration of the game and outpaced their opponents in shots on goal. Senior goalie Jackson McBride made several "tremendous saves" in the box, head coach Damon Burke said, while sophomore midfielder Noah Kleinhenz — in just his second year playing soccer — continues to be a surprise standout. "It was all-around a great team effort," Coach Burke said.
Barnstable, a Divison 1 team (the Vineyard plays in Division 2), plays tough, chippy soccer, he continued. In the teams' last meeting, the Vineyarders and the Red Raiders tied 2-2.
The Vineyarders are now 6-3-5. Scores from Thursday's game against Nantucket were unavailable at press time.
Field Hockey
On Saturday, the team traveled to Nantucket, where they took a 2-1 victory over the Whalers. Senior Kendall Robinson scored first for the Vineyarders, and was assisted by junior Issy Smith on the second goal. Senior goalie Kathryn Antonssen had ten saves.
The six-and-a-half-hour round trip left the team exhausted before their Monday matchup with Division 1 Barnstable: "That's a lot of hockey in less than 24 hours," head coach Lisa Knight noted. Still, the Vineyarders outshot the Red Raiders during the game, and Robinson turned in her third goal in three games on an assist from junior Kat Dorr. Barnstable nevertheless took a 2-1 win to give the team only their third loss of the season. They hold a 9-3-3 record going into their final two games.
Golf
The Vineyarders concluded their season last Tuesday after competing in the MIAA Division 2 South Sectionals, finishing in ninth place with a team score of 378. Senior Mike deBettencourt had the low score for the Vineyard, shooting a 78.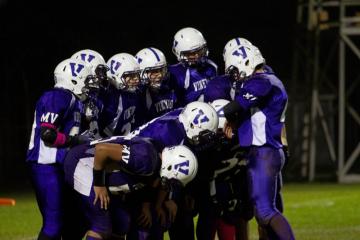 Football
In their first Eastern Athletic Conference match-up of the season, the Vineyarders faced undefeated Somerset-Berkley at home Friday night, falling 47-8.
The Vineyarders' lone highlight came midway through the fourth quarter, when senior running back Brandon Watkins blazed through a 76-yard touchdown run after a handoff from senior quarterback Alec Tattersall. Tattersall then connected with junior Joe Turney for a successful two-point conversion.
Senior Doug Andrade recorded 14 tackles, while senior Harry West had 13 and junior Tony Canha notched 11.
The team is now 4-3. They will continue league play tomorrow in an away game at Bishop Feehan.
Girls' Soccer
After a long day of travel last Saturday, the girls dueled with Nantucket to a 0-0 deadlock, moving to a 3-11-1 season record.
Cross Country
The varsity boys placed fourth in a field of 19 schools at the Bay State Invitational last Saturday. They will compete in the Eastern Athletic Conference championship meet this weekend. Senior Michael Schroeder led the Vineyard group to place 14th overall (of 156) with a time of 17:32. Junior Jeremy Alley-Tarter finished 20th in 17:49, while senior Cooper Chapman ran 18:11 to finish 35th. Seniors Kyle Joba-Woodruff and Sam Oslyn were 43rd (18:23) and 46th (18:27), respectively. Sophomore Andrew Wiley and junior Isaiah Maynard rounded out the varsity runners, finishing 63rd (18:49) and 73rd (19:14). Four Vineyard girls competed at the meet, which was not enough to earn an overall team score. Sophomore Julia Neville placed 55th in a field of 138 with a time of 23:01; sophomore Willoe Maynard was 74th with a time of 24:02. Senior Hannah Moore ran a 25:56, and junior Lilly Neville ran a 26:35.