In 2003, Saskia and David Vanderhoop started Sassafras Earth Education in Aquinnah as a one-week summer camp. Since then it has grown into a year-round program with camps every week during the summer and programs throughout the year for both youth and adults. The intention is to teach participants a variety of outdoor skills while encouraging them to reconnect with the natural world.
A program that Ms. Vanderhoop finds especially important is the Girls in the Woods. Geared towards young women ages 9 to 15, Girls in the Woods offers young women a place to explore their connection to nature, to each other and to themselves. It also provides a respite from many of the societal pressures that Ms. Vanderhoop feels are more prominent than ever.
"Young women and girls are facing a different time in history," she said. "There's a lot of pressure on women to be providers, to have a career and the natural pressure to be moms and raise a family."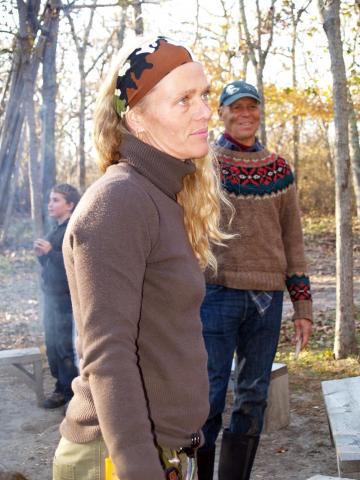 Ms. Vanderhoop's goal with the Girls in the Woods program is to offer activities where the girls are able to discover their own strengths and then gain confidence in their unique abilities through exploring, gathering, crafting, cooking and fire building, for example.
"Nature is at the core, but they are all basically designed so that the girls will be able to express themselves and their true talents," Ms. Vanderhoop said.
Some of the activities, like fire building, are also designed to teach the girls how to handle responsibility.
"It allows them to make the mistakes in a safe way, and they become confident in their own skill and who they are, and not just what's expected of them."
Recognizing a lack of strong role models in popular teen culture, Ms. Vanderhoop puts her self in a role she calls "the auntie."
"What I think is really important in our approach, in my teaching style, is it's a really nice mix of being a nice auntie but also being kind of like a stricter kind of elder or stricter kind of grandmother," she said. "It's really important to allow them to be who they are and to give them all the possibilities to express themselves . . . but I also want to foster that they respect me, and eventually that branches out to respect the natural world, respect each other, respect themselves ultimately."
This Sunday, Oct. 28, Ms. Vanderhoop is offering a Girls in the Woods session at a discounted price with the hope that young women discover what Sassafras has to offer and continue with future sessions. Her intention is to run the program once a month, and ideally with the same group of girls, providing an opportunity for bonding and team building.
"If young girls build a relationship with nature, they will be more grounded and gain more strength," she said. "Nature is accepting. No matter how you feel or look, nature is always there. It's a constant."
Girls in the Woods takes place Sunday, Oct. 28 from 11 a.m. to 4 p.m. at the Aquinnah Tipi on Church street. The cost is $25. The fall and winter series will continue on the second Sunday of each month. An optional sleepover is planned for March. Cost for the full series plus the sleepover is $150. Note: Girls can take the VTA together at 4 p.m. from Sassafras to Alley's or Vineyard Haven. For information about this and other programs, visit sassafrasmvy.org or call 508-645-2008.
­